WHO notes latest MERS-CoV cases, raises global count to 77 cases
The World Health Organization (WHO) today used Twitter to acknowledge the seven latest MERS-CoV (Middle East respiratory syndrome coronavirus) cases in Saudi Arabia.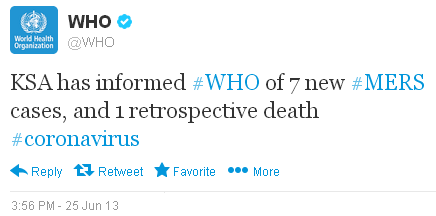 The agency said it had received Saudi Arabia's report of the seven new cases and the death of a previously announced patient.
The cases increased the global MERS count to 77 cases and 40 deaths, the WHO said.
Saudi Arabia's Ministry of Health had announced the seven cases and the death on its Web site on Jun 23.
Six of the cases, involving four children and two female healthcare workers, were described as asymptomatic. The seventh case was in a 50-year-old woman who was reported to be hospitalized and in stable condition.
WHO Twitter feed
Related Jun 24 CIDRAP News story
120 hepatitis A cases now linked to frozen fruit mix
Seven more cases of hepatitis A have been reported in an outbreak tied to a contaminated frozen fruit mix, raising the total to 120, the US Centers for Disease Control and Prevention (CDC) reported yesterday.
Cases have occurred in eight states, all but one—Wisconsin—in the West, the CDC said. The Wisconsin case resulted from exposure to the product in California.
Illness-onset dates in the outbreak have ranged from Mar 31 to Jun 14. Fifty-four people (45%) have been hospitalized, but none have died, the CDC reported.
The cases have been linked to Townsend Farms Organic Anti-Oxidant Blend, a frozen berry and pomegranate mix that was distributed in 12 western states. It was sold at Costco and Harris Teeter stores, but all cases so far have been associated with products from Costco.
Townsend Farms Inc. of Fairview, Ore., has recalled certain lots of the product.
The CDC had listed the case count as 113 in a Jun 21 update.
Jun 24 CDC update
H7N7 detected at German poultry farm
Veterinary officials in Germany yesterday reported a low-pathogenic H7N7 outbreak at a poultry farm in Lower Saxony state, located in the northwestern part of the country, according to a notice from the World Organization for Animal Health (OIE).
The outbreak began on May 24, sickening 400 of 13,406 susceptible birds. The situation was resolved on Jun 20 after all the birds were culled. The source of the virus is unknown.
The same strain was detected at another Lower Saxony farm on the middle of May.
Jun 24 OIE report
AAP revises guidelines for managing sinusitis in children
The American Academy of Pediatrics (AAP) has revised its clinical guidelines for diagnosing and managing acute bacterial sinusitis in children, noting three changes in particular.
To the criteria for diagnosing the condition, the AAP added a "worsening course," meaning a worsening or new nasal discharge, daytime cough, or fever after initial improvement.
Second, the group said imaging studies of any kind do not help to distinguish bacterial sinusitis from a viral infection, but a contrast-enhanced computed tomography scan of the paranasal sinuses should be obtained if a child is suspected of having orbital or central nervous system complications.
Third, for patients with persistent illness without severe onset or worsening course, clinicians should either prescribe antibiotic therapy or offer additional observation for 3 days.
Amoxicillin with or without clavulanate is recommended as the first-line treatment of acute bacterial sinusitis. The revised guidelines were published online yesterday in Pediatrics.
Jun 24 Pediatrics abstract
Mar 21, 2012, CIDRAP News story on antibiotic use in treating sinusitis
Judge orders California to move prisoners because of valley fever risk
A federal judge has ordered California authorities to move more than 3,000 prisoners out of two state prisons because they face a high risk of contracting valley fever, a potentially deadly fungal disease, the Associated Press (AP) reported yesterday. The disease is also known as coccidioidomycosis.
US District Judge Thelton Henderson instructed corrections officials to transfer most black, Filipino, and medically at-risk inmates out of Avenal and Pleasant Valley prisons within 90 days, the story said.
The fungus is found in the soil of the San Joaquin Valley, where the two prisons are located. About 3,250 prisoners are in the categories covered by the judge's ruling, but he said inmates in those groups who have already had the disease don't have to be moved.
Also, against the recommendation of a court-appointed official who oversees prison medical care, he excluded prisoners older than 55.
Henderson gave the state 7 days to begin moving the inmates from the prisons, located about 10 miles apart and 175 miles southeast of San Francisco. A state corrections official said the state is reviewing the judge's order.
Jun 25 AP story
Hepatitis C screening guidance urges screening for baby boomers, high-risk groups
A US Preventive Services Task Force charged with updating a 2004 recommendation on screening and treatment for hepatitis C virus (HCV) infection says all people at high risk should be screened, along with one-time screening for all adults born from 1945 to 1965.
The recommendations appeared today in Annals of Internal Medicine.
Known HCV risk factors include chronic hemodialysis, getting an unregulated tattoo, or having surgery before universal precautions were implemented. Health officials estimate that as many as 3.9 million people in the United States are infected with HCV, many of whom aren't aware that they have the virus, which can cause permanent liver damage and cancer.
Screening recommendations are designed to identify illnesses earlier, when they are more treatable.
The 2004 recommendation didn't recommend routine screening for asymptomatic adults who weren't at increased risk for infection.
Jun 25 Ann Intern Med hepatitis C screening recommendations
May 3, 2012, CIDRAP News scan "Rise in hepatitis C deaths in baby boomers worries feds"