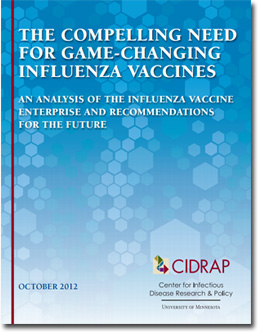 Major funding for this project
provided by:

CIDRAP has published a new report, The Compelling Need for Game-Changing Influenza Vaccines: An Analysis of the Influenza Vaccine Enterprise and Recommendations for the Future. From the CIDRAP Comprehensive Influenza Vaccine Initiative (CCIVI), the report follows a review of more than 12,000 peer-reviewed publications, documents, transcripts and notes dating back to 1936 and interviews and follow up with 88 experts in influenza vaccine research, development, and use.
     Oct 15, 2012, press release
About CCIVI
The primary objectives of CCIVI were to provide a comprehensive review of all aspects of 2009/10 pandemic A(H1N1)pdm09 influenza vaccine preparedness and response and to review the scientific and programmatic basis for the current seasonal influenza vaccine efforts.
Report Authors 
     Michael T. Osterholm, PhD, MPH 
     Nicholas S. Kelley, PhD
     Jill M. Manske, PhD, MPH
     Katie S. Ballering, PhD 
     Tabitha R. Leighton, MPH
     Kristine A. Moore, MD, MPH
Interview with Dr. Michael Osterholm
In this video Dr. Osterhom discusses findings and recommendations related to the report. The video was produced by the UPMC Center for Health Security as part of the Emerging Leaders in Biosecurity Initiative.