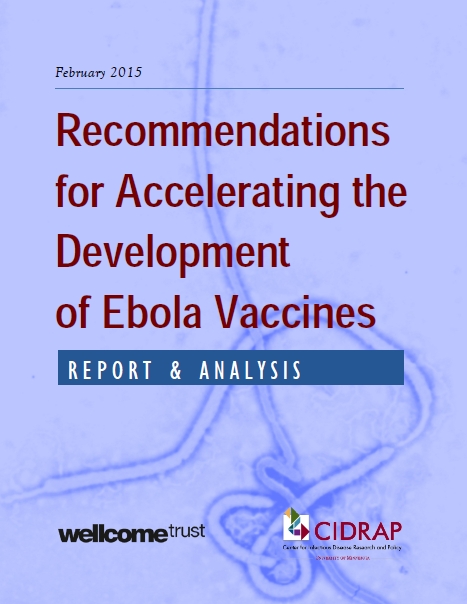 Wellcome Trust and CIDRAP launched the Ebola Vaccine Team B initiative in November 2014 to assist international efforts to develop in record time safe and effective vaccines against Ebola virus disease. The project includes 25 distinguished leaders in public health, medicine, bioethics, pharmaceutical manufacturing, and humanitarian relief. The experts provide a fresh perspective (a Team B analysis) of issues being addressed by international collaborators in the areas of funding, research, development, vaccine efficacy and effectiveness determination, licensure, manufacturing, and vaccination strategy (distribution and administration). To date, Team B has published its findings in the following reports:
Published online Oct 29, 2015, in Lancet Infectious Diseases
The paper presents a review of Team B's work through October 2015, a perspective on using a Team B approach when future outbreaks require urgent development of vaccnes, and offers comment on the role that independent expert panels can have in support of national and international public health authorities toward addressing public health crises.