Salmonella strain in 2012-13 chicken outbreak found earlier on same farm
The strain of Salmonella Heidelberg associated with a 2012-13 multistate outbreak declared over just yesterday was also found on the outbreak farm in 2004, state and federal health professionals said today in Morbidity and Mortality Weekly Report (MMWR).
The outbreak sickened 134 people in 13 states, with the vast majority of cases in the Pacific Northwest (see map below). Of 105 patients whose outcomes were known, 33 (31%) were hospitalized. No deaths were reported.
The Centers for Disease Control and Prevention (CDC) said in an update yesterday that the outbreak appears to be over. The case total is up by six cases since the previous CDC update on Mar 5.
Patient ages range from less than 1 to 94 years, with a median of 22. Illness-onset dates range from Jun 4, 2012, to Apr 16, 2013.
According to the MMWR report, 36 (71%) of 51 patients who had brand information said they had exposure either to Foster Farms chicken or to another brand likely produced by Foster Farms, of Livingston, Calif.
Also, data from the National Antimicrobial Resistance Monitoring System (NARMS) showed that from 2002 to 2011 the outbreak strain was identified in 48 chicken samples. All but one were from Foster Farms.
Foster Farms chicken was linked to illness in a 2004 investigation by officials from Washington state and the US Department of Agriculture (USDA), according to an editorial note on the MMWR report. Following a 2004 USDA assessment of the farm, the agency issued a Notice of Intended Enforcement to Foster Farms, after which uploads of the outbreak strain decreased on PulseNet, followed by an increase in 2009.
"The historical significance of this pattern in the Pacific Northwest suggests the need for ongoing surveillance and intervention to prevent additional illnesses," the editorial stated.
Jul 12 MMWR report
Jul 10 CDC final outbreak update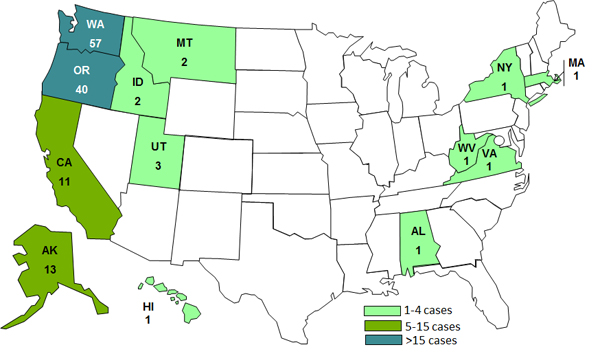 Persons infected with the outbreak strain of Salmonella Heidelberg, by state (CDC map).
Study: Salmonella serotypes linked with certain food commodities
In foodborne disease outbreaks caused by Salmonella, certain serotypes are distinctly associated with animal-derived food commodities, while others are associated with plant-derived ones, which could help guide outbreak investigations and control measures, according to a study yesterday in Emerging Infectious Diseases.
The authors studied the causes and food sources of the 1,491 Salmonella outbreaks reported to the CDC's Foodborne Disease Outbreak Surveillance System from 1998 through 2008. Of the total outbreaks, 1,193 (80%) were caused by a single serotype, 595 (50%) had an implicated food, and 403 (34%) could be assigned to a single food commodity, say the authors.
They found that more than 80% of outbreaks caused by Salmonella Enteritidis, Heidelberg, or Hadar were attributed to eggs or poultry.
Of outbreaks caused by Salmonella Javiana, Litchfield, Mbandaka, Muenchen, Poona, or Senftenberg, more than 50% were from plant-derived foods. Serotypes Typhimumium and Newport were associated with many different food varieties.
According to the authors, "The results of our analysis can provide guidance to investigators when forming hypotheses about contaminated food sources during outbreak investigations" and in pinpointing contaminated ingredients.
Jul 10 Emerg Infect Dis article
Cases in Ireland may be tied to European hepatitis berry outbreak
Three hepatitis cases in Ireland may be tied to an ongoing outbreak of hepatitis A infections linked to frozen berries that has affected Italians as well as travelers to Italy from Germany, the Netherlands, and Poland, the European Centre for Disease Prevention and Control (ECDC) said yesterday.
None of the three Irish patients traveled to Italy or had contact with other known hepatitis-infected individuals, the ECDC said in a news release. But viral isolates from the patients show an identical genetic sequence to cases in the Italian outbreak.
Since Jan 1, 15 outbreak cases in Germany, the Netherlands, and Poland have been linked to the outbreak, the ECDC said in a rapid outbreak assessment. In addition, in the first 6 months of this year Italy has had more than 200 hepatitis cases above the expected level, which the agency said are "likely to be associated with this outbreak."
The onset of illness dates in the Irish cases were in April, while the most recently reported cases in Italy had illness onsets in June.
Mixed frozen berries are the most likely source of the outbreak in Italy, the ECDC said. In late May an Italian distributor withdrew mixed frozen berries from the market after the outbreak strain was confirmed in a package. Because the berry mix might still be in people's freezers, the ECDC expects additional cases.
Other hepatitis A outbreaks are being investigated in the Nordic countries and in travelers returning from Egypt, the ECDC said in its assessment. In the United States, 143 hepatitis A cases have been linked to a frozen berry mix containing pomegranate seeds from Turkey.
Jul 10 ECDC news release
Jul 10 ECDC rapid outbreak assessment