Steroid-linked fungal outbreak grows to 749 cases, 61 deaths
A multistate outbreak of fungal infections linked to contaminated steroids grew in June by 4 cases and 3 deaths, to 749 cases and 61 deaths, the CDC said today. Its previous update was Jun 3.
The CDC said 233 cases were meningitis only, 151 involved meningitis with spinal or paraspinal infections, 7 involved stroke without lumbar puncture, 323 were paraspinal or spinal infections only, 33 were peripheral joint infections only, and 2 were paraspinal or spinal infections with peripheral joint infections.
The outbreak emerged last fall and was linked to three recalled lots of methylprednisolone acetate made by New England Compounding Center in Framingham, Mass.
The four new cases were in Indiana (3) and Tennessee (1). The state having the most cases by far is Michigan, with 264, followed by Tennessee, with 153, and Indiana, with 91.
The CDC said it will update the outbreak numbers again on Jul 29.
Jul 1 CDC update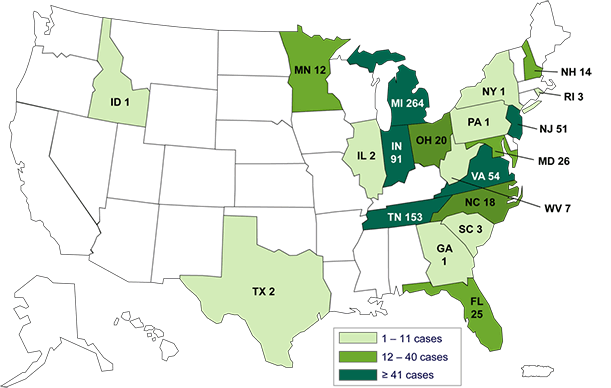 Israel to vaccinate 150,000 children in wake of poliovirus detection
As a result of the detection of wild poliovirus (WPV) in sewage, Israel plans to conduct a supplementary immunization campaign targeting 150,000 children, according to press reports and the World Health Organization (WHO).
Health officials decided on the vaccination effort following a visit from WHO experts over the past few days, according to a Jun 30 story from Israel National News.
WPV was found in sewage in Beersheva in southern Israel in February, and since then it has been detected in sewage in other places, the WHO Regional Office for Europe said today.
"The decision to launch the campaign reflects both the estimated extent of circulation of the virus and the Israeli authorities' commitment to interrupt transmission as rapidly as possible," the WHO said.
It said the aim of the campaign is to protect any children who may have missed routine vaccinations. In southern Israel, adults are also being assessed, and those thought to be susceptible are being immunized.
Israel has been free of indigenous polio transmission since 1988, the WHO said. "Given the high level of population immunity and the continuing response to the detection of WPV in the environment, WHO assesses the risk of the further international spread of this virus strain from Israel as moderate," it added.
An international team of polio experts visited Israel for 5 days to assess the polio risk and recommend action, the WHO said. The visit, which was requested by Israeli officials, ended on Jun 26.
Jun 30 Israel National News story
Jul 1 WHO Europe statement