Delegates at Riyadh meeting call for intensive study of MERS-CoV
Officials at the second International Conference on Mass Gathering Medicine in Riyadh, Saudi Arabia, called for "intensive global investigation" of Middle East respiratory syndrome coronavirus (MERS-CoV) to help determine how it spreads and other factors, according to an Arab News report today.
The source of the virus and how people become exposed to it remain unknown, though a year has passed year since it was discovered in Saudi Arabia.
The 3-day conference, which ended yesterday, focused on MERS-CoV, the story said. Organized by the Saudi Ministry of Health with the World Health Organization, the meeting attracted more than 1,000 local and international delegates, including health ministers from 15 countries.
The gathering was held shortly in advance of the Hajj, the annual pilgrimage to Mecca, which is expected to draw at least 3 million people. Saudi Health Minister Abdullah al-Rabeeah, MBBS, assured delegates that the Hajj season will be free of MERS-CoV because of tight quarantine measures that will be used at entry points for pilgrims in the Western province, according to the story.
Saudi officials have said that no MERS-CoV infections were found in foreign pilgrims who visited Saudi Arabia for the Umrah pilgrimage during Ramadan in July and early August.
Sep 24 Arab News story
Hepatitis A outbreak linked to frozen berry mix grows to 162 cases
Cases of hepatitis A linked to a frozen berry mix containing pomegranate seeds now number 162 from 10 states, the Centers for Disease Control and Prevention (CDC) said yesterday. Four new cases have been confirmed since the CDC's previous update on Aug 2.
Patient ages range from 1 to 84 years, with 94 (58%) between 40 and 64. Hospitalization was required in 71 cases, but no one has died.
Illness onset dates ranged from Mar 31 through Jul 26. Six of the case-patients are household contacts of infected case-patients.
States reporting cases include Arizona (23), California (79), Colorado (28), Hawaii (8), New Hampshire (1), New Jersey (1), New Mexico (11), Nevada (6), Utah (3), and Wisconsin (2). See the CDC map below.
Investigators have identified the food source as Townsend Farms Organic Antioxidant Blend, which was recalled by Townsend in June. All of the patients so far bought the product at Costco, but it is sold through Harris Teeter stores as well.
The berry mix contains pomegranate seeds from Giknur Foodstuffs Import Export Trading in Turkey, considered to be the most likely vehicle for hepatitis virus contamination.
Sep 23 CDC update
CDC map: Persons infected with hepatitis A virus, by state*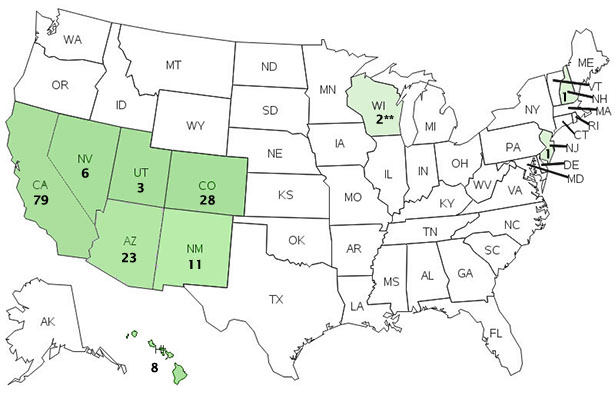 *n=162 for whom information was reported as of Sep 20, 2013.
** The cases reported from Wisconsin resulted from exposure to the product in California, the cases reported from New Hampshire reported fruit exposure during travel to Nevada, and the case reported in New Jersey was a household contact of a confirmed case from Colorado.
Nepal reports that 350,000 poultry died in recent H5N1 outbreaks
Forty-three outbreaks of H5N1 avian flu killed almost 350,000 poultry in recent weeks in the central part of Nepal, according to a Sep 21 report to the World Organization for Animal Health (OIE).
Thirty-four of the outbreaks were reported as one cluster, involving 266,959 poultry on commercial farms in Bagmati administrative zone. Of the flocks, 44,459 birds died from H5N1 infection, and the rest were culled to prevent disease spread. The outbreaks started on Jul 26 and were resolved on Aug 17.
The nine other outbreaks were in Bagmati, Lumbini, and Janakpur zones and involved flocks ranging from 400 to 40,000 birds. Only three of the flocks had more than 10,000 poultry. Dates of outbreak onset ranged from Jul 27 to Aug 9.
All told, the disease killed 55,628 birds, and an additional 294,211 were culled in response, for a total of 349,839 birds killed.
"Cleaning and disinfection activities in the infected premises are completed," the report said. "Intensive surveillance activities are ongoing throughout the country."
Sep 21 OIE report
USAID awards $2 million to study land-use effects on disease
EcoHealth Alliance, a nonprofit that focuses on local conservation and global health issues, yesterday announced it has received a 3-year, $2 million award from the US Agency for International Development (USAID) to study how changes in land use drive disease emergence and climate change in Asia.
Land alterations accelerate the pace and diversity of human and animal contact, enabling pathogens to spill over from animals, a first step toward a potential pandemic, EcoHealth said in a news release. Deforestation and forest degradation from land alterations account for 14% to 17% of greenhouse gas emissions—about the same as that created by the transportation industry worldwide, the group said.
The key to reducing disease threats and slowing climate change is a more comprehensive understanding of how functional ecosystems mitigate disease emergence and enhance carbon storage, according to the news release.
In partnership with the Sabah Wildlife Department and the University of Malaysia Sabah, EcoHealth Alliance will apply data from the Kinabatangan basin in Sabah, Malaysia, to estimate the role of ecosystems in regulating infectious diseases.
"This project will set the agenda for how we can bring together international development, health, and environmental programs under one umbrella," said Peter Daszak, PhD, president of EcoHealth Alliance.
Sep 23 EcoHealth news release