Chikungunya outbreak expands by 12%, to 576,000 cases
Officials reported more than 62,000 new chikungunya cases in the Caribbean and surrounding areas last week—almost all in the Dominican Republic—expanding the outbreak to 576,000 cases, according to an Aug 8 update from the Pan American Health Organization (PAHO).
The total represents an increase of 62,608 suspected and confirmed cases, or 12.2% of the 513,393 reported a week earlier. Of the total, only 646 are imported cases, with the rest locally acquired.
The Dominican Republic accounted for 62,279 of the new cases, to bring its outbreak total to 370,212, according to PAHO.
The update also included 100 new imported and 2 new locally acquired cases in the United States that were confirmed by the US Centers for Disease Control and Prevention (CDC) last week. In addition, Puerto Rico reported 734 new locally acquired cases to bring its total to 1,982, plus 17 imported cases.
Caribbean islands that had previously been driving the outbreak numbers—such as Martinique, Guadeloupe, and St. Martin—reported no new cases. Most involved islands and nations, however, are several weeks behind on reporting cases.
Countries reporting their first chikungunya cases were Canada, with 8 confirmed imported cases, and Curacao, with 9 imported cases, 1 of which was confirmed. In addition, Jamaica confirmed its first 2 locally acquired cases; it earlier had reported 2 imported cases.
The outbreak's death toll remained at 32.
Aug 8 PAHO update
Aug 7 CIDRAP News scan "Travel-related chikungunya cases in US rise to 484"
Aug 4 CIDRAP News story "Caribbean chikungunya cases climb 8%, top 500,000"
Saudi Arabia reports first MERS case since Jul 10
Saudi Arabia today reported its first MERS-CoV (Middle East respiratory syndrome coronavirus) case since Jul 10, ending a month-long pause that followed a spring that brought hundreds of cases, most of them in hospital-related outbreaks.
The new case involves a 72-year-old Saudi man in Riyadh who is in a hospital intensive care unit, the Saudi Ministry of Health (MOH) said. He has a preexisting disease and is not a healthcare worker. The statement gave no information on his possible exposure sources or date of illness onset.
The MOH also reported today the death of another MERS patient, a 74-year-old Saudi man from Riyadh who was not a healthcare worker. The description matches that of a patient whose case was confirmed by the World Health Organization (WHO) on Jul 14. The agency said he had no underlying diseases and no history of recent travel or contact with other MERS patients or animals.
Today's news raised Saudi Arabia's MERS case count to 722, including 299 deaths, the MOH said. It said 396 patients recovered and 27 are still being treated.
Confirmation of the new case and death would increase the WHO's global MERS count to 838 cases and 292 deaths.
Aug 11 Saudi MOH statement
MOH MERS page with case count
Latest WHO update on MERS cases (Jul 23)
Salmonella outbreak from live baby poultry increases by 49 cases
Salmonella linked to baby chicks, ducklings, and other live poultry from the Mt. Healthy Hatcheries in Ohio has, as of Aug 5, infected 300 people in 42 states and Puerto Rico, according to an Aug 8 update from the Centers for Disease Control and Prevention (CDC).
The numbers include 49 new cases since the previous CDC update on Jun 27.
The strains included in the outbreak are Salmonella Infantis, Newport, and Hadar. Of the infected patients, 31% have been hospitalized. There have been no fatalities. Eighty percent of infected people have reported contact with live poultry within the week before symptom onset.
Five additional states—Oregon, Nebraska, Minnesota, Missouri, and Massachusetts—have been affected by the outbreak since the last report. The states with the most cases are New York (30), Pennsylvania (29), North Carolina (28), Virginia (25), and Ohio (24). See CDC map below.
Mt. Healthy, a mail-order hatchery, was implicated after multiple trace-back investigations of outbreak cases. The hatchery was linked with Salmonella outbreaks in 2012 and 2013 as well.
The CDC advises consumers who own live poultry to wash hands thoroughly after touching birds or anything in the area where they live or roam, to not "snuggle" poultry or let them inside the house, and to not allow children under 5, older adults, or people with compromised immune systems to handle or touch poultry.
Aug 8 CDC update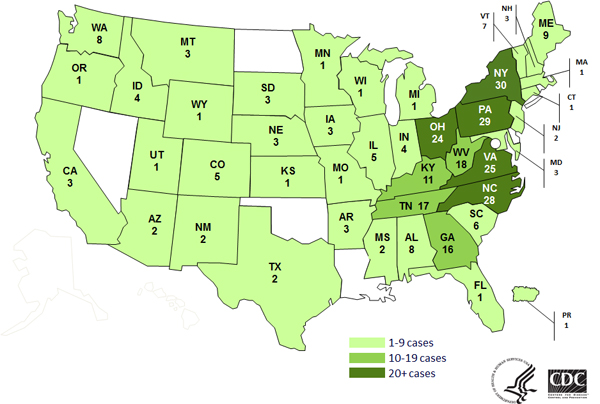 Polio vaccination campaign in Iraq aims to reach 4 million children
Iraq's ministry of health has begun a 4-day polio vaccination effort aimed at reaching more than 4 million children younger than 5, the WHO said in a news release today.
The campaign, backed by the WHO and the United Nations Children's Fund (UNICEF), comes on the heels of recent cross-border spread of the disease in the region, including two cases near Baghdad—the first in Iraq since 2000.
Violence in Iraq has heightened concern about the potential for polio's spread there, with displacement of almost 1.2 million people, many of them children and many being displaced multiple times since the beginning of the year, says the release. Overcrowded living conditions in areas of refuge increase the possibility of transmission.
Difficulties in reaching children in conflict zones as well as social reservations have left many unvaccinated. "WHO and UNICEF are helping health authorities reach children in 12 governorates, including the three governorates in the Kurdistan Region of Iraq where approximately 250,000 Iraqi children and 125,000 Syrian children have taken refuge," the WHO said.
A resurgence of polio in the past year after its near-eradication led the WHO to declare it a public health emergency of international concern in May.
Aug 11 WHO news release