Army lab didn't properly test method of killing B anthracis, report says
A US Army facility in Utah that mistakenly shipped live Bacillus anthracis to dozens of other labs over a 10-year period did not properly test its method for killing the bacterium, which causes anthrax, according to a USA Today story based on a government report.
The story said the report, dated Jun 5, was written by lab inspectors with the Centers for Disease Control and Prevention (CDC). They cited the Dugway Proving Ground's Life Science Test Facility in Utah for three violations of federal regulations on working with potential bioterror agents and ordered the facility to immediately stop all shipments of "inactivated" anthrax specimens.
Dugway scientists used cobalt-60 gamma radiation to kill B anthracis samples before shipping them to government or private labs for further research, the report said. 
But the lab's standard procedures for irradiating anthrax "did not account for the variable amounts of spores treated in the gamma cell irradiator," said the report, as quoted. The method used "was not validated using standardized control spore samples at varying concentrations, volumes, and levels of irradiation."
"As a result, anthrax bacteria were shipped out at least 74 times to dozens of labs in the U.S. and at least five foreign countries from January 2005 to May 2015," USA Today reported. So far, no one has been infected as a result of the Dugway mistakes, but 31 people who worked with the specimens have been put on antibiotics as a precaution, the story added.
It said military officials declined to comment on the findings in the report.
On May 29 the Department of Defense (DoD) ordered a comprehensive review of its lab procedures involving spore-forming Bacillus anthracis, in response to USA Today reports on failures in that area and other lapses in high-containment labs.
Jun 18 USA Today story
Related Jun 1 CIDRAP News item
Early trial results for Ebola drug are disappointing, company says
Preliminary trial results in Africa suggest that an Ebola drug that looked promising in animal experiments is unlikely to benefit humans, the drug's manufacturer, Tekmira Pharmaceuticals, announced today.
In a statement, the company said the phase 2 trial of TKM-Ebola-Guinea, conducted in Sierra Leone, "has reached a predefined statistical endpoint and enrollment has been closed. The endpoint indicated that continuing enrollment was not likely to demonstrate an overall therapeutic benefit. Data analysis is ongoing and the full results will be made available as soon as possible."
"While the trial has reached a statistical endpoint, final conclusions on the efficacy and tolerability of the drug must await full analysis of the data," Peter Horby, MBBS, PhD, chief investigator on the study, said in the statement. He is an associate professor of infectious diseases and global health at the University of Oxford.
The university is conducting the trial with funding from the Wellcome Trust, the company said. Tekmira has offices in Vancouver, B.C., and Doylestown, Pa.
In a study reported in April, macaques survived ordinarily lethal doses of Ebola when they were treated with TKM-Ebola starting 3 days after exposure to the virus. The drug is described as a synthetic small interfering RNA (siRNA) therapeutic.
Jun 19 Tekmira statement
Apr 22 CIDRAP News story on macaque study
Multistate Salmonella outbreak tied to pet geckos called over
The CDC yesterday declared that a multistate Salmonella outbreak linked to pet crested geckos that it first announced last month is over.
The outbreak has sickened 22 people in 17 states since Jan 1, the CDC said (see map below). Those numbers include 2 additional cases and 1 newly affected state—Maryland—since the agency's initial notice on May 14. The other new case is in Wisconsin.
Crested geckos are popular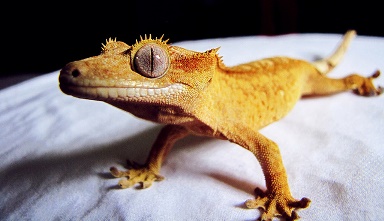 pet lizards that come in a variety of colors. The ones involved in the outbreak were bought from a variety of stores in different states. The reptiles can carry Salmonella without appearing sick, so the CDC recommends careful hygiene surrounding gecko care. It does not recommend that people get rid of their pet geckos.
The 22 cases involve people aged 1 to 57 years, with a median of 14. Three of them required hospitalization, but no deaths have occurred. Dates of illness onset range from Jan 1 to May 9.
The CDC noted, "This investigation is over; however, illnesses linked to contact with pet crested geckos could continue to be reported at a low level because pet crested gecko owners might be unaware of the risk of Salmonella infection."
Jun 18 CDC notice
May 14 CIDRAP News scan on previous announcement
People infected with the outbreak strain of Salmonella Muenchen, as of Jun 16 (CDC).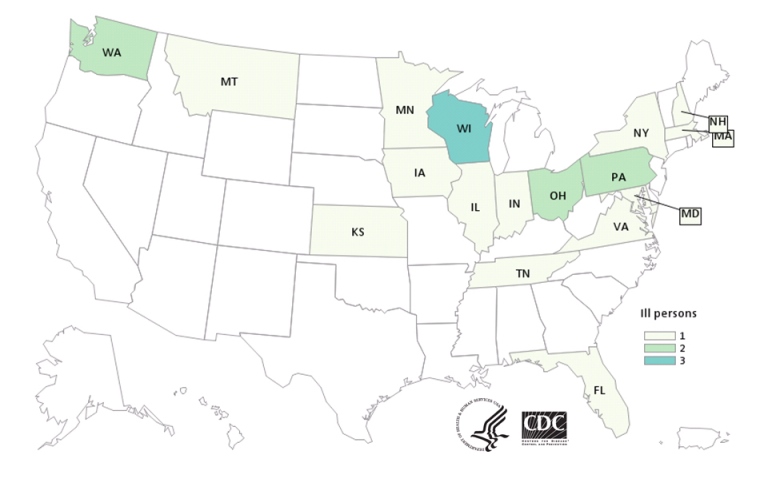 Co-circulation of Zika and other viruses shows need for lab diagnosis
A new report on the diagnosis of Zika virus infection during a recent outbreak of viral illnesses in Brazil points up the need for lab studies to distinguish the infection from others that cause similar symptoms, such as dengue.
Zika cases were reported in Brazil in May, marking the virus's first documented appearance in the Americas. Like dengue and chikungunya viruses, Zika is spread by Aedes mosquitoes, and it causes an illness similar to dengue, but generally milder.
Writing in Emerging Infectious Diseases, a team of Brazilian authors describe the identification of Zika infections during an outbreak in Camaçari, Bahia, Brazil, of an illness involving maculopapular rash, fever, myalgia or arthralgia, and conjunctivitis.
Serum samples were taken on Mar 26 from 24 patients at one hospital who received a presumptive diagnosis of an acute viral illness. They were treated for a dengue-like illness, and serum samples were tested for dengue (DENV), chikungunya (CHIKV), West Nile (WNV), Mayaro, and Zika (ZIKV) viruses.
Seven of the 24 patients (29.2%) tested positive for Zika by reverse-transcription polymerase chain reaction (RT-PCR), and 3 (12.5%) were positive for chikungunya, with no co-infections. Six of the 7 Zika patients were women; the group had a median age of 28 years and no history of international travel. They sought medical care after a 4-day history (range, 1 to 5 days) of rash, myalgias, arthralgias, or fever.
Following partial sequencing of the Zika virus's envelope gene region, a phylogenetic analysis showed that the virus belonged to the Asian lineage and was a 99% match with a Zika isolate from French Polynesia, the report says.
"Cases of infection with DENV, CHIKV, and ZIKV in Brazil and elsewhere will make diagnosis based on clinical and epidemiologic grounds unreliable. These issues show the need for laboratory confirmation of these arboviral infections," the report concludes.
Jun 18 Emerg Infect Dis report
Related Jun 5 CIDRAP News item
Thousands in strife-torn Yemen contract dengue
At least 5,000 people in war-torn southern Yemen have been diagnosed as having dengue fever, the Associated Press (AP) reported yesterday.
The top health ministry official in the southern city of Aden, al-Khadr Al-Aswar, put the number of people infected with the mosquito-borne virus at 5,000 or more. The World Health Organization (WHO) said last week that at least 3,000 suspected dengue cases have been reported since March in several provinces, with 3 people dying from their illness.
Al-Aswar said that mountains of uncollected garbage, as well as untreated sewage and heat, have contributed to disease spread. The WHO said the last major outbreak in the country, involving 1,500 confirmed cases, occurred in 2011.
Violent unrest in Yemen has killed more than 1,000 civilians, displaced more than a million, and led to severe shortages of food, water, fuel, and electricity, the AP said. The fuel dearth has sidelined garbage trucks, leading to uncollected trash.
Jun 18 AP story