The Resilient Drug Supply Project, a part of the Center for Infectious Disease Research and Policy (CIDRAP), focuses on the supply chains and global disruptions for the most critical drugs for life-saving and life-sustaining treatment. As part of this work, the team is developing a detailed mapping of the entire supply chain for critical US drug products, from key starting materials to patient consumption.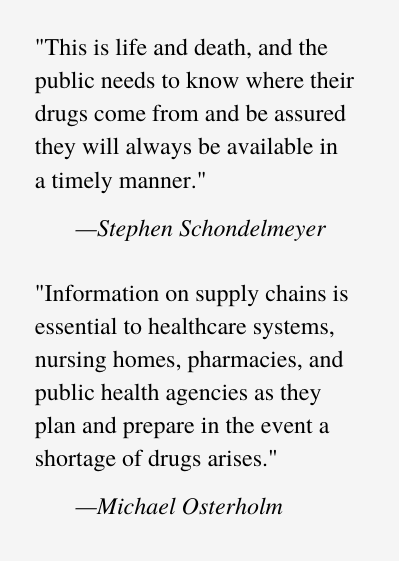 Outcomes of this research will improve the healthcare supply system's ability to maintain a steady and adequate supply of critical medicines and supplies worldwide.
CIDRAP, funded through the Walton Family Foundation, and in partnership with the New Zealand Medicines & Medical Devices Safety Authority, has been investigating the vulnerability of the US healthcare system to shortages of drugs and their active pharmaceutical ingredients, especially those made in other countries, principally China and India. 
This project is led by co-principal investigators Dr. Michael Osterholm and Dr. Stephen Schondelmeyer, with support from the RDSP staff members.
About the Center for Infectious Disease Research and Policy 
The Center for Infectious Disease Research and Policy is a global leader in addressing public health preparedness and emerging infectious disease response. Founded in 2001, CIDRAP is part of the Office of the Vice President for Research at the University of Minnesota.
About the PRIME Institute 
The PRIME Institute is an independent and global research, education, and consulting organization whose mission is the study of economic and policy issues to help improve the access of the population to pharmaceuticals and pharmaceutical services. Founded in 1991, the PRIME Institute is part of the College of Pharmacy at the University of Minnesota. 
---
How can I get additional information?
Please contact James Seifert at seife202@umn.edu.