CDC lowers case count in hepatitis A outbreak linked to berry mix
Federal officials have reduced the case count in a foodborne outbreak of hepatitis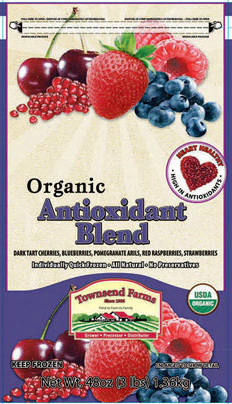 A from 118 to 113, saying they are now counting only confirmed cases.
In addition, the number of affected states has been reduced from eight to seven, all of them in the West, the Centers for Disease Control and Prevention (CDC) said in an update today.
The cases have been linked to Townsend Farms Organic Anti-Oxidant Blend, a frozen berry and pomegranate mix.
The latest illness-onset date in the outbreak is Jun 13. Fifty people (44%) have been hospitalized, but no deaths have been reported, the CDC reported.
The product was sold at Costco and Harris Teeter stores, but all cases so far have been associated with products from Costco. Townsend Farms Inc. of Fairview, Ore., has recalled certain lots of the product.
The CDC had listed the case count as 118 in a Jun 18 update.
Jun 21 CDC update
Cuke-related Salmonella Saintpaul outbreak over
The recent outbreak of Salmonella Saintpaul infections linked to cucumbers imported from Mexico was declared over yesterday in a final notice from the CDC.
The case count was 84, with 18 states involved. There were 17 (28%) hospitalizations and no deaths among those infected.
Two suppliers in Culiacan, Mexico—Daniel Cardenas Izabal and Miracle Greenhouse—were placed on import notice Apr 24 by the US Food and Drug Administration (FDA), which blocked importation of their cucumbers into the United States unless they could demonstrate that the vegetables were not contaminated with Salmonella.
The outbreak summary says that the pulsed-field gel electrophoresis pattern of the outbreak agent has rarely been seen before in PulseNet data and has typically caused five or fewer cases per year.
Among the states reporting cases, California had the most, with 29. Illness-onset dates ranged from Jan 12 to Apr 28, and patient ages ranged from 1 to 89 years.
Jun 20 CDC final update
House's defeat of farm bill may be boost for food safety law
The US House version of the farm bill went down to a surprising defeat yesterday, dooming a provision that could have further delayed implementation of the Food Safety Modernization Act (FSMA), reported Food Safety News (FSN) today.
Late on Jun 19, the House had agreed to add an amendment from Rep. Dan Benishek, R-Mich., that would have required the FDA to conduct a "scientific and economic analysis" of FSMA regulations before implementation, the story said. Benishek complained that FSMA rules might require farmers in his district to inspect every piece of fruit for bird feces and redesign their irrigation systems to meet water and soil monitoring standards.
Food safety and consumer advocates strongly opposed the amendment, while United Fresh, a produce industry group, predicted that it would have had little impact, because the FDA has already done much of the analysis it calls for.
The agency published a detailed analysis of the preventive controls and produce safety rules when they were released in January, the story said.
The New York Times reported that the bill, which failed on a 234-195 vote, would have cut projected spending on farm and nutrition programs by close to $40 billon over 10 years, with $20.5 billion coming out of the food stamp program.
Jun 21 FSN story
Jun 20 Times story