Meta-analysis: Flu vaccines can protect against mismatched strains
A meta-analysis of 34 randomized clinical trials (RCTs) suggests that seasonal influenza vaccines can provide significant protection against flu even if the circulating flu strains don't match those in the vaccine, according to a Canadian team of researchers.
The team, with members from St. Michael's Hospital in Toronto, two universities, and vaccine maker GlaxoSmithKline, published its findings in BMC Medicine.
The team identified 34 RCTs with data on 47 flu seasons and 94,821 participants. From these, they determined that in children from 6 to 36 months old, the live-attenuated vaccine provided significant protection against mismatched strains (six RCTs; 54% vaccine efficacy [VE]; 95% confidence interval [CI], 28%-71%) and matched strains (seven RCTs; 83% VE; 95% CI, 75%-88%).
The analysis also showed that in adults, trivalent inactivated vaccines yielded protection against mismatched strains (nine RCTs, 52% VE; 95% CI, 37%-63%) and matched strains (eight RCTs, VE 65%; 95% CI, 54%-73%).
For both the live-attenuated vaccine and TIV, VE against mismatched influenza B strains was somewhat lower than VE against mismatched type A strains. For TIV, VE against mismatched A strains in five RCTs was 64%, whereas VE against mismatched B strains in eight RCTs was 52% (95% CI, 19%-72%).
Jun 25 BMC Medicine report
Related Oct 15, 2012, CIDRAP News story on report on flu vaccine issues
Jun 25 St. Michael's Hospital press release
WHO formally recognizes latest MERS cases
The World Health Organization (WHO), following up on a Twitter message yesterday, issued a statement today acknowledging the seven latest MERS-CoV (Middle East respiratory syndrome coronavirus) cases and one death in Saudi Arabia.
The cases raise the WHO's global MERS-CoV count to 77 cases and 40 deaths. Saudi Arabia accounts for 62 of the cases and 34 deaths, according to the Saudi Ministry of Health (MOH).
Six of the seven recent cases were asymptomatic; four were in children and two involved female healthcare workers.
The death was in a 32-year-old man who had cancer and whose MERS case was announced previously.
Jun 26 WHO statement
Saudi MOH page with case count
WHO: Dengue cases up dramatically in Asia-Pacific
Although the extent of dengue outbreaks in Asia and Pacific nations has varied, the region as a whole has seen a 32% increase in cases so far this year compared with the same period last year, the World Health Organization's (WHO's) Western Pacific Region Office (WPRO) said today.
Percentagewise, Laos has seen the biggest increase among Asian countries, from 1,268 dengue cases last year to 10,159 cases this year for comparable periods, a 700% increase. Singapore's cases rose by almost 500%, from 1,716 to 10,108.
Overall, countries listed in the WHO's Asian sub-region—which includes Australia—reported a 19% dengue case increase, from 74,623 to 88,806 so far this year.
New Caledonia accounted for the entire increase in the WHO's Pacific sub-region. Its case count increased from 200 at this point in 2012 to 10,318 so far this year. (The WPRO also lists 6,217 Solomon Island cases so far this year but did not have 2012 figures for that nation.)
Country-by-country numbers are shown in the WHO table below from today's update.
Jun 26 WHO WPRO update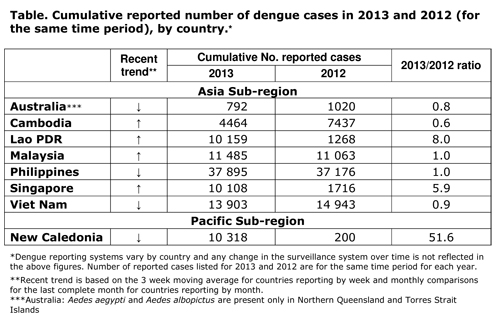 In a Jun 15 update, the WPRO said that the 10,159 dengue cases in Laos include 40 deaths, most in children 14 years old and younger.
The agency said, "As the rainy season begins, the number of dengue cases is expected to increase dramatically." It added that the country may face the worst dengue epidemic in its history this year.
It called on Laos's government to take immediate action to reduce dengue risk.
Jun 15 WHO WPRO Laos notice
Rotary, Gates Foundation announce new polio fund drive
Rotary International and the Bill & Melinda Gates Foundation (BMGF) today announced an extension of their fund-raising partnership through which they hope to raise up to $525 million in additional funds for global polio eradication efforts, according to a Rotary/BMGF news release.
As part of the extension, the BMGF will match 2 for 1 every dollar that Rotary International raises, up to $35 million per year through 2018.
"When Rotarians combine the passion for service along with the power of a global network, you are unstoppable, and the Gates Foundation is proud to partner with you," said BMGF CEO Jeff Raikes in a video message to Rotarians attending the group's annual convention in Lisbon.
All funds raised will support crucial immunization activities in polio-affected countries, according to the news release.
Rotary and the BMGF have partnered on polio eradication since 2007. Rotary clubs worldwide have contributed $1.2 billion thus far to polio eradication efforts, the release said.
Jun 25 Rotary/BMGF news release