Virginia reports first Cyclospora cases as outbreak grows to 535
Fifteen more Cyclospora infections have been reported in an ongoing multistate outbreak, including the first two cases reported by Virginia, the US Centers for Disease Control and Prevention (CDC) said in an update today.
The new cases raise the national total to 535 cases in 18 states (see CDC map below). The latest illness onset was Jul 28, but most cases were reported in the middle of June through early July.
The state reporting the most cases is Texas, which now has 235, including 20 cases that aren't yet included in the CDC's tally. Those additional cases would raise the nation's total to 555.
So far it's not clear if all of the cases in all of the states are related to the ones in Iowa and Nebraska. Trace-back investigations have linked restaurant-related illness clusters in those two states to a prepackaged salad mix from a Taylor Farms facility in Mexico.
Aug 12 CDC outbreak update
Aug 12 Texas Department of State Health Services update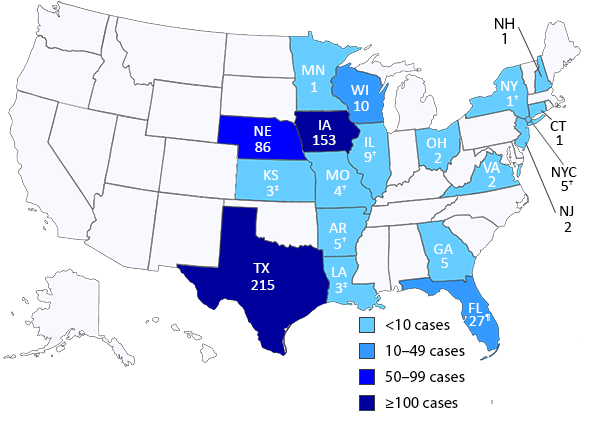 Texas compounding pharmacy's mineral supplement sickens 15
Bacterial bloodstream infections developed in 15 patients following intravenous infusions of a mineral supplement at two Texas hospitals, leading to a voluntary recall of all sterile products produced and distributed by a Texas compounding pharmacy, the Food and Drug Administration (FDA) said yesterday.
The pharmacy, Specialty Compounding in Cedar Park, Texas, supplied the calcium gluconate injections thought to be involved in the infections, the FDA said in a news release.
The supplement is used as treatment for cardiac arrest, calcium deficiency, or high potassium levels, CBS News reported today. The bloodstream infections were caused by Rhodococcus equi, which can cause such symptoms as fever and pain.
The supplements implicated were delivered by Specialty Compounding to doctors' offices and hospitals in Texas as well as directly to patients nationwide, the FDA said.
The FDA has stepped up inspections of compounding pharmacies since the nationwide outbreak of fungal infections linked to steroid injections that began last fall. Adverse reactions to any Specialty Compounding product may be reported through the FDA's MedWatch Adverse Event Reporting program, the agency said in the release.
Aug 11 FDA press release
Aug 12 CBS News story
FSIS extends comment period for tenderized-beef rule
The comment period for a federal rule on the safety of mechanically tenderized beef has been extended 60 days to Oct 8, the US Department of Agriculture's Food Safety and Inspection Service (FSIS) announced recently.
In an Aug 9 notice in the Federal Register, the FSIS said that two industry groups had requested a 120-day extension. The FSIS, however, said, "The Agency believes that an additional 60-day extension is sufficient."
In the rule, first proposed Jun 6, the FSIS is mandating that all raw or partially cooked needle- or blade-tenderized beef products be labeled "mechanically tenderized," including beef injected with marinade or solution, "unless such products are destined to be fully cooked at an official establishment," the agency said in the notice.
The rule requires that uniform labels on mechanically tenderized beef "destined for household consumers, hotels, restaurants, or similar institutions include validated cooking instructions that inform consumers that these products need to be cooked to a specified minimum internal temperature, and whether they need to be held at that minimum temperature for a specified time before consumption."
Aug 9 Federal Register notice
Jun 6 CIDRAP News story on proposed rule