US Cyclospora case count reaches 548
The US Centers for Disease Control and Prevention (CDC) today reported nine more US Cyclospora infections, raising its case count to 548, but the total does not include 21 of the most recent cases that the TexasDepartment of State Health Services (TDSHS) has listed on its Web site. Those additions would bring the tally to 569.
The number of affected states remained at 19 (see CDC map below), but the CDC said that not all cases are confirmed to be linked to an outbreak in Iowa and Nebraska traced to a contaminated salad mix from Mexico. The states with by far the most cases are Texas, 220 (by the CDC's count); Iowa, 153; and Nebraska, 86.
The most recent illness onset was Jul 28, but most illness-onset dates are from the middle of June through early July, the CDC said. Of the 548 cases, 34 (6%) have required hospitalization.
Investigations have linked restaurant-related illness clusters in Iowa and Nebraska to a packaged salad mix from a Taylor Farms facility in Mexico, and this week the company voluntarily stopped shipping all of its leafy greens to the United States.
Aug 14 CDC outbreak update
Aug 14 TDSHS update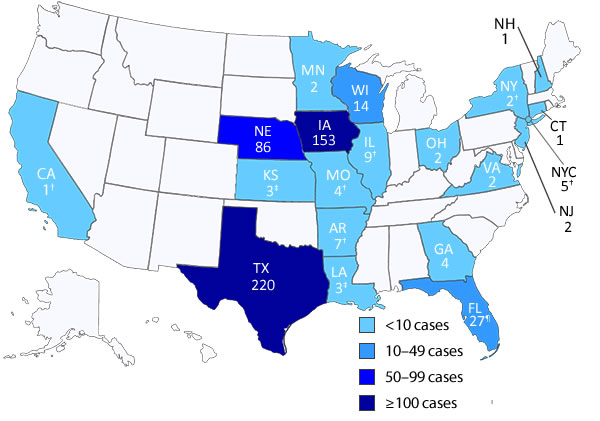 NYC optimistic that meningitis outbreak over
An aggressive vaccination and public health campaign in New York City has apparently contained an outbreak there of bacterial meningitis among gay and bisexual men, according to a story yesterday in the New York Times.
Cases began in 2010, but no new cases have occurred in the past 6 months, leading city officials to be hopeful that the outbreak has been contained. In total, 22 men have been infected and 7 have died.
Vaccination and educational campaigns were conducted in gay bars to reach populations at risk; they remain available at clinics that offer preventive and therapeutic care for sexually transmitted diseases. An estimated 30,000 to 100,000 men were considered to be at risk, the story says, and at least 16,000 have been vaccinated. That number may easily be higher, because doctors are not required to report giving the vaccination.
The disease, which attacks the lining of the brain and spinal cord, is highly transmissible, and city officials feared it could be passed through even casual contact such as sharing a glass or kissing. The particular strain of meningitis involved affects gay and bisexual men for reasons that are unknown but are being investigated, says the story.
Aug 13 New York Times story