Cyclospora case count reaches at least 576
The number of Cyclospora cayetanensis infections across the country now stands at 576, an increase of 28 in the past 2 days, according to an update from the Centers for Disease Control and Prevention (CDC) this morning. The Texas Department of State Health Services (TDSHS) shows that state's number at 258, which is 18 more than the CDC's currentTexas count; with those included, the nationwide total would now be 594.
The count of states reporting cases remains at 19 (see CDC map below). No deaths have been reported, but hospitalization for the intestinal infection has been necessary in 36 (9%) of the 423 cases for which that information is available. It remains unclear whether the cases are all part of the same outbreak.
The product implicated in the outbreaks in Nebraskaand Iowais a bagged lettuce mixture supplied to Olive Garden and Red Lobster restaurants by Taylor Farms de Mexico. The company voluntarily suspended production and shipment of salad mixes from operations in Mexico to the United States on August 9.
Aug 16 CDC update
Aug 16 TDSHS update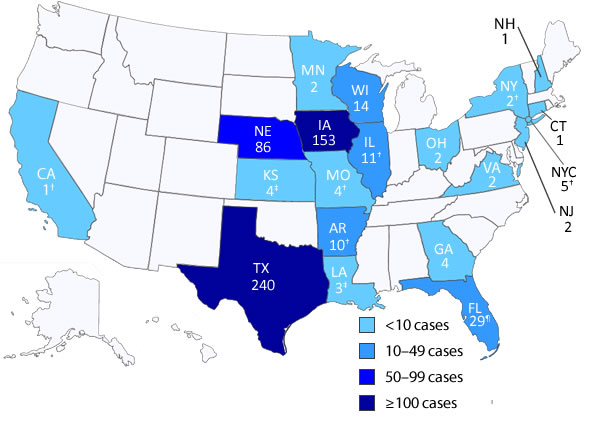 Somalia's polio rise called 'explosive'
New polio case numbers released today reflect that Somalia has 105 cases, which a global health official called an "explosive outbreak," the Associated Press (AP) reported. Another 10 cases have been reported just over the border in a Kenyan refugee camp inhabited by Somalis. Cases from the two areas make up the major portion of the 181 cases across the globe that have been reported so far this year.
Polio vaccinators in Somalia have reached 4 million children since the outbreak began in May but have had problems reaching 600,000 kids who live in areas controlled by armed Islamist militant groups, according to the AP report.
Oliver Rosenbauer, a spokesman for the Global Polio Eradication Initiative, told the AP, "It's very worrying, because it's an explosive outbreak and of course polio is a disease that is slated for eradication. In fact we're seeing more cases in this area this year than in the three endemic countries worldwide."
Earlier this week, Doctors Without Borders (MSF) announced it was leaving the country after 22 years because of attacks on its staff members.
In other polio developments, the Islamic Development Bank recently disbursed $32.6 million to assist with polio eradication activities in Pakistan, one of three countries where the disease in endemic, according to an Aug 14 press release from the World Health Organization Office for the Eastern Mediterranean (WHO EMRO). The money is targeted to training and supporting more than 200,000 health workers and volunteers to reach 33 million Pakistani children with oral polio vaccine and to strengthen immunization services for other preventable diseases.
Aug 15 AP story
Aug 14 MSF statement
Aug 14 WHO EMRO press release
Survey: 46% of adults likely to get flu shot
About 46% of respondents in a US survey said they are more likely to get the flu shot after last year's late-season rise, according to a survey commissioned by CVS pharmacy and MinuteClinic. However, 59% said they consider it a social responsibility to get vaccinated against flu each year.
The online survey included 2,084 adults ages 18 and older and was conducted from Jun 18 to 20 by Harris Interactive on behalf of CVS. A large percentage (47%) said it's inconvenient to make an appointment for a flu shot.
Among other findings, the survey revealed that 60% feel they are more susceptible to flu when they are traveling, and two in five said they are more likely to be immunized when flu outbreaks are reported in the news.
In related developments, pharmacy chains are starting to announce that flu shots are now available at their stores. Rite Aid said yesterday that the vaccines are available at its pharmacies. Sam's Club announced yesterday that it will start offering year-round adult immunizations at its pharmacies starting in August.
Aug 15 CVS press release
Aug 15 Rite Aid press release
Aug 15 Sam's Club press release
Study finds overlap of H7N9, H5N1 hot spots
An area of China that borders Anhui and Zhejiang provinces, both in the eastern part of the country, appears to carry a high-risk for human infections with H7N9 and H5N1 viruses, researchers reported yesterday in a letter to Emerging Infectious Diseases.
The team from China and Australia based their findings on a geospatial epidemiologic investigation that included all available data on China's H7N9 and H5N1 cases. The area of overlap between the two sets of flu cases is southeast of Taihu Lake and south of Jiangsu province but bordering both Anhui and Zhejiang provinces.
The researchers  also found a difference in regard to people's exposure to poultry between the two diseases. People infected with H5N1 were more likely to have had direct occupational exposure to poultry or their excrement or urine, whereas people who got sick with H7N9 had more indirect exposure, such as visiting live-poultry markets. The group wrote that further investigation into their findings could help identify risk factors that might be involved in disease transmission.
Aug 15 Emerg Infect Dis letter