Cyclospora cases, affected states increase
The official number of Cyclospora cases reported in an update today from the Centers for Disease Control stands at 598, an increase of 5 from yesterday, and South Dakota and Wyoming have each reported their first case, bringing the number of states affected to 22. Texas is reporting 269 cases currently, 19 more than counted by CDC for the state, which would raise the national total to 617.
Patient ages range from less than 1 year to 92 years with a median of 51. No deaths have been attributed to the infection, but 40 hospitalizations have been required out of the 465 cases for which that information is available. Most illness-onset dates range from mid June to mid July. The CDC notes that illnesses that occurred after Jul 14 may not yet have been reported because of a lag time of up to 5 or 6 weeks between illness and reporting.
It still remains unclear whether the cases in all the states are part of the same outbreak. The cases in Nebraska and Iowa have been traced to a salad mix provided to restaurants and food services by Taylor Farms de Mexico, which voluntarily suspended production and shipment of the product to the United States earlier this month.
Aug 21 CDC update
Aug 21 Texas Department of State Health Services update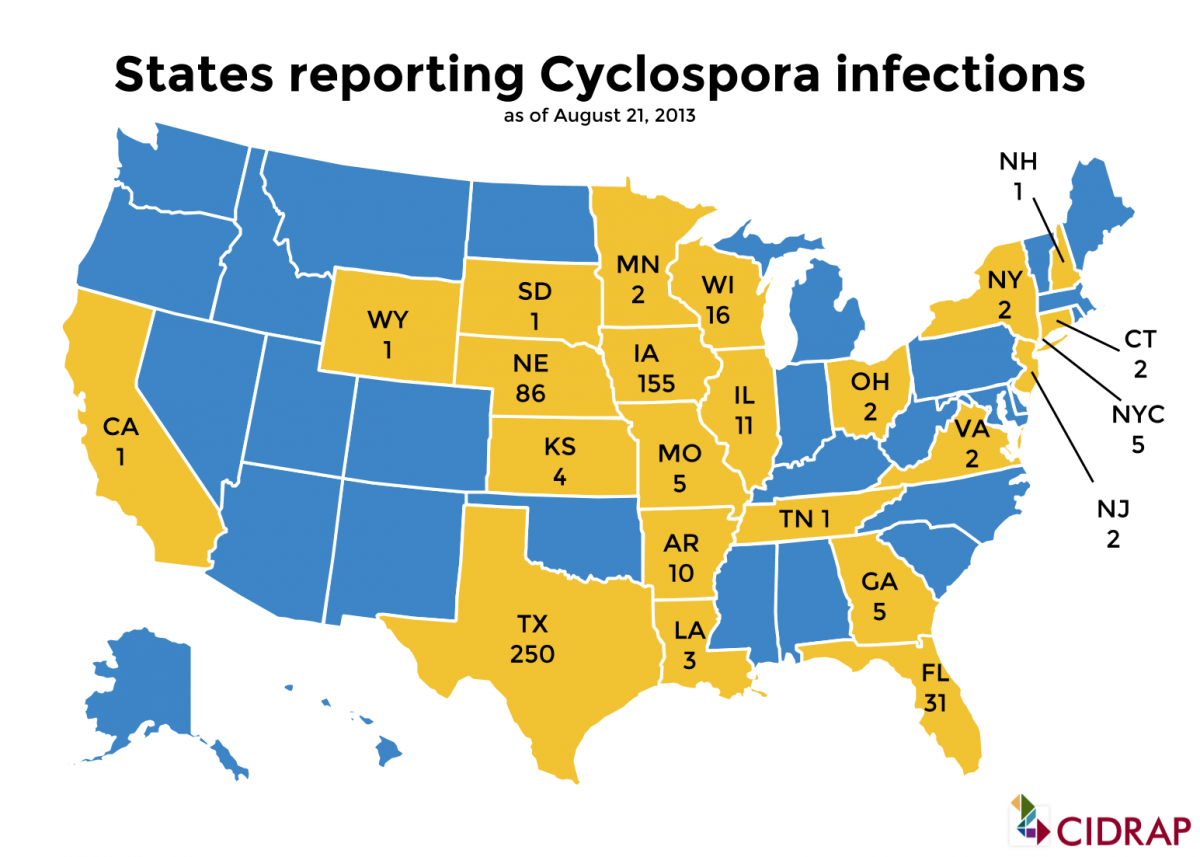 Cambodia reports H5N1 in boy
Another human case of H5N1 avian influenza has been reported in Cambodia, this one in a 6-year-old boy from southern Kandal province who has recovered from the infection, according to a story today from Chinese news agency Xinhua.
The boy's case was confirmed Aug 17. His symptoms included fever, headache, abdominal pain, vomiting, cough, and lethargy. He had a history of contact with sick poultry.
This case brings the total for Cambodia this year to 17, with 10 deaths. The World Health Organization's official 2013 H5N1 count for Cambodia stands at 13 cases with 9 deaths, but this was last updated Jul 5. Cambodia's own case count since 2004 is 38 cases with 29 deaths.
Aug 21 Xinhua report
Jul 5 WHO cumulative case count
Highly pathogenic H7N7 identified in Italian poultry outbreaks
Animal health officials in Italy have more specifically identified the H7 virus that recently struck a commercial poultry farm there as the highly pathogenic H7N7 strain and said a second outbreak has been detected at another poultry farm owned by the same company, according to a report today from the World Organization for Animal Health (OIE). Both outbreaks are in northern Italy's Emilia-Romanga region.
The latest outbreak was detected in the city of Mordano in Bologna province. It was detected during monitoring activities launched after the first outbreak, which occurred in Ostellato in Ferrara province. The two cities are 36 miles apart.
One case was detected in a commercial layer flock of 584,900 birds. Culling operations at the first outbreak site will be completed today, according to the OIE report.
An epidemiologic investigation and gene sequencing are under way, but early information suggests that a low-pathogenic virus entered the farm, possibly from wild birds, and mutated to a highly pathogenic strain.
Highly pathogenic H7N7 has occasionally been detected in European wild birds and poultry and was linked to a 2003 outbreak in the Netherlands that caused mild conjunctivitis in at least 89 people and killed a veterinarian.
Aug 21 OIE report