Chicken-linked Salmonella outbreak grows to 430 cases
A multistate outbreak of Salmonella Heidelberg linked to chicken from Foster Farms in California has now sickened 430 people in 23 states and Puerto Rico, the Centers for Disease Control and Prevention (CDC) said yesterday. That number represents 14 new cases since the CDC's previous update, on Dec 19.
As noted previously, the vast majority of cases (74%) have been in California (see CDC map below). Of the 14 new cases, 11 have been from California and 1 each in Arizona, Idaho, and Virginia.
Illness-onset dates range from Mar 1 to Dec 26, 2013. Patient ages range from 1 to 93 years, with a median of 18. Of 359 patients with available information, 137 (38%) have been hospitalized. Also, 13% of case-patients have developed blood infections as a result of their illness, compared with 5% in a typical Salmonella outbreak, the CDC said.
Three Foster Farms facilities linked to the outbreak made substantive changes in slaughter and processing methods after the outbreak began that allowed them to continue operations, according to an Oct 10, 2013, notice from the US Department of Agriculture (USDA). One of the plants, however, was subsequently shuttered by the USDA on Jan 8 because of roaches and other "egregious insanitary conditions."
The company has not recalled products because of the outbreak.
Jan 16 CDC update
Dec 19, 2013, CIDRAP News Scan on previous update
Jan 9 CIDRAP News Scan on plant closing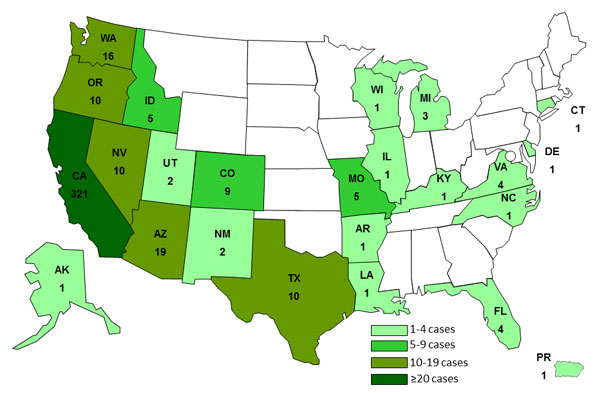 Slaughtered cow in Germany found to have L-type BSE
An asymptomatic cow in Germany was, upon slaughter, found to have a very rare form of bovine spongiform encephalopathy (BSE), says a notice today from the World Organization for Animal Health (OIE).
The 10-year-old animal was from Oder-Spree district, Brandenburg county, in northeastern Germany. As part of the German targeted BSE ("mad cow" disease) surveillance system, Western blot testing was done at the Friedrich-Loeffler Institute on samples from the cow and found to be positive for L-type BSE. This type is atypical and generally not associated with consumption of BSE-infected feed.
The animal never entered the food supply chain so posed no danger to human health, the report said. Epidemiologic investigation found that five offspring of the cow had already been slaughtered; the remaining two offspring, still at the farm of origin, were slaughtered and destroyed.
Tracing of cattle born on the farm from 1 year before through 1 year after the infected cow's birth identified five animals that were subsequently destroyed.
Jan 17 OIE notice