CDC reports 6 more cases of Heartland virus infection
Six more cases of Heartland virus infection have been identified since the world's first two cases were detected in the summer of 2012, scientists from the Centers for Disease Control and Prevention (CDC) and two states reported today.
Five men in Missouri and one in Tennessee contracted the disease in 2012 and 2013, according to the report in Morbidity and Mortality Weekly Report (MMWR). All were 50 or older, and five of the men reported tick bites in the days or weeks before they fell ill.
One of the patients, who had multiple other health conditions, died. But officials don't know if his Heartland infection caused his death.
The patients' symptoms—which included fever, fatigue, loss of appetite, headache, nausea, and muscle and joint pain—started between May and September, which are prime tick months. Four of the patients required hospital care. Their ages ranged from 50 to 80, with a median of 58, and all were active outdoors.
The first cases of the disease were reported in August 2012 in two male Missouri farmers who were hospitalized in 2009. Last July researchers reported finding Heartland virus in 10 lone star ticks, including 9 on the land of one of the farmers, strongly implicating th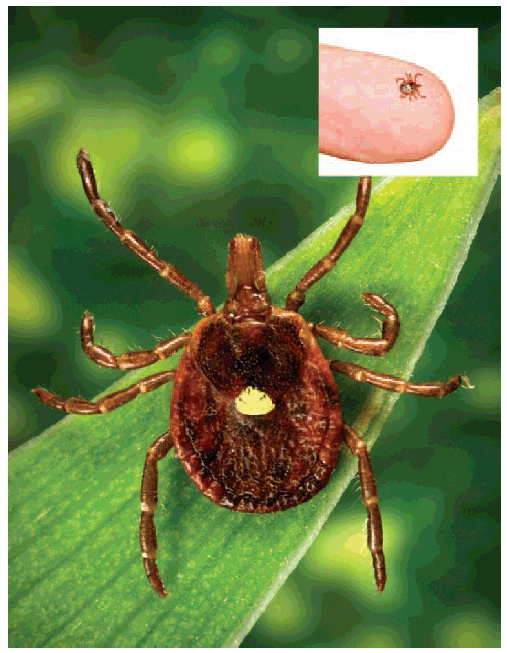 e species as a vector. The tick is named after the single whitish spot on its back (see CDC photo at right).
Nearly all of the newly reported cases were discovered through a study conducted by the Missouri Department of Health and Senior Services and the CDC, which are actively searching for human cases at six Missouri hospitals, according to a CDC news release. The novel virus is in the phlebovirus family.
Mar 28 MMWR report
Mar 27 CDC news release
Aug 30, 2012, CIDRAP News scan on first two cases
Jul 22, 2013, CIDRAP News story "Researchers trace novel Heartland virus to Missouri ticks"
FDA says most firms joining program to trim use of animal antibiotics
All but 1 of 26 companies that make relevant veterinary drugs plan to go along with the Food and Drug Administration's (FDA's) voluntary program to reduce the use of medically important antimicrobial drugs in animals, the FDA announced yesterday.
Under the "judicious use" program, the FDA has invited animal-drug makers to seek cancellation of approvals for the use of antimicrobials to promote animal growth, as opposed to treating disease, and to change the marketing status of products from over-the-counter to use only under veterinary supervision or by prescription.
The agency said that 25 of 26 companies affected by the program have confirmed "their intent to engage with the FDA in the program" and to have their names published. The companies account for more than 99% of the drug approvals and total product sales affected by the program, the statement said.
"FDA is encouraged by the response thus far and will continue to monitor ongoing participation and provide public updates on a periodic basis," the agency said.
The companies had been asked to notify the FDA by Mar 12 if they intended to join the program.
Mar 26 FDA announcement
Related Dec 11, 2013, CIDRAP News story
'Momentous victory' as Southeast Asia declared polio-free
Global polio eradication efforts received a boost today as the World Health Organization (WHO) declared its 11-country South-East Asia Region to be polio-free.
The region, which includes Bangladesh, Bhutan, North Korea, India, Indonesia, Maldives, Myanmar, Nepal, Sri Lanka, Thailand, and Timor-Leste, is the fourth of six WHO regions to be thus certified and holds one fourth of the world's population, says a WHO notice today. Other areas that have been certified as polio-free are the Americas (in 1994), Western Pacific (2000), and European (2002) regions, according to a press release from the US Agency for International Development (USAID).
Polio-free status comes upon attainment of several requirements: at least 3 years of no confirmed cases of indigenous wild poliovirus infection, excellent laboratory-based surveillance and safe containment of polioviruses in laboratories, and the capacity to detect, report, and respond to imported cases.
Said WHO Regional Director Dr. Poonam Khetrapal Singh at the 2-day certification meeting in New Delhi, "This is a momentous victory for the millions of health workers who have worked with governments, nongovernmental organizations, civil society and international partners to eradicate polio from the Region." Dr. Ariel Pablos-Mendez, assistant administrator for Global Health at USAID, called the announcement "a major milestone" and a "Herculean effort."
Singh warned, however, that until polio is eradicated everywhere, it remains a threat to all countries and that "the Region's polio-free status remains fragile" because of the potential for imported cases.
The goal of the Global Polio Eradication Initiative (GPEI) is to rid the world of polio by 2018.
Mar 27 WHO notice
Mar 27 USAID press release
GPEI home page