CDC study maps relentless spread of Lyme disease in US
The number of US counties with a high incidence of Lyme disease grew more than threefold over the 20 years from 1993 through 2012 as the illness spread across the Northeast and Upper Midwest, according to a new report in Emerging Infectious Diseases.
Researchers with the Centers for Disease Control and Prevention (CDC) tallied cases of the tick-borne disease reported at the county level over the 20-year period, totaling the cases for four 5-year periods (1993-97, 1998-2002, 2003-07, 2008-12) to minimize the influence of travel-related cases and short-term changes in surveillance practices.
Counties were defined as having a high incidence of Lyme disease if their observed number of cases was more than twice the number of expected cases on the basis of population and time period.
In the first 5-year period, 69 counties were found to have a high Lyme incidence. Except for 4 counties in the Southeast, all were in the Northeast and Upper Midwest. The number of counties increased to 130 in the second 5 years, with the 4 southeastern counties falling off the list, possibly thanks to improved diagnostics. The counties increased to 197 and 260 in the third and fourth periods.
Over the two decades, the number of northeastern counties with a high incidence increased more than 320%, from 43 to 182. The center of the high-incidence area focus in the Northeast generally moved westward and northward, away from the coast of northern New Jersey and into east-central Pennsylvania, the authors found.
In the Upper Midwest—mainly Wisconsin and Minnesota—the number of counties increased about 250% over the 20 years, from 22 to 78. The geographic center of the high-risk region stayed "relatively stable" in northwestern Wisconsin.
"Our results show that geographic expansion of high-risk areas is ongoing, emphasizing the need to identify broadly implementable and effective public health interventions to prevent human Lyme disease," the report concludes. (See CDC map below.)
Jul 15 Emerg Infect Dis report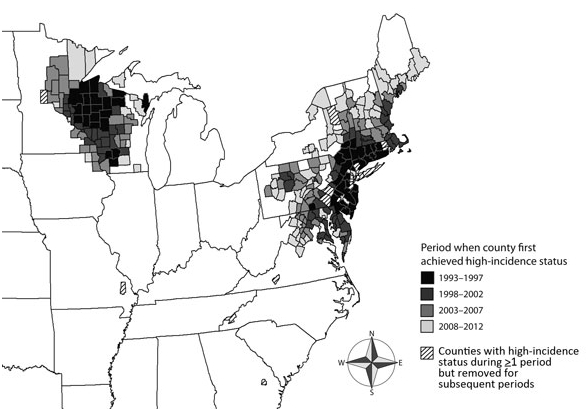 Study notes 13% rate of drug-resistant Mycoplasma pneumoniae
About 13% of Mycoplasma pneumoniae samples from six US locations tested positive for resistance to macrolides, a group of antibiotics described as the drugs of choice to treat the disease, according to a separate study today in Emerging Infectious Diseases.
US researchers tested 91 respiratory specimens from hospitals in Chicago; New York City; Seattle; Kansas City, Mo.; Hackensack, N.J.; and Birmingham, Ala., using polymerase chain reaction. The samples were collected from August 2012 through April 2014. Patient ages ranged from 10 months to 66 years, but 91% were children.
The team found that 12 specimens (13.2%) were macrolide-resistant. The CDC found a 10% prevalence in samples from 2006 through 2013, the authors report.
The US findings compare with rates from 2% to 26% in Europe and 30% in Israel, the authors say, adding that some areas of China and Japan now have rates exceeding 90%. Macrolide-resistant M pneumoniae was first identified in Asia in 2000.
Jul 15 Emerg Infect Dis study
Flu vaccine patch induced good immune response in small human trial
In a small clinical trial, an influenza vaccine skin patch studded with 200 tiny, soluble needles induced immune responses comparable to those generated by a conventional subcutaneous flu vaccine, Japanese researchers reported in Biomaterials.
Skin patch vaccines have been in development for several years as a possible way to make flu immunization easier and less painful. The authors, from Osaka University, say they developed a dissolving microneedle patch, called MicroHyala, made of hyaluronic acid, a substance that cushions the joints. In previous studies, "transcutaneous" vaccination using the patch induced strong immune responses against various antigens in mice.
In the new study, the team used a patch vaccine containing 15 micrograms of each of three flu antigens (A/H3N2, A/H1N1, and B). They recruited 40 healthy men and randomly assigned them to receive the patch vaccine or a conventional subcutaneous vaccine containing the same amounts of antigens.
The two vaccines generated equal immune responses to the H3N2 and H1N1 antigens, but the patch vaccine triggered a stronger response against influenza B, the report says. Neither group had any severe local or systemic adverse reactions to the vaccines.
In a press release from Elsevier, the journal's publisher, senior author Shinsaku Nakagawa, PhD, asserted that MicroHyala is the only vaccination system of its kind "that is readily adaptable for widespread practical use. Because the new patch is so easy to use, we believe it will be particularly effective in supporting vaccination in developing countries."
The authors said skin patch vaccines made with silicon or metal and soluble polymers have been tested, mainly in animals, but argued that these devices pose a risk of breaking and leaving fragments in the skin.
July 2014 Biomaterials report
Jul 14 Elsevier press release
Related Jul 19, 2010, CIDRAP News story