CDC reports 39 sick in Campylobacter outbreak linked to puppies
The US Centers for Disease Control and Prevention (CDC) said 39 cases of Campylobacter infections have been identified in people who had recently come into contact with puppies at Petland pet stores.
Seven states (Florida, Kansas,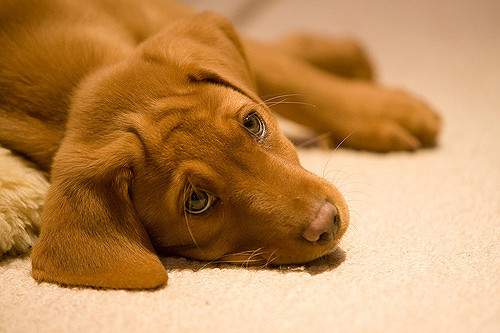 Missouri, Ohio, Pennsylvania, Tennessee, and Wisconsin) reported illnesses. Twenty-seven people who fell ill reported recently buying a puppy from Petland, visiting a Petland store, or visiting a home with a new puppy purchased from Petland. Twelve people who became ill were Petland employees.
Illnesses began on Sep 15, 2016, through Aug 12, 2017, with the most recent illness reported on Sep 1. Patients range in age from under 1 to 64 years. Nine people were hospitalized, but no deaths have been reported.
According to the CDC, Campylobacter can be spread through contact with dog feces, and whole-genome sequencing identified Campylobacter closely related to the outbreak strain in puppies sold through Petland in Florida.
Sep 11 CDC announcement
Another outbreak strain, another papaya brand recalled due to Salmonella
The CDC)today noted a new Salmonella outbreak tied to Mexico papayas, and the Food and Drug Administration (FDA) announced yesterday that Bravo Produce Inc., of San Ysidro, Mexico, recalled its Maradol papayas after fruit tested positive for Salmonella.
The new outbreak of illnesses has been caused by a new strain, Salmonella Anatum, which was found on the skins of Bravo Produce Inc.'s Maradol papayas. Fourteen people in three states—Arizona, California, and Colorado—have fallen ill with Salmonella from this strain. According to the CDC, illnesses started on dates ranging from Dec 20, 2016, to Apr 8, 2017. Five ill people have been hospitalized, and one person in California has died. 
There are now four separate and ongoing papaya-Salmonella outbreaks in the United States. In a separate update today, the CDC said the case count from the other three outbreaks has remained the same, at 201, including 1 death.
"Bravo Produce Inc will be taking precautionary measures to ensure the safety of its imported products by taking samples from each cargo to a private laboratory authorized by that agency for the determination of Salmonella," the FDA said in a statement. "The company is also cooperating with FDA in its investigation and will provide all possible assistance."
The FDA first announced papaya-linked Salmonella outbreaks on Jul 21, involving Maradol papayas grown at the Carica de Campeche farm in Tenabo, Mexico. Bravo Produce Inc. joins Carica de Campeche, Caraveo Produce, and El Zapotanito, as growers who have voluntarily removed their papayas from the US market.
Sep 11 CDC update on Salmonella Anatum
Sep 11 CDC update on other outbreaks
Sep 10 FDA announcement
New case of MERS confirmed in Saudi Arabia
The Saudi Arabian Ministry of Health (MOH) reported a new case of MERS-CoV in Az Zulfi on Sep 8, and a death in a previously announced patient on Sep 10.
A 61-year-old Saudi woman from Az Zulfi was diagnosed as having MERS-CoV (Middle East respiratory syndrome coronavirus) after presenting with symptoms of the virus. She is in stable condition. The woman's source of infection is listed as "primary," meaning it's unlikely she contracted the virus from another person.
On Saturday the MOH said a 21-year-old Saudi man from Dumah Al Jandal had passed away after contracting MERS-CoV.
Saudi Arabia's MERS-CoV case count since 2012 has now reached 1,721, including 694 deaths. Seven patients are still being treated, according to the MOH.
Sep 8 MOH report
Sep 10 MOH report
Researchers note multiple reassortments in H5N6 avian flu viruses in Japan
Japanese investigators report that five distinct reassortants of H5N6 highly pathogenic avian influenza virus (HPAIV) affected Japanese poultry and wild birds last winter.
In a study in Virology, the researchers analyzed 89 H5N6 viruses belonging to clade 2.3.4.4 obtained from birds. In testing neuraminidase genes, they found three distinct PA genes and two NS genes that originated from distinct H5N6 viruses from China.
The authors conclude, "Japanese H5N6 HPAIVs were generated from an ancestral H5N6 virus, presumably an H5N6 HPAIV that circulated in China, through several reassortment events with other H5N6 HPAIVs or 3 different lineages of AIVs (or both)." They add that their findings highlight the importance of active surveillance.
Sep 9 Virology study