Salmonella outbreak tied to Foster Farms chicken grows to 574 cases
A multistate outbreak of Salmonella infections linked to Foster Farms chicken products has grown to 574 cases, which is 50 more than previously reported, the Centers for Disease Control and Prevention (CDC) said in an update today. The number of affected states grew from 25 to 27.
Among 478 patients with available information, 178 (37%) have been hospitalized. Illness-onset dates range from Mar 1, 2013, to May 1, 2014, and patients' ages range from less than 1 year to 93 years. No deaths have been reported.
Since the CDC's last update on Apr 9, 50 new cases have been reported in eight states: 42 in California, 2 in Utah, and 1 each in Arizona, California, Georgia, Montana, Nevada, Oregon, Texas, and Utah. (See CDC map below.) Georgia and Montana confirmed their first outbreak cases.
California has accounted for 77% of all cases. Foster Farms is headquartered in Livingston, Calif.
"The outbreak strains of Salmonella Heidelberg are resistant to several commonly prescribed antibiotics," the CDC said in the update. "Although these antibiotics are not typically used to treat Salmonella bloodstream infections or other severe Salmonella infections, antibiotic resistance can be associated with increased risk of hospitalization in infected individuals."
The agency said that 13% of case-patients have developed blood infections as a result of their illness. That compares with 5% in a typical Salmonella outbreak.
No Foster Farms products have been recalled because of the outbreak. Federal officials have isolated one of the two outbreak strains from Foster Farms chicken.
May 27 CDC update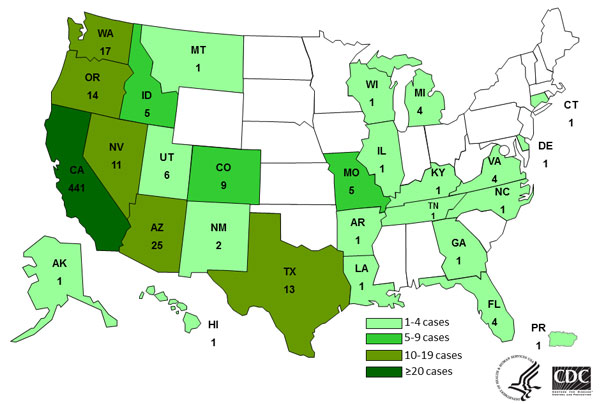 Comment period extended for final FSMA rule
The comment period for the sanitary transportation rule issued under the Food Safety Modernization Act (FSMA) has been extended to Jul 30, the US Food and Drug Administration (FDA) announced on May 23.
The comment period was originally set to end May 31 for the rule, which was proposed in late January, but the deadline has been extended to accommodate requests for additional time, the agency said in a Federal Register update.
The rule is the seventh and final FSMA rule and focuses on sanitary transportation practices for human and animal food.
May 23 Federal Register notice
Jan 31 CIDRAP News scan on rule
Study: UK Salmonella reached epidemic proportions in 1980s
Over a period of 67 years, Salmonella enterica serotype Enteritidis was responsible for more than 525,000 illnesses, 27,000 hospitalizations, and 2,000 deaths in England and Wales, causing "the largest and most persistent epidemic of foodborne infection attributable to a single subtype of any pathogen since systematic national microbiological surveillance was established," according to a study published today in Emerging Infectious Diseases.
The study's London-based authors reviewed surveillance data on lab-confirmed salmonellosis cases from 1945 through 2011. They then extracted data on S enterica by serotype and phage type, with the goal of examining features, causes, and overall effects of Salmonella Enteritidis.
The epidemiology of S enterica was found to fall into four stages. During the pre-epidemic (1945-81) and emergence (1982-87) stages, Salmonella Typhimurium was the most commonly reported serotype. However, during the emergence stage the Salmonella Enteritidis serotype rose from 9% to 33% of all cases, and in the epidemic stage (1988-98) it became the most commonly reported serotype, reaching a high of 70% in 1997. A decline stage began in 1999.
Contaminated chicken meat and eggs accounted for a large proportion of cases; indeed, the rise of human Salmonella Enteriditis cases matched a rise of the infection in chickens. With widespread vaccination of poultry flocks and institution of management standards in the 1990s, human cases linked to chicken meat eased and then plateaued.
Enhanced flock hygiene in laying chickens late in the 1990s resulted in a drop in contaminated egg–linked human cases that was even more dramatic.
May 27 Emerg Infect Dis study