WHO: Malaria cases down 60%, deaths cut 37% since 2000
The World Health Organization (WHO) announced today that malaria incidence and mortality have decreased by 37% and 60%, respectively, since 2000, thus meeting the Millennium Development Goal (MDG) of halting and reversing malaria incidence by 2015.
Nearly all (102) of the 106 countries and territories reporting malaria transmission in 2000 will likely see a drop in incidence by the end of the year. Thirteen of these countries reported no new malaria cases in 2014, and six countries reported fewer than 10 new cases, representing progress toward the disease's elimination, the WHO said in a news release. The fastest decreases in incidence were seen in the Caucasus and Central and Eastern Asia.
In 2000, more than two thirds of malaria deaths occurred in children under 5 years. In the last 15 years, the malaria-related mortality rate among young children decreased by 65%, saving the lives of approximately 5.9 million children.
The WHO attributes success in reaching the MDG to global investment in prevention and treatment efforts, which increased 20-fold since 2000. Funding has been used to provide about 1 billion insecticide-treated bed nets (ITNs) in sub-Saharan Africa, increase availability and use of rapid diagnostic tests (RDTs) among febrile people, encourage indoor insecticide spraying, and provide artemisinin-based combination therapies (ACTs) to people with malaria.
Though global malaria rates have declined, nearly half of the world's population, or 3.2 billion people, remain at risk of the disease. In 2015, 214 million new cases and 438,000 deaths due to malaria were reported.
The most significant investment in malaria prevention is needed in sub-Saharan Africa, where 89% of global malaria cases and 91% of malaria-related deaths occurred in 2015, the WHO said.
During the past 15 years, the percentage of sub-Saharan African children under 5 years sleeping under an ITN increased from less than 2% to 68%, yet greater coverage of ITNs and indoor spraying is needed, the agency said. Health systems in sub-Saharan Africa also represent a future target for investment; only 13% of children presenting with fevers in 2015 received ACTs.
The Malaria Atlas Project at the University of Oxford found that use of ITNs have prevented 68% of malaria cases in sub-Saharan Africa, while ACTs administered to people with fevers has prevented 22% of cases.
The WHO aims to reduce malaria incidence and mortality rates by 90% in the next 15 years, according to the World Health Assembly's WHO Global Technical Strategy for Malaria, adopted in March 2015. Future reductions will require an annual investment increase from $2.7 billion currently to $8.7 billion per year until 2030, the WHO said.
Sep 17 WHO press release
May 20 CIDRAP News item on 2030 malaria goals
Study finds widespread Heartland evidence in eastern US wildlife
A new Centers for Disease Control and Prevention (CDC) study found widespread serology evidence of the tickborne Heartland virus—which was first detected in humans in 2009—in wild mammals in southern and eastern states.
Writing in Emerging Infectious Diseases yesterday, the researchers noted that they used plaque-reduction neutralization testing to assess seropositivity for the virus in blood samples collected from 1,428 animals from 2009 to 2014 that were either live-trapped or killed by hunters or automobiles. The vast majority were raccoons (949 animals, or 66.5%) and white-tailed deer (396, 27.7%), with some coyotes (61, 4.3%) and moose (22, 1.5%).
They found that 103 samples, or 7.2% (55 deer, 33 raccoons, 11 coyotes, and 4 moose), tested positive for Heartland virus antibodies in 13 states (see CDC map below). Kansas had the highest percentage of positive samples, at 46%, followed by North Carolina, 41%; New Hampshire, 16%; Georgia, 14%; and Tennessee, 14%.
Missouri, which reported the first two Heartland cases in farmers in 2009, had a positive rate of 11%, as 10 of 75 raccoon samples tested positive, but no coyote or deer samples did. Tennessee and Oklahoma are the other states that have had human cases; Oklahoma was not tested in the study.
Sep 17 Emerg Infect Dis study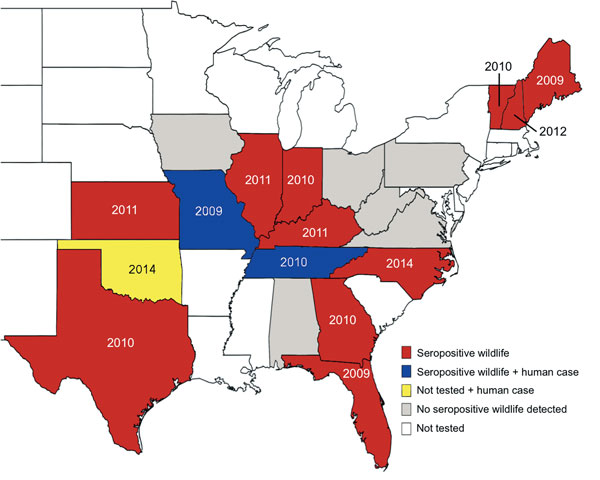 Cyclosporiasis outbreak surpasses 500 cases in 31 states
From Aug 25 to Sep 14, 51 additional cases of Cyclospora cayetanensis infection occurred in the United States, bringing the count to 546 cases in 31 states in an outbreak possibly linked to cilantro, according to a CDC update yesterday.
Hospitalization has been necessary in 21 cases, but there have been no cyclosporiasis-associated deaths.
About 58% of case-patients (319) experienced onset of symptoms on or after May 1 and had no history of international travel. Illness onset occurred from May 1 to Aug 22, and case-patients ranged from 15 to 89 years old.
Case clusters have been identified in Texas, Wisconsin, and Georgia, and cluster investigations have linked illnesses to fresh cilantro exported from Puebla, Mexico.
The 319 more recent case-patients are from Arkansas (3 cases), California (2), Connecticut (5), Florida (13), Georgia (26), Illinois (9), Iowa (1), Kansas (2), Maryland (1), Massachusetts (12), Michigan (2), Missouri (1), Montana (3), Nebraska (1), New Jersey (7), New Mexico (2), New York (32), North Carolina (1), Texas (179), Utah (1), Virginia (3), Washington (2), and Wisconsin (11).
The CDC said that the number of reported cyclosporiasis cases has returned to baseline levels.
Sep 16 CDC update
Aug 26 CIDRAP News item on outbreak
National public-private partnership targets antibiotic resistance
The US Department of Health and Human Services (HHS) announced yesterday that it has partnered with pharmaceutical company AstraZeneca to develop new antibiotics for treating bioterrorism-related agents and multidrug-resistant bacterial infections.
The partnership between the HHS's Biomedical Advanced Research and Development Authority (BARDA) and AstraZeneca is the second of BARDA's public-private alliances to develop portfolios of potential dual-use drug candidates, HHS said in a press release. Investment in the research of multiple drug candidates increases the possibility of developing effective antibiotics that can seek Food and Drug Administration (FDA) approval and enter the marketplace, according to the release.
BARDA, under the authority of the Assistant Secretary for Preparedness and Response, will provide an initial $50 million toward development of new antibiotics, with the potential to contribute a total of $170 million over the next 5 years.
The first candidate antibiotic treatment is a combination of Aztreonan and Avibactam, known as ATM-AVI, which may provide effective pharmaceutical therapy for gram-negative infections. Other priorities include development of effective treatments for potential bioterrorism agents such as meliodosis, glanders, and plague.
BARDA and AstraZeneca will also partner with the European Union's Innovative Medicines Initiative, which is conducting a phase 2 clinical study of ATM-AVI in Europe. The international collaboration will help inform clinical studies needed for US regulatory approval.
The March 2015 National Action Plan for Combating Antibiotic-Resistant Bacteria called for BARDA to develop international and public-private partnerships that targeted antibiotic resistance. The collaboration with AstraZeneca uses the Other Transaction Authority granted to HHS in 2006 under the Pandemic and All-Hazards Preparedness Act.
Sep 16 HHS press release