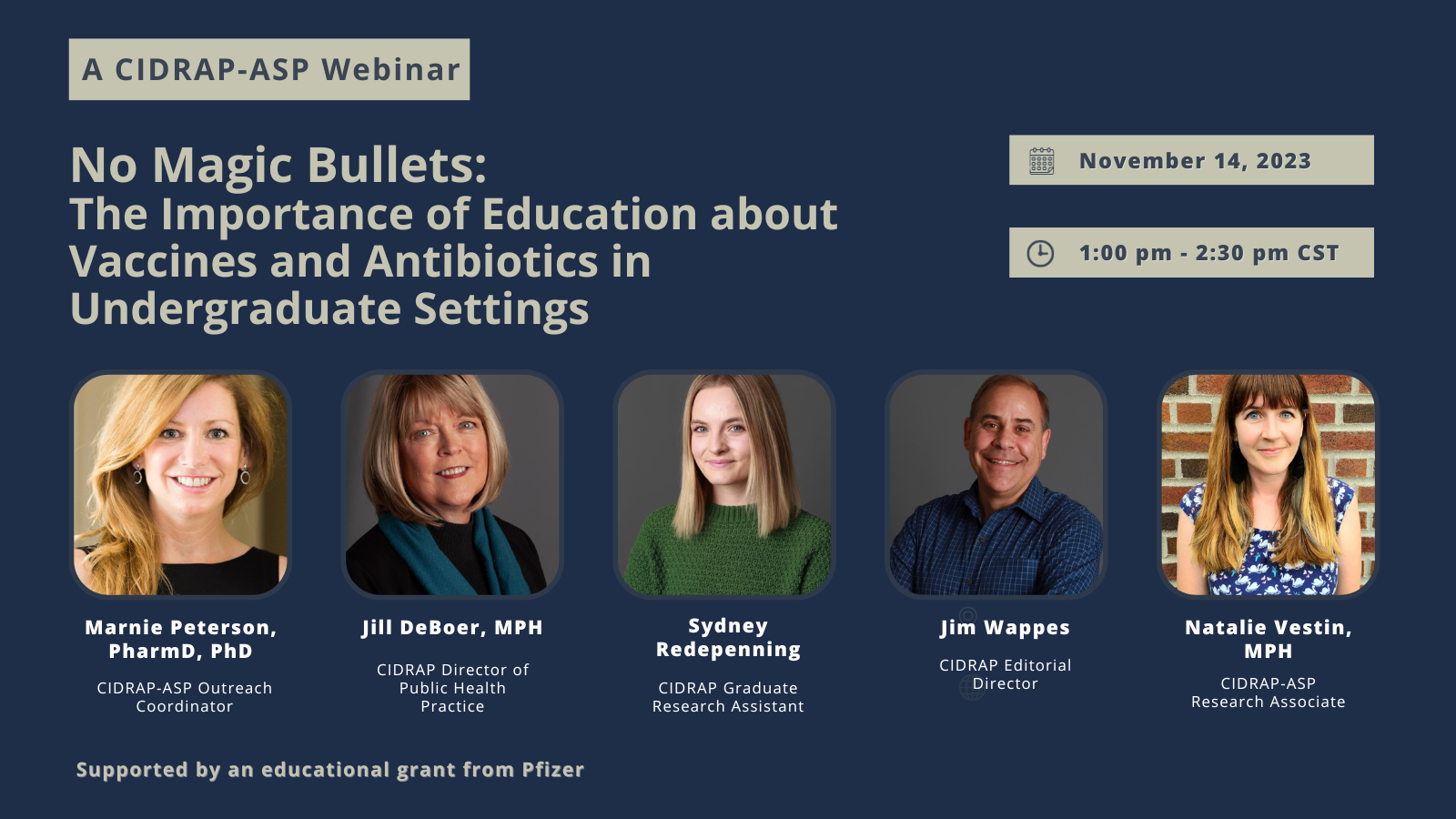 Join CIDRAP ASP for a live webinar on November 14, 2023, at 1pm CST / 2pm EST / 7pm UTC
Summary
Undergraduate and non-clinical students have few opportunities to learn about issues surrounding antibiotics and vaccines, despite the fact that all people should be empowered with knowledge about these topics and the role they play in ensuring their wise use. Since 2016, CIDRAP staff have given guest lectures describing why vaccines and antibiotics are not perfect solutions to stopping an infectious diseases outbreak for a University of Minnesota freshman honors seminar on epidemic management. These lectures incorporate history, science, current events, ethics, and rich discussion. This webinar will provide a glimpse into methods of communicating about antibiotics and vaccines to college students who have diverse interests, as well as provide a resource for educators who want to introduce the subject in their classrooms.
Speakers
Marnie Peterson, PharmD, PhD: Outreach Coordinator for the Antimicrobial Stewardship Project at CIDRAP will serve as moderator
Jill DeBoer, MPH: CIDRAP Director of Public Health Practice
Sydney Redepenning: CIDRAP Graduate Research Assistant
Jim Wappes: CIDRAP Editorial Director
Natalie Vestin, MPH: CIDRAP-ASP Research Associate
Schedule
10 minutes: Introductions and discussion of education on epidemics, outbreaks, vaccines, and antibiotics to diverse students in undergraduate settings
30 minutes: No Magic Bullets: Vaccines
30 minutes: No Magic Bullets: Antibiotics
15 minutes: Discussion and Q&A
5 minutes: Concluding thoughts
This activity is supported by an educational grant from Pfizer.
Our underwriters
Unrestricted financial support provided by