This week hundreds of industrial hygienists, healthcare worker union reps, epidemiologists, and aerosol scientists plan to send a second letter to the Centers for Disease Control and Prevention (CDC), asking the agency to hold public meetings to discuss the Healthcare Infection Control Practices Advisory Committee's (HICPAC's) proposal to update the CDC's Isolation Precautions guidance, last updated in 2007.
A proposal from HICPAC, a federal advisory committee, will become the standard for hospital safety practices across the country, setting infection control protocols for a variety of pathogens in different healthcare scenarios.
The guidance is meant to protect both healthcare workers and patients.
Though HICPAC has yet to make a formal proposal, the committee released slides this summer during a presentation that angered and confused more than 900 public health experts and more than 1,000 public supporters who sent a letter to CDC Direct Mandy Cohen, MD, MPH, asking for more stakeholders to be involved in updating the guidance. Those experts said the new guidance not only fails to take into account what has been learned about COVID-19 transmission, they actually weaken existing isolation procedures.
No academics, aerosol scientists on committee
"The draft recommendations fail to reflect what has been confirmed about aerosol transmission by inhalation during the COVID-19 pandemic," the petitioners said in a letter dated July 20. "The draft recommendations do not adequately provide for the proper control measures—isolation, ventilation, and NIOSH-approved respirators—to protect against transmission of infectious aerosols."
In a response to the letter, the CDC said it will seek input from the public and key stakeholders and experts after HICPAC develops, adopts, and sends recommendations to the CDC, which is slated for November.
But that's too late, said Lisa Brosseau, ScD, CIH, an expert on respiratory protection for workers. History, she says, shows that few changes are made after a federal advisory committee drafts an official proposal. She said HICPAC needs to hear from other stakeholders, representative of the 900 people who signed the first letter, now.
Brosseau is a research consultant to the University of Minnesota's Center for Infectious Disease Research and Policy (CIDRAP), publisher of CIDRAP News.
What did we learn from COVID? It seems like nothing.
The proposed guidance is full of outright errors, she said, such as a slide that states surgical masks are as effective as respirators in preventing transmission of airborne diseases based on a review of 27 studies.
"What did we learn from COVID? It seems like nothing, according to HICPAC," Brosseau said. HICPAC's proposal does recommend healthcare workers use respirators, but only in the case of measles and tuberculosis.
"They recognize respirators are needed for some things, but not COVID," Brosseau explained.
Michael Lin, MD, MPH, co-chair of HICPAC, told CIDRAP News he was not able to provide a comment on the draft guidelines, or the language used in any proposals or slides.
CDC said goal is to streamline
In an email to CIDRAP News, Martha Sharan, a spokesperson with the CDC, said the goal of HICPAC's guidance is to streamline protections for healthcare workers.
"The COVID-19 pandemic highlighted that strict implementation of impractical guidelines may yield unintended risks to healthcare workers, patients, and healthcare quality," Sharan said. "HICPAC will continue conducting systematic evidence reviews that consider effectiveness in real-world situations, not just success (efficacy) seen in controlled laboratory studies. The revisions being made will include those issues and help ensure every healthcare worker has practical and understandable interventions to protect themselves and their patients."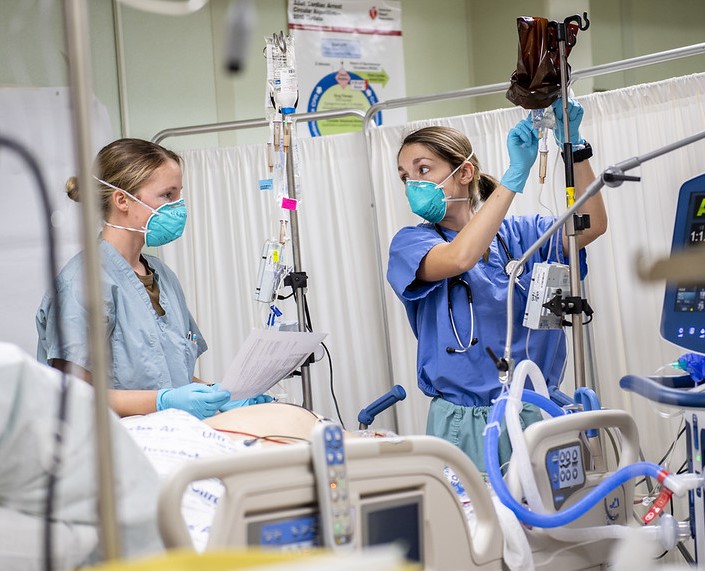 Barbara Materna, PhD, CIH, former chief of the Occupational Health Branch in the California Department of Public Health, is one of the signatories on the letter opposed to HICPAC's proposed guidance. She said that, in an environment in which healthcare workers are already experiencing high levels of burnout and hospitals face staffing crises, protection of healthcare workers should be at the forefront of any changes to guidance.
Materna said she suspected pushback against respirator use—such as a biased evidence review equating surgical masks with respirators—is likely because ensuring fit tests for healthcare workers takes work. Respirators are simply not as easy to use as disposable surgical masks, and wearing them takes some level of training. 
"Deciding which pathogens and situations require respirators is important, and needs a more open process," Materna explained. It's easier for the employer community to keep the guidance narrow, even if the science says otherwise, she said. Large healthcare organizations are heavily represented in HICPAC and its workgroup revising the guidance.
'Air' and 'Touch' to define transmission
Bob Harrison, MD, MPH, of the University of California-San Francisco and the founder of the UCSF Occupational Health Services, said that nuance could be found if HICPAC included experts outside the field of hospital management.
We need to hear from experts who are aerosol scientists and the principles of particle physics and distribution in the air.
"We need to hear from experts who are aerosol scientists and the principles of particle physics and distribution in the air," he said. "The latest research that shows that infectious agents like COVID can spread with really fine particles through the air over long distance."
The HICPAC guidelines use the general terms "air" and "touch" to define the transmission route of COVID-19, which experts categorized as far too simplistic and out of touch with the latest science. Again, Sharan said this is an effort to better streamline understanding of transmission across clinical fields.
"The COVID-19 pandemic brought to the forefront ongoing challenges with the use of terminology (e.g., terms like airborne that are used differently by different groups) and some of the limitations of the use, in healthcare, of the droplet vs airborne framework to describe the continuum of how pathogens transmit via the air," she said. "Updating the guidance will also provide an opportunity to address these topics."
This takes us back before 2007.
But for Brosseau and Materna, failing to detail how the virus is spread through aerosol particles and droplets is a step backward for the CDC.
"This takes us back before 2007," said Brosseau.