Flu activity continues in the United States, but markers continue to decline across most of the country, the US Centers for Disease Control and Prevention (CDC) said today in its weekly update, which covers the week ending Jan 7.
The percentage of outpatient visits for flulike illness dropped from 5.4% to 4% last week. Twenty-three jurisdictions reported high (21) or very high (2) flu activity, another indicator of clinic visits for flu, down from 39 in the previous reporting week. Sites still reporting very high flu activity include New York City and New Mexico.
The percentage of respiratory specimens that tested positive for flu at clinical labs fell from 15% to 8.6%. Influenza A made up nearly 99% of flu samples from clinical labs, with H3N2 still the dominant strain, responsible for about 72% of subtyped specimens at public health labs.
Flu hospitalizations, after remaining stable last week, resumed its decline.
Five more pediatric flu deaths were reported, bringing the season's total to 79. They occurred between the middle of November and the end of December. All involved influenza A viruses, and, of two subtyped samples, both were the H3N2 strain.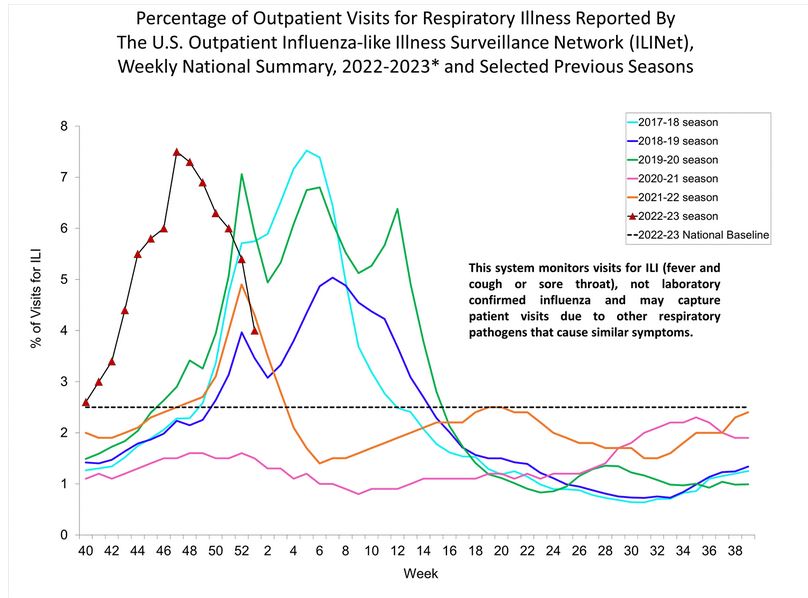 Global flu elevated
In its latest global flu update, which covers roughly the last half of December, the World Health Organization (WHO) said activity remained elevated because of ongoing circulation in the Northern Hemisphere, mostly due to a mix of influenza A viruses.
North America's indicators decreased, but overall activity in Europe continues to rise. Central Asia's activity is also rising, with the 2009 H1N1 strain predominant, followed by influenza B.
In North Africa, flu activity rose, with all flu viruses detected. In East Asia, Mongolia and South Korea reported increased activity. In tropical parts of South America and Africa, Ecuador reported moderate activity, and activity in increased in parts of East Africa. In Southeast Asia, flu levels remained elevated and was led by influenza B, mostly owing to continuing detections in Malaysia.
Globally, of respiratory samples that were positive for flu at national labs in mid to late December, 96.6% were influenza A, and, of subtyped influenza A viruses, 56.5% were H3N2 and 43.5% were 2009 H1N1.