Bangladesh now has 11 cases, 8 of them fatal, in its latest Nipah virus outbreak, an increase of 1 case and 1 death in the past 2 weeks, the World Health Organization (WHO) said in an update late last week. This is the most cases in the country since 2015.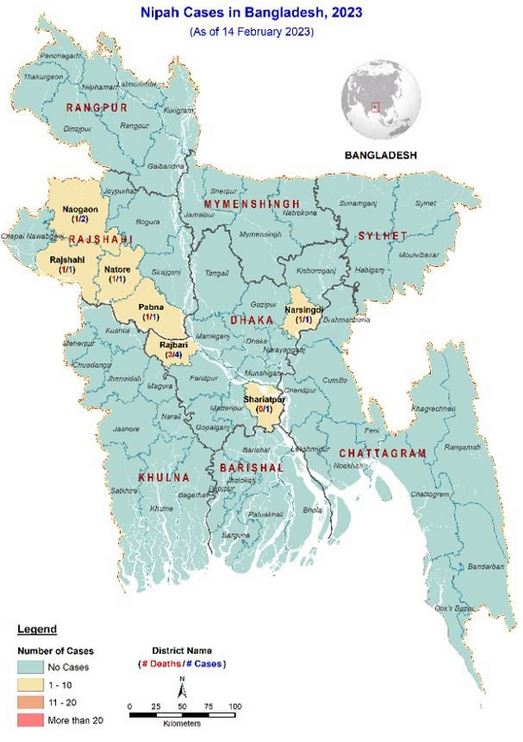 Nipah virus infections are seasonal in Bangladesh, with outbreaks occurring from December to May, coinciding with the harvesting of date palm sap. Since the country's first case was identified in 2001, annual cases have fluctuated, with a high of 67 in 2004. But cases fell after 2015 following an extensive advocacy campaign against the consumption of raw date palm sap, which can be contaminated with bat droppings that contain the virus.
Cases this year include 10 lab-confirmed infections and 1 probable case involving a man who died before samples could be collected. But his infection has been epidemiologically linked to the outbreak.
Six cases are in Dhaka division in central Bangladesh, and five in Rajshahi division in the west. Four patients are female and seven male. The median patient age is 16 years, ranging from 15 days to 50 years. Ten patients had consumed date palm sap, while the illness in the 15-day-old infant is considered a secondary case.
The WHO said, "A multisectoral response has been implemented by the Ministry of Health and Family Welfare, Bangladesh, including strengthened surveillance activities, case management, infection prevention and control, and implementation of risk communication campaigns."
The WHO assesses the risk of additional cases as high at the national level, moderate at the regional level, and low at the global level.