New data released today by the European Centre for Disease Prevention and Control (ECDC) and the World Health Organization (WHO) show high resistance to last-line antibiotics in several European countries.
The second joint surveillance report on antimicrobial resistance (AMR) in Europe, which includes data on invasive bacterial isolates reported to two surveillance networks covering the region, shows high percentages of carbapenem-resistant Pseudomonas aeruginosa, Acinetobacter baumannii, and Klebsiella pneumoniae in countries in southern and eastern Europe in 2021.
ECDC and WHO officials say the high levels of resistance to last-line treatments threatens patient safety in the region.
Higher AMR levels in southern, eastern Europe
Although the situation varies by bacterial species and antibiotic class, the data from the WHO's Central Asian and European Surveillance of Antimicrobial Resistance (CAESAR) network and the ECDC's European Antimicrobial Resistance Surveillance Network (EARS-Net)—which together cover 45 countries in the region—generally show higher levels of AMR in southern and eastern Europe compared with northern and western Europe. It's a pattern that's been observed in previous surveillance reports from the region.
For example, fewer than 1% of K pneumoniae isolates were resistant to carbapenems in 14 countries, all of which are in the northern and western parts of the WHO European Region. The 15 countries where more than 25% of K pneumoniae isolates are carbapenem resistant are all in the southern and eastern parts of the region. In eight of those countries, more than 50% of K pneumoniae isolates were carbapenem-resistant.
Similar patterns were observed for third-generation cephalosporin-resistant K pneumoniae, as well as carbapenem-resistant P aeruginosa and A baumannii, both of which are considered critical priority pathogens by the WHO. While carbapenem-resistance rates for those two pathogens were higher overall in all countries in the region, the lowest rates were reported in countries like Denmark, the Netherlands, Norway, Finland, and Sweden, and the highest were in countries like Ukraine, Belarus, Serbia, Greece, and Russia.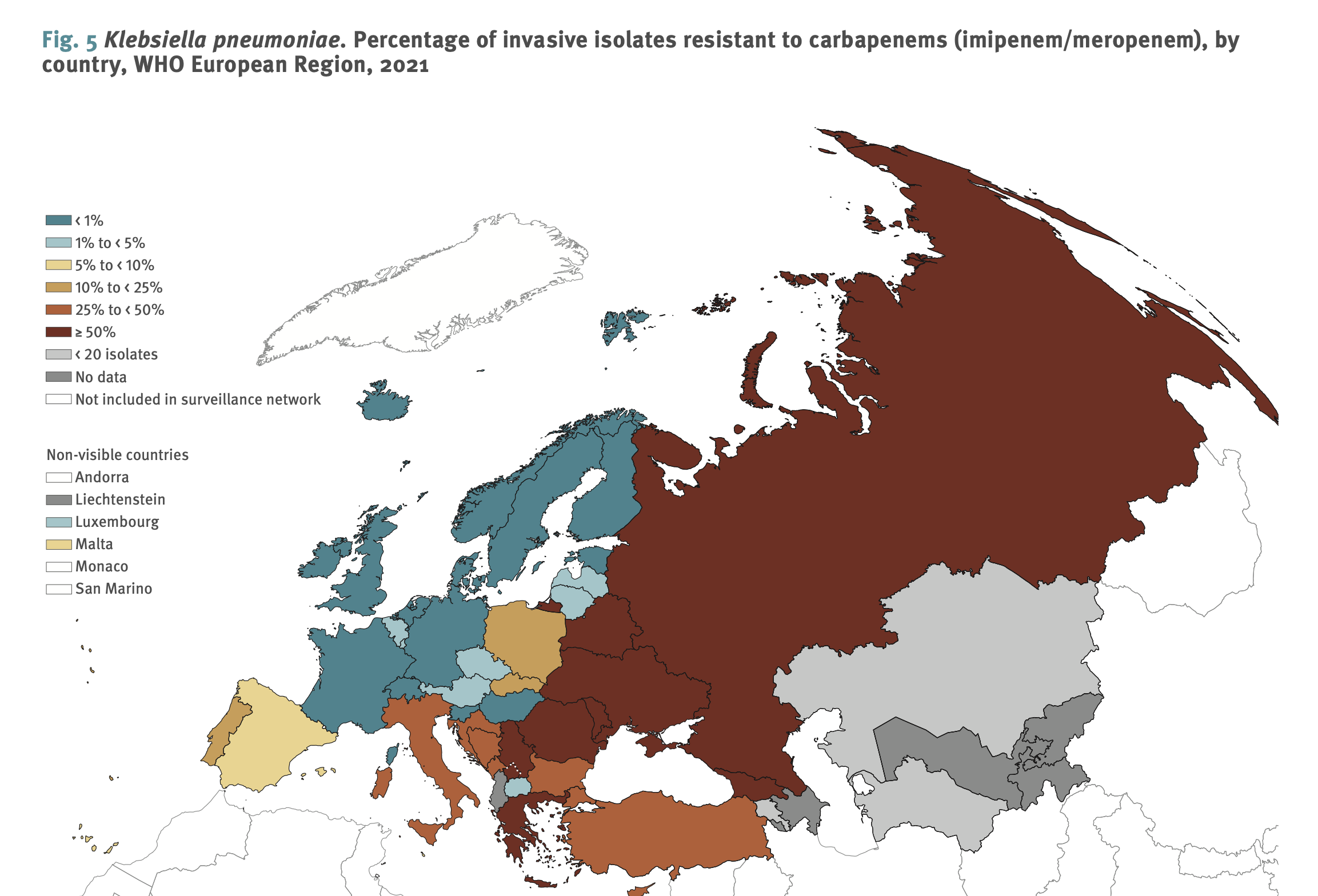 Carbapenem antibiotics, which include meropenem, imipenem, and ertapenem, are broad-spectrum antibiotics that retain activity against many multidrug-resistant (MDR) pathogens. Rising resistance to carbapenems means treatment options for infections caused by MDR pathogens are becoming severely limited.
"These findings suggest the dissemination of resistant clones in healthcare settings and indicate the serious limitations in treatment options faced by many countries for patients with infections caused by these pathogens," the authors of the report wrote. "As antimicrobial-resistant bacterial microorganisms cannot be contained within borders or regions, these results underline the need for concerted action to combat AMR throughout the WHO European Region, and globally."
While resistance rates are more varied and the north-south and east-west gradients and less obvious for other drug-bug combinations, including third-generation cephalosporin-resistant Escherichia coli and methicillin-resistant Staphylococcus aureus, the patterns are still evident. In Turkey, Russia, Ukraine, and North Macedonia, more than 50% of E coli—the most common cause of bloodstream and urinary tract infections—were resistant to third-generation cephalosporins.
ECDC officials say the report highlights the need to bolster efforts to detect and prevent AMR throughout the region.
"As antibiotic-resistant bacteria continue to emerge, further efforts are needed to improve infection prevention and control practices, reduce unnecessary antimicrobial use, design and implement antimicrobial stewardship programmes, and ensure adequate microbiological capacity," Dominique Monnet, PharmD, PhD, ECDC head of the Section for Antimicrobial Resistance and Healthcare-associated Infections, said in a press release.
On a more encouraging note, the report shows that more countries and laboratories in the region reported AMR data in 2021 than in previous years, and that the number of European countries that have developed a national action plan on AMR rose from 34 in 2017 to 44.