The COVID-19 outbreak on board the USS Theodore Roosevelt aircraft carrier that ultimately infected more than 1,200 sailors and killed one, leading to the firing of its captain and the resignation of the Navy's top official, shows how easily the virus spreads in close quarters, according to a research letter published today in JAMA Network Open.
In the case series, the US Army Public Health COVID-19 Task Force analyzed data from 736 of 4,800 USS Theodore Roosevelt sailors diagnosed as having COVID-19 and placed in isolation at Naval Base Guam from Mar 31 to Apr 15. Sailors who tested negative for coronavirus and those without symptoms were quarantined in single hotel rooms, and those who developed symptoms were moved to isolation.
The outbreak, which peaked on Mar 30 with 30 new cases and ultimately infected 25% of the crew members, involved 736 of the 4,085 sailors on board (18%) by mid-April. Of all infected sailors, 590 (80.2%) were symptomatic for a median of 7 days. The other 146 sailors remained without symptoms for the entire study period. Six sailors were hospitalized.
Median patient age was 25 years, and 572 (77.7%) were men. The most common symptom was cough, followed by cold-like symptoms, loss of smell, headache, loss of taste, and fever.
Desperate pleas, public outcry
The 1,092-foot, 100,000-ton aircraft carrier had left its base in San Diego for the western Pacific on Jan 17, according to the US Naval Institute. To prevent the coronavirus from spreading onboard, the crew began handwashing, hand sanitizer, and surface bleaching protocols, known as "bleach-a-palooza," on Feb 2.
The COVID-19 outbreak was discovered in late March, about 2 weeks after a 4-day stop in Da Nang, Vietnam, which the US Centers for Disease Control and Prevention classified as "low risk," despite confirmation of coronavirus cases there. Part of the stop, starting on Mar 5, involved a 400-person reception at a hotel.
Captain Brett Crozier, who eventually tested positive for the coronavirus, told his superiors on Mar 26 that he wanted to clear the ship to prevent spread of the virus because the sailors could not physical distance or individually quarantine on the ship, but he was met with resistance.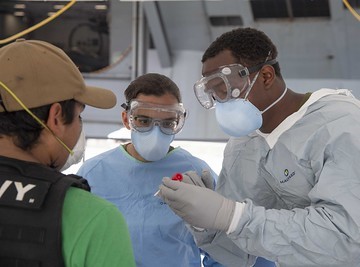 On Mar 30, Crozier emailed three Navy admirals and seven other captains with a plan to evacuate the ship. After the San Francisco Chronicle obtained a copy of the email and published it the next day, Acting Secretary of the Navy Thomas Modly fired Crozier, although most of the crew were ordered ashore.
On Apr 5, Modly flew to Guam to give a speech over a public address system to the USS Theodore Roosevelt crew in which he criticized Crozier as "too naïve or too stupid to be a commanding officer." The speech, as well as Crozier's firing, generated a furor, and Modly resigned on Apr 7. Crozier was not reinstated, and the aircraft carrier eventually left Guam in early June before returning to California.
Lessons for congregate settings
The study authors said that COVID-19 is difficult to distinguish from other respiratory infections without specific testing in young people living in a confined space, and asymptomatic and presymptomatic transmission limits the effectiveness of screening for symptoms in the absence of testing, wearing a face mask, and physical distancing. The ship initially had no testing kits on board.
"Finally, the rapid increase in case number as incubating cases disembarked, followed by the precipitous decrease in cases, suggests that the shore-based nonpharmaceutical interventions interrupted a probable acceleration in case incidence that would have likely resulted in a substantial disease burden," the investigators wrote.
"Lessons learned from the USS [Theodore Roosevelt] COVID-19 outbreak may have applicability in other congregate settings staffed by essential workers and in understanding clinical features of the illness in younger adult populations."
Ships as breeding grounds for outbreaks
In an invited commentary in the same journal, John Malone, MD, MPH, an epidemiologist with the San Diego County Health and Human Services Agency, noted that sailors on board the USS Theodore Roosevelt sleep and work in very close quarters with linear fan forced-flow ventilation, which can spread particles through the air.
In such settings, he said, COVID-19 will continue to cause outbreaks, because wearing face coverings, washing hands, and physical distancing are not enough to contain the spread.
The US military, Malone noted, now uses premovement sequestration, which is like a quarantine although the participants have no known exposure to COVID-19, with 14-day movement restrictions to lower the risk of outbreaks.
"Unfortunately, the COVID-19 outbreak on the USS Theodore Roosevelt will be remembered by the removal of the Commanding Officer and April 7, 2020, resignation of the Secretary of the Navy instead of the many lessons learned regarding a highly contagious respiratory virus in ships with closely confined spaces and linear airflow systems," he said.