Guinea's health ministry yesterday reported five more clinically compatible Ebola virus disease (EVD) cases, along with three more deaths that are linked to the outbreak, the World Health Organization (WHO) Regional Office for Africa said today in a statement.
Also, the number of lab-confirmed cases climbed by 11, to 35, according to the WHO, which has characterized the outbreak as a quickly evolving situation, with the number of case confirmations and illnesses likely to change. Among the lab-confirmed cases, 11 are from Conakry, Guinea's capital, and 14 involved healthcare workers.
The 5 new illnesses in Guinea push the country's overall total to 127, and the 3 additional deaths lift the fatality count to 83. The case fatality rate is currently 65%. The WHO said healthcare workers account for eight of the deaths.
Meanwhile, Liberia's health ministry reported 1 more death among its suspected and confirmed cases, edging its number of fatal cases to 5. Its overall number of EVD cases remained the same, at 8, and 2 of them are lab confirmed, according to the WHO.
The ministry said that one of the lab-confirmed case-patients is in a woman who traveled to two different counties within Liberia. She is in isolation, and health officials have her contacts, including a taxi driver who drove her to one of the counties and his family, under medical observation.
A national team from Liberia visited the county in which the lab-confirmed cases were detected yesterday to meet with local health officials. Authorities have also distributed educational materials and established a national telephone hotline.
In Sierra Leone, no new developments were reported. No cases have been detected there, but two citizens who died from probable EVD in Guinea were transported back to Sierra Leone, which has prompted heightened surveillance and prevention measures.
Shipment of protective gear
In other developments, the WHO said in a news release today that 3.5 tons of protective gear arrived in Guinea on Mar 30, and the group immediately distributed it to health facilities in parts of the country that are battling the Ebola outbreak.
Most of the cases have been reported in the forested southeastern part of the country, but a few cases were reported in a more central prefecture, and some were detected in Conakry, which is on Guinea's southwestern coast, far from the main outbreak area (see map below).
The WHO single-use protective equipment, along with disinfection and secure burial material, is part of the supply shipment. The agency noted that half of the infected patients in Conakry are health workers.
Dr Lansana Kourouma, who heads the emergency section of a hospital in Conakry where five patients are under observation, said in the release, "These supplies are essential, as we were not able to be in contact with sick persons who could have Ebola. With protection equipment, we feel reassured and can do our job to help patients."
See also:
Apr 2 WHO statement
Apr 2 WHO Ebola news release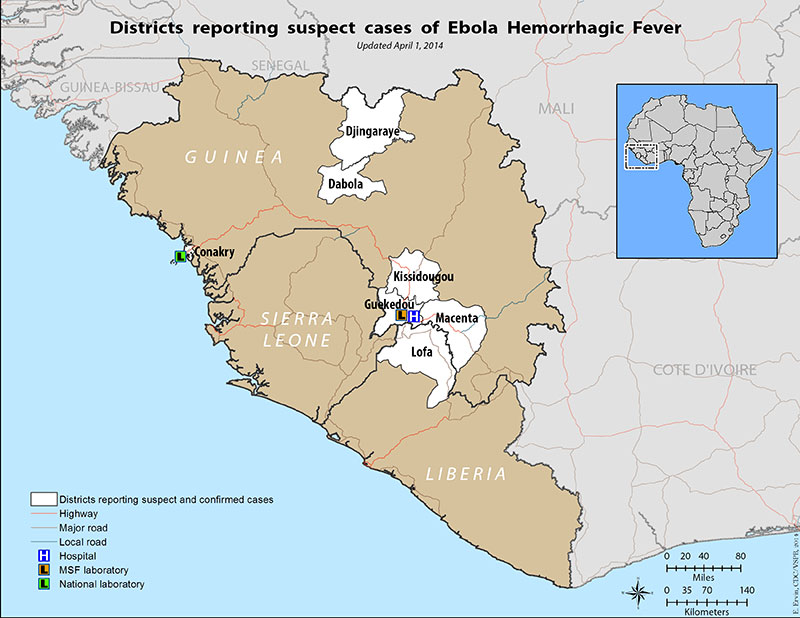 US Centers for Disease Control and Prevention (CDC) map