Following a recent World Health Organization (WHO) survey that found that 37% of countries' programs for routine immunizations were still experiencing pandemic-related disruptions by the end of 2020, last week the WHO and its partners announced their Immunization Agenda 2030, with the goal of bolstering vaccinations worldwide and reaching 90% coverage in children.
While the need for this comprehensive strategy existed before the pandemic, COVID-19 has worsened the situation, and immunization is just one of the healthcare services that countries are struggling with. The WHO partnered with the United Nations Children's Emergency Fund (UNICEF) and Gavi, the Vaccine Alliance on the strategy.
The results of the WHO survey, published in late April, included responses from 135 countries and showed that 94% were still experiencing disruptions. About 1 in 5 countries reported disruptions in their emergency, critical, and operative care interventions, and more than 40% reported disruptions in their primary care, rehabilitative, palliative, and long-term care.
COVID affects every service area
The pandemic affected program-specific essential health services, with countries reporting an average of 39% disruption in these areas. Mental, neurologic, and substance use disorder program disruptions affected the most countries (45%), and although reproductive, maternal, newborn, child, and adolescent health and nutrition affected the least, more than one in three had at least some difficulty fulfilling normal services (35%).
Neglected tropical disease programs showed the highest burdens of disruption. Besides being the second most named program (44%), 19% of countries said more than 50% of their programs were disrupted.
Respondents attributed disruptions to workforce issues (66%), community fear or mistrust (57%), decreases in patients presenting (57%), and cancellation of elective care (47%). Basic supplies were also in shortage, including personal protective equipment (26%) and essential medicines (22%). Overall, 29% of countries reported supply chain disruptions of any kind.
"No further information is available on medical product/drug shortages [from the data]," the WHO told CIDRAP News in an email. "However, WHO recommends countries establish real-time monitoring of readiness of health facilities in terms of availability of essential health products including tracer medicines, diagnostics, medical equipment and supplies, to better identify bottlenecks and guide planning and investments."
The healthcare services in lower- and middle-income countries tended to experience the most disruption, according to the report. Whereas only 26% of high-income countries reported service issues, 48% of upper-middle-income countries, 42% of lower-middle-income countries, and 36% of low-income countries did.
"By providing a rapid snapshot of the situation, the survey results can support decision-makers to systematically take stock of current challenges and inform policy dialogues and decision-making at national, regional and global levels to guide resources as the pandemic progresses," the report authors write.
Of the 216 requests the WHO received for assistance, the most common reason was for maintaining essential health services during COVID-19 (40), followed by monitoring and evaluation capacities (27).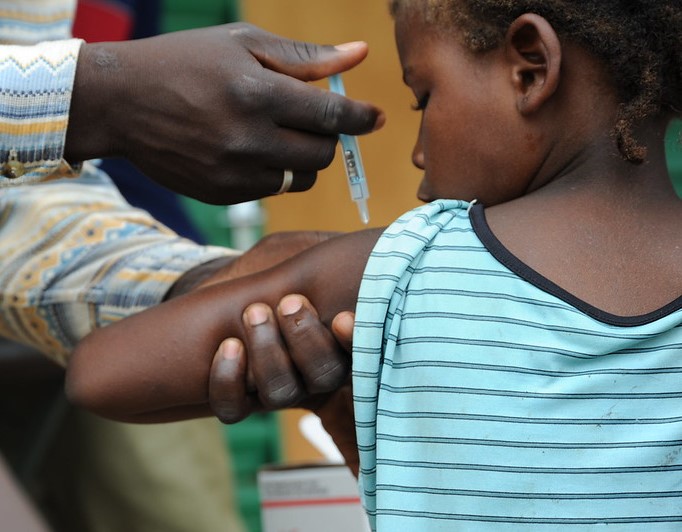 Disrupted immunization programs
Pandemic effects on aid organizations varied. UNICEF reportedly delivered 28 million fewer vaccine doses in 2020, a 12.2% drop from 2019's 2.29 billion doses, according to the Immunization Agenda 2030 press release, and 37% of the countries surveyed said they had some disruption in non-COVID immunizations.
"A question I get asked commonly is, 'Was service affected by supply shortages?' The answer to that is no," says Robin Nandy, MBBS, MPH, principal advisor and chief of immunization at UNICEF.
What actually happened, he says, is that countries' mitigation and resource reallocation efforts created a ripple effect on healthcare and transportation services. UNICEF halted campaign-style immunization programs because they involved bringing people together. Non-COVID vaccine transportation difficulties occurred, but UNICEF was able to offset those with new, oftentimes more expensive, arrangements with freight and airline companies. When vaccines were delayed, countries had supply buffers.
He adds, "Typically in the second quarter of the year—later on as services started being provided [again]—people were unable to access them because of lockdowns, transport disruptions, and simply fear of coming into contact with COVID patients."
Most of the catch-up deliveries occurred in the fourth quarter of 2020, says Nandy.
"For 2 or 3 months [if immunization programs are disrupted], we are not that worried, but as it goes into 16 months, years, it builds up the number of susceptibles in the populations," Nandy says. His biggest fear is if child immunizations continue to drop as people focus on the COVID-19 vaccine. After all, he says, as the world focused on Ebola in the Democratic Republic of the Congo in recent years, many more deaths actually occurred because of pediatric measles.
Healthcare is recovering
Despite the continued disruptions, the WHO survey shows healthcare is faring better than during its first-round results, published in August 2020. At that time, half of 35 measured services were disrupted; now, 36% are. Similarly, 24% of countries said at least 75% of their services were disrupted versus 8% now.
About 1 in 10 countries (11%) said they had no service disruptions at all by the end of 2020, compared with the 5% who claimed the same in August. Fewer countries reported PPE shortages (43% to 26%) and health products (30% to 22%), as well.
The most common ways countries addressed service issues were community communications (67%), triaging to prioritize patients (60%), recruitment of additional staff (56%), redirection of patients to alternate care sites (54%), and home-based care where appropriate (51%). Telehealth was often centered around higher-income countries, the data show.
Officials hope that Immunization Agenda 2030 will help restore global healthcare services. Focusing on the deficit in pediatric immunizations and including a blueprint for COVID immunizations in adults, the agenda outlines a framework to achieve 90% coverage for essential vaccines in childhood and adolescence in 9 years.
Other goals are to halve the number of children receiving no vaccines worldwide and completing 500 introductions of new or underused vaccines, such as those for COVID-19, rotavirus, and human papillomavirus.
"This vision and strategy was developed before the pandemic but it has proven even more relevant in the context of the COVID-19 vaccine roll out," the WHO said in the email, attributing the quote to its immunization colleagues. "We propose to implement the plan in 2 phases: first to respond to the pandemic with efficient rollout of vaccine and restore and maintain immunization programs, and in phase 2 to build stronger systems within PHC [primary healthcare] for the future."
Minimizing contact with healthcare workers during vaccinations, using barcodes on vaccine vials, building on pediatric immunization programs to roll out the COVID-19 vaccine for adults, and more are included in the agenda, Nandy says.
"The old saying is, 'Don't let a crisis go to waste,' and now it's important we don't just build back to where we were prior to the pandemic, but to build back better."