Controlling the growing international monkeypox outbreak will rely on the availability of millions of vaccine doses. But the vaccines are in very limited supply, with people from all over the United States reporting waiting in long lines only to be turned away from clinics, and experts say sufficient doses of the two-dose Jynneos vaccine likely won't be available for months or even years.
"Without the widespread availability of vaccine, it can't be contained," said Michael Osterholm, PhD, MPH, director of the University of Minnesota's Center for Infectious Disease Research and Policy (CIDRAP) and, with Bruce Gellin, MD, MPH, of the Rockefeller Foundation, coauthor of an editorial published earlier this week in Science. CIDRAP publishes CIDRAP News.
As of yesterday, 15,848 cases of monkeypox have been reported around the world, nearly all (15,605) in countries previously unaffected by the virus. The total includes 2,593 in the United States, according to the Centers for Disease Control and Prevention (CDC) 2022 Monkeypox Outbreak Global Map. The virus can cause a rash, painful lesions, and flu-like symptoms such as fever.
Monkeypox, which has affected mainly men who have sex with men (MSM), is believed to spread through close, including sexual, contact. While this outbreak has brought the virus to the rest of the world's attention, it has spread for decades in Central and West Africa. The disease is self-limited, and infection or vaccination results in immunity.
Déjà vu amid higher demand than supply
In echoes of the bumpy COVID-19 vaccine rollout, recent reports from the CDC, Oregon, San Francisco, New Hampshire, New York, Chicago, Los Angeles, New York City, Minnesota, Florida, and Virginia all say that demand outstrips availability of the vaccine, manufactured by Bavarian Nordic.
David Margraf, PharmD, PhD, pharmaceutical research scientist at CIDRAP's Resilient Drug Supply Project (RDSP), said that the bottleneck is vaccine production, making the public health measures that Osterholm and Gellin outlined in their paper (increased diagnostic testing and education campaigns targeted to MSM and minimizing social stigma) all the more important.
"The drug and diagnostic test supply chains should be well understood to help mitigate shortages if and when they occur," Margraf said. "Additionally, the supply and allocation of Tpoxx should be closely monitored. There appears to be sufficient supply at the moment, but a rapid increase in the outbreak or mismanagement of existing stock could be disastrous down the road."
Tpoxx (tecovirimat) was approved by the US Food and Drug Administration in 2018 to treat smallpox, a close relative of monkeypox. The CDC has made the antiviral drug, which is manufactured by SIGA Technologies, available as an investigational new drug to treat monkeypox.
While the precise need for vaccine doses hasn't been quantified, Osterholm and Gellin said, using the number of people recommended for the HIV oral preexposure prophylaxis as a proxy, that the number could be 2.4 million to 5.3 million globally.
When monkeypox was first detected in the United States in May, President Joe Biden announced that the United States had enough smallpox vaccine (also approved for monkeypox) in the Strategic National Stockpile (SNS) "to deal with the likelihood of a problem."
Time reports, however, that many of the stockpiled doses consisted of the older ACAM2000 vaccine, which was deployed on May 23. But that vaccine carries the risk of myocarditis (1 in 175 vaccinees) and pain at the injection site, which can fester and further spread the virus with close contact. Plus, people with compromised immune systems cannot safely receive the older vaccine.
Jynneos carries fewer risks, but only 2,400 doses were in the SNS at the onset of the outbreak, the US Department of Health and Human Services (HHS) said yesterday in its most recent fact sheet. On May 20, it said, HHS's Biomedical Advance Research and Development Authority (BARDA) requested 36,000 Jynneos doses from Bavarian Nordic, followed by another request for the same number on June 10.
Since then, officials have been scrambling to get more doses and prioritize vaccination equitably. The vaccine still needs to be tested to see if it's possible to achieve some protection with only one dose or by giving a lower dose intradermally rather than intramuscularly, thereby enabling more people to get at least partially covered, experts say. Colorado, for one, has taken this approach. The two doses are typically given 4 weeks apart.
HHS: We're doing all we can
In early July, the US Food and Drug Administration (FDA) inspected 786,000 doses of Jynneos at Bavarian Nordic's Danish finish-and-fill facility to ship to the United States after it approves the inspection at the end of the month and about 5 million more for delivery in mid-2023. HHS said it had fast-tracked the FDA application and inspection, which was originally scheduled for this fall.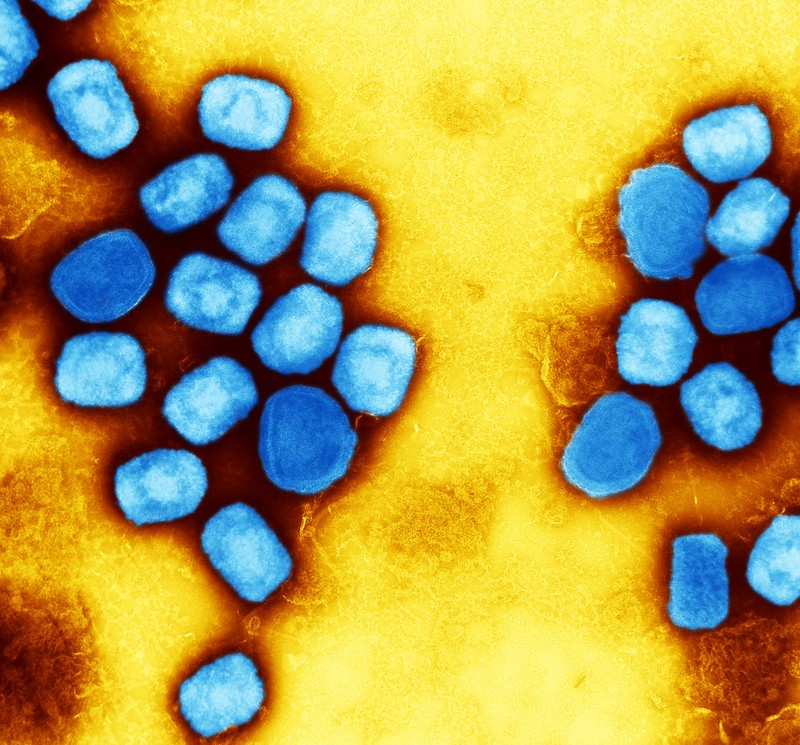 HHS said it has distributed more than 191,000 free Jynneos doses to state and city health departments and made 374,000 doses available for ordering.
But so far, the vaccine has been mainly offered to healthcare or lab workers who might handle viral specimens and people with a suspected or confirmed infection, the New York Times reports. And physicians have complained about the time-consuming paperwork needed to procure Tpoxx from the SNS for just one patient.
According to HHS, it obtained more than 1.7 million courses of Tpoxx from the SNS. The CDC has announced that providers can receive the drug and begin patient treatment before they complete the paperwork, patients can see their physicians virtually, and that it has reduced the number of required forms, patient specimens, and photos. HHS has worked with five leading US commercial labs to boost testing capacity from 6,000 to 80,000 per week, the agency said.
HHS said it is allocating vaccine to states and cities based on their number of monkeypox cases (75%) and the size of its MSM population (25%). "As of July 10, for example, New York state had been allocated enough doses to provide more than 54% of their eligible population a first dose," the fact sheet said. "In another example, Washington, D.C. has been provided enough vaccine for more than 70% of its eligible population to receive a first dose."
The starting point to building a vaccination strategy is "to recognize that what helped this outbreak to expand is that everyone in the world who is under 40—the people who have not had a smallpox vaccine—have no immunity at all," Gellin told CIDRAP News. "Above all, we need to ensure that we don't replay the vaccine inequity experience of COVID-19 vaccines."
Where to from here?
"While the US did have some smallpox vaccine on hand that can be used for monkeypox, it was not the safest or most effective vaccine available; clearly, it was not nearly enough to meet the need," said Stephen Schondelmeyer, PharmD, PhD, co-principal investigator of CIDRAP's Resilient Drug Supply Project.
"Also, the process for distribution of the existing SNS supplies was not as clear and smooth as it could be—especially after just experiencing similar issues during the ongoing pandemic."
Monkeypox, Schondelmeyer said, reminds us that it does not work to wait for an outbreak to order the tests, vaccines, and treatments to manage the situation, because drug and vaccine supply chains can take months to years to fill the emergency orders needed now.
"It is clear that the US was not prepared for an outbreak of a virus such as monkeypox," he said. "We need a more proactive approach to such situations."