Scientists create possible early-stage MERS-CoV vaccine candidate
Using reverse genetics, Spanish researchers have created a full-length DNA clone of the MERS-CoV virus that could be used as a vaccine candidate and to study characteristics of the virus, the team reported today in mBio, published by the American Society for Microbiology (ASM).
The team, from the Autonomous University of Madrid, constructed the clone and inserted it into an artificial bacterial chromosome to create a MERS-CoV mutant that could replicate but not transmit well.
"The injected vaccine will only replicate in a reduced number of cells and produce enough antigen to immunize the host," said coauthor Luis Enjuanes, PhD, in an ASM press release. The created virus cannot infect other people, even those in close contact with a vaccinated person, he added.
Enjuanes said the newly created virus is a very promising vaccine candidate, but more work remains before clinical trials can begin. He said that a mutation in the E protein that prevents the virus from propagating represents one safeguard, but the US Food and Drug Administration requires that a recombinant live-attenuated vaccine strain have at least three safeguards to ensure the virus doesn't revert easily back to its virulent form.
Sep 10 mBio study
Sep 10 ASM news release
CDC: Cases of cyclosporiasis rise to 670
Confirmed cases of Cyclospora infection in the United States now total 670, according to updates from the Centers for Disease Control and Prevention (CDC) and the Texas Department of State Health Services (TDSHS).
The CDC said today it has received reports of 646 cyclosporiasis cases (see map below), up 5 cases since its last update on Sep 4. Cases have been confirmed in 24 states and New York City, the same as in last week's report.
The CDC total does not include 24 of the 307 Texas cases that the TDSHS has reported to date. That state has the most cases by far, with Iowa second at 154 and Nebraska third with 86.
Of 575 case-patients with available information, 44 (8%) were hospitalized. The most recent illness-onset date was Aug 18.
Public health officials in Iowa and Nebraska concluded that restaurant-associated Cyclospora cases in their state were linked to a salad mix produced by Taylor Farms de Mexico, the CDC said, but other states have not identified that link.
Sep 10 CDC update
Sep 4 TDSHS update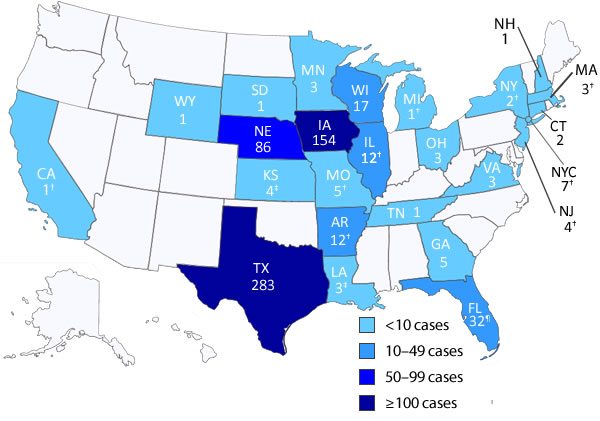 Poliovirus found in Jerusalem sewers as vaccination effort continues
Wild poliovirus, found in recent months in sewers of southern and then central Israel, has now been found in sewers near Jerusalem, the country's capital, reports an article in the Times of Israel.
The article quotes the country's health ministry as saying the finding shows "that we have not yet vanquished the virus and emphasizes the immediate need to complete vaccination against polio."
Discovery of the virus earlier in the year led to the Aug 18 launch of a nationwide vaccination campaign that has reached 650,000 Israel children so far. Letters have been sent to Israeli parents nationwide urging them to get their children vaccinated, says the Times story.
A petition to stop the vaccination program, filed by the Izun Hozer organization, was rejected last month by the High Court of Justice, according to the story. The petition claimed that giving oral polio vaccine (a weakened strain of the virus) to large numbers of children could pose a heightened risk of reintroducing the disease, a claim rejected by public health organizations, including the US Centers for Disease Control and Prevention.
Sep 9 Times of Israel article
Aug 15 CIDRAP News scan on polio risk in Israel
In other polio news, the World Health Organization's (WHO's) Director-General, Margaret Chan, MD, MPH, praised India today for its successful efforts in eradicating polio there, according to a story in The Hindu. The country has not seen a case since early 2011.
The laudation came at a meeting of health ministers during the 66th session of the WHO Regional Committee for South-East Asia in New Delhi. In attendance with Chan were the president of India, Pranab Mukharjee, and the country's health minister, Ghulam Nabi Azad.
Only three polio-endemic countries remain: Afghanistan, Nigeria, and Pakistan.
Sep 10 article in The Hindu
UK publishes 5-year plan for combating drug resistance
The UK Department of Health (DH) today released its plan for addressing antimicrobial resistance (AMR) over the next 5 years.
The 43-page report outlines a cross-government UK strategy to slow the development and spread of AMR, especially resistance to antibiotics, by focusing activities around 3 strategic aims:
Improve the knowledge and understanding of antimicrobial resistance
Conserve and steward the effectiveness of existing treatments
Stimulate the development of new antibiotics, diagnostics, and novel therapies
Future actions are divided into seven key areas: (1) improving infection prevention and control; (2) optimizing prescribing practices; (3) improving professional education, training, and public engagement; (4) developing new drugs, treatments, and diagnostics; (5) ensuring better access to and use of surveillance data; (6) identifying and prioritizing AMR research needs better; and (7) strengthening international collaboration.
"The strategy confirms the UK's leading role in stimulating national and international action on this global issue and it is important that all sectors respond to the call for action if we are to successfully address this issue," the UK DH said on its report landing page.
Sep 10 UK DH report landing page