The 9-year-old girl reported last week as representing Ecuador's first human H5 avian flu case has a severe infection and remains hospitalized, the World Health Organization (WHO) said today in an outbreak notice.
Her illness marked the seventh human infection from the current H5 clade and is the third to be reported as severe. The four other infections were mild.
The girl's first symptoms, reported on Dec 25, were conjunctivitis and a runny nose. A few days later her condition worsened, she developed gastrointestinal symptoms, and she was hospitalized and empirically treated for meningitis. On Jan 3, she was transferred to a pediatric hospital in critical condition and was admitted to the intensive care unit, where she received treatment for septic shock. She was treated with antivirals and mechanical ventilation for pneumonia.
A respiratory swab collected on Jan 5 was positive for H5 influenza. She remains hospitalized in isolation and is on noninvasive mechanical ventilation.
The investigation into the source of her illness revealed that her family had recently acquired poultry, which died suddenly before the girl became ill. Several other deaths in backyard poultry were also reported in the same community in Bolivar province.
The WHO said no other human infections were found and the risk of transmission between humans remains low. It added that more sporadic infections are expected in people who have direct or indirect exposure to infected birds or their environments. It said infections can range from mild to severe or fatal, depending on individual factors.
More poultry outbreaks, including in US
In its monthly avian flu update that covers a 5-week period from Dec 2 to Jan 5, the World Organization for Animal Health (WOAH) said there were 290 highly pathogenic avian flu outbreaks in poultry and 140 events involving wild birds, outpacing activity at this time last year.
The WOAH noted the further spread of outbreaks in Central and South America, alongside ongoing activity in Europe, Asia, elsewhere in the Americas, and Africa. It noted that activity is expected to peak in the months ahead.
In the latest US developments, the US Department of Agriculture (USDA) Animal and Plant Health Inspection Service (APHIS) reported more avian flu outbreaks in California, Montana, and Kansas. Two of the outbreaks involved commercial farms, including a game bird facility in Mitchell County, Kansas, and a poultry operation in California's Tehama County.
Three more Montana grizzlies infected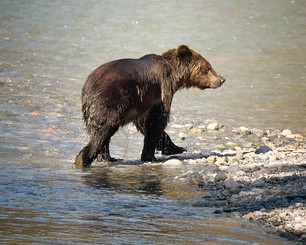 Also, Montana's Department of Fish, Wildlife, and Parks said yesterday that three grizzly bear cubs that were found sick tested positive for highly pathogenic avian flu this fall.
They were found in three different areas, all in very poor health condition, including neurologic issues, for which they were euthanized. Officials said they probably contracted the virus from eating sick poultry.
In its mammal updates, the USDA has reported four detections from three states involving three bear species, all in 2022.