A new analysis of synthetic biologic threats commissioned by the US Department of Defense (DoD) found that three capabilities raise the greatest concerns: re-creating known pathogenic viruses, making existing bacteria more dangerous, and using microbes to produce harmful biochemical in humans.
The 13-person committee appointed by the National Academies of Sciences, Engineering, and Medicine (NAS) published an interim report in 2017 that spelled out a framework for analyzing current biotechnology tools to weigh their current and future experimental implications. The group, chaired by Michael Imperiale, PhD, professor of microbiology and immunology at the University of Michigan, published its final 234-page report yesterday.
From high to low concern
Its centerpiece is a five-tiered chart that ranks synthetic biology capabilities from the highest to lowest concern levels (see below). The capacities include gain-of-function research, a topic that sparked controversy in 2012 when two research groups published papers on experimentally modified H5N1 avian flu viruses.
Making existing viruses more dangerous is on the second-highest tier, alongside making chemicals or biochemical by exploiting natural metabolic pathways. The lowest tier includes modifying the human genome using human gene drives.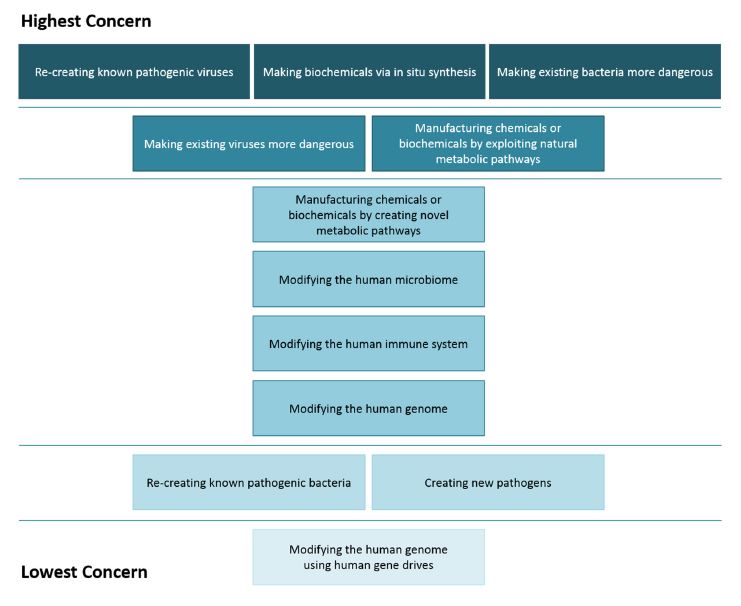 Imperiale said in a press release that, in and of itself, synthetic biology isn't harmful, but the concern level depends on specific applications and capabilities that it enables. "The U.S. government should pay close attention to this rapidly progressing field, just as it did to advances in chemistry and physics during the Cold War era," he said.
In covering traditional biological and chemical approaches that are relevant to synthetic biology threats, the group warned that the field will pose new challenges, and it urged the DoD and its partners to continue looking at strategies to manage a wide range of threats, while factoring in broader capabilities that emerge now and in the future.
One challenge is that it's not possible to predict when specific developments will occur, since technological advances are taking place commercially, academically, and from converging sources outside the field, Imperiale said. "So it is important to continue monitoring advances in synthetic biology and other technologies that may affect current bottlenecks and barriers, opening up more possibilities."
Call for different approach
In its recommendations, the NAS panel urged the US government and the scientific community to consider different strategies for managing emerging risks beyond agent-based lists, such as the Federal Select Agent Program and Toxins list, because they won't be enough to cover emerging synthetic biology risks.
The group had some specific observations regarding the creation of new weapons, including that government officials expand the range of actors that could make them and decrease the time needed to begin using them, especially with regard to pathogens, because of increasingly accessible technologies and starting materials.
Regarding chemicals, biochemical, and toxins, the experts said synthetic biology blurs the lines between chemical and biological weapons. They said high-potency molecules produced through simple genetic pathways are the greatest concern, "as they could conceivably be developed with modest resources and organizational footprint."
The authors warned that some malicious use of synthetic biology might not seem plausible now but might become a threat if groups overcome knowledge barriers, such as how to build novel pathogens, or technological barriers, such as engineering complex biosynthetic pathways into bacteria or re-creating known bacterial pathogens. "It is important to continue to monitor advances in biotechnology that may lower these barriers," they wrote.
See also:
Jun 19 NAS report
Jun 19 NAS press release