Within 1 week of Peter Larsen, PhD, joining the faculty as an assistant professor at the University of Minnesota's College of Veterinary Medicine in 2018, the dean organized a meeting with faculty on neurodegenerative diseases such as chronic wasting disease (CWD), a fatal prion infection that affects cervids like deer.
"A group of legislators had reached out to the University of Minnesota demanding action on CWD diagnostics," Larsen told CIDRAP News. "Old tools were being used, and hunters and cervid farmers were waiting weeks to get results."
That meeting helped spark the opening of the Minnesota Center for Prion Research and Outreach (MNPRO), which Larsen codirects with Assistant Professor Tiffany Wolf, DVM, PhD, later that year.
Larsen and Wolf recently spoke with CIDRAP News about MNPRO's work on protein-misfolding disorders (PMDs) such as CWD, Alzheimer's and Parkinson's diseases, and amyotrophic lateral sclerosis (ALS); the future of PMD prevention and treatment; and collaborations with Minnesota tribes on CWD surveillance and management. Although the prevalence of CWD is low overall, it is spreading, and scientists fear it could someday infect humans.
The conversation has been edited for length and clarity.
CIDRAP News: How did MNPRO begin?
Peter Larsen: I had an idea about how to improve CWD diagnostics using new technologies like microfluidics. But I didn't know how to design and construct these new tools, so I met a professor in the College of Science and Engineering, Dr. Sang-Hyun Oh, PhD[now MNPRO's director of engineering].
We took those ideas to the legislature, and everyone was asking questions like 'How long do prions stay infectious in the soils of Minnesota?' We realized that we could help them understand how CWD could impact the state's economy and deer health by establishing a center.
CIDRAP News: How is CWD related to human PMDs?
Peter Larsen: We just returned from a prion conference in Portugal where [experts] said Parkinson's is a bona fide prion disease. CWD is part of the family of human and animal PMDs. So is Creutzfeldt-Jakob disease. Alzheimer's, Parkinson's, ALS are all PMDs, and some would argue they are prion diseases.
The next stage of growth will be human research on Alzheimer's, Parkinson's, and ALS, because what we're learning from the animal model is applicable to humans.
CIDRAP News: Does this suggest that Parkinson's and Alzheimer's are infectious?
Peter Larsen: Some studies suggest that the misfolded proteins underlying Parkinson's and Alzheimer's can remain in the environment. This is an important area of study. From a classical perspective, folks have not considered Parkinson's and Alzheimer's as bona fide infectious diseases, but there are concerning data. A paper published last spring suggests that the protein associated with Parkinson's could survive or remain on surfaces after autoclaving. But that research is still early on, and we don't have a good understanding of whether these diseases really are transmissible.
CIDRAP News: What makes MNPRO unique?
Peter Larsen: We are interdisciplinary, so we are not just molecular biologists; we're engineers, ecologists, and epidemiologists.
CIDRAP News: What kind of discoveries has the center made?
Peter Larsen: We've spun out a startup from the University of Minnesota called Priogen Corp, which has licensed a 24-hour [CWD] test, a 3-hour test, and other technologies. We're completing the prototypes and then we'll provide those to the public or other commercial entities. The [24-hour] test has gone through internal validation, and the next step is [US Department of Agriculture] validation. That submission will happen early next year.
Our data show that we can leverage the tools we developed at the center to detect the misfolded protein alpha-synuclein in Parkinson's. The next stage of growth will be human research on Alzheimer's, Parkinson's, and ALS, because what we're learning from the animal model is applicable to humans.
CIDRAP News: Why is early detection of CWD important?
Peter Larsen: During deer-hunting season, the [Department of Natural Resources (DNR)] has check stations where people can give their samples, and there are also mail-in test kits, and all these samples come in to the DNR. The DNR ships them to an external lab for testing. So you have thousands and thousands of samples going to one lab, and they use traditional tests. Early in the season, results can come back within 1 to 2 weeks, but at the middle and end of the season, some folks wait 4 to 6 weeks or longer. So you can imagine waiting 6 weeks for a result, and you're trying to decide, 'Do I want to feed this venison to my family?'
If you can get results within hours, it gives you an understanding of what's happening in real time.
CIDRAP News: Will these rapid tests be available to hunters?
Peter Larsen: We already have pathways toward a device with cartridges that hunters could use on the spot to determine whether their harvest is CWD-positive within a matter of hours or less.
CIDRAP News: What other projects is MNPRO working on?
Peter Larsen: We're making great progress with the detection of CWD prions in the environment. We can put stainless-steel sentinel plates where deer feed or lick mineral blocks. The deer lick the blocks and deposit saliva on our sentinels, and then we swab them. In areas where bucks urinate and congregate, we can sample the soil. On the human side, we're collaborating with Mayo Clinic on advanced Parkinson's diagnostics.
CIDRAP News: Can you describe MNPRO's study that found prions can remain on deer-processing equipment?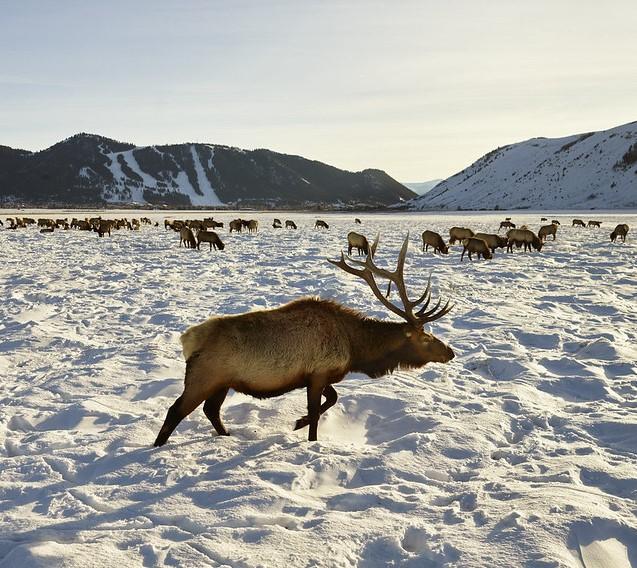 Peter Larsen: We found that if you cut CWD-positive venison, we can swab the knife and cutting board to see if there are any detectable prions using ultrasensitive CWD amplification technology. We know that prions can adhere to those surfaces. We also did an experiment where we processed positive venison through meat grinders and then swabbed those surfaces, and we detected prions. What's concerning to us is that if you process CWD-negative [venison] after positive venison, there is carryover to the uninfected venison.
CIDRAP News: What about your work with Minnesota tribes?
Tiffany Wolf: We wrote a couple of grants to launch a tribal CWD surveillance network in 2020. Tribal natural resource managers wanted help creating management plans for responding to CWD. From what we can tell, there are no management plans for tribal lands anywhere in the US.
Among the tribal agencies that we're working with on surveillance, three wanted to put management plans in place. So we got community input on what management would look like based on best practices, but we're also thinking about, 'How do these science-based practices impact food sovereignty and cultural practices? What are management plans not considering that may be unique tribal hunting practices?'
Once these drafts are complete, managers can take them to their tribal council and hopefully be adopted quickly because they've already been informed by the community. We're going to let them take it from there and will continue to support them in CWD surveillance.
CIDRAP News: What could CWD management entail for reservations, in addition to things like feeding and baiting bans and surveillance?
Tiffany Wolf: Carcass disposal and management, making sure that deer and deer products aren't moved around the landscape. It also involves looking at cultural practices around deer and not necessarily changing those practices but maybe finding safer ways.
CIDRAP News: What kind of cultural practices?
Tiffany Wolf: For example, in brain tanning, tribal members apply brain to deer hides and set them in the sun. It helps tan the leather and makes it softer. It's part of using the whole carcass of the deer. MNPRO can put resources behind gathering information about brain tanning. We can bring the practice into the lab and do experiments to estimate how it could impact exposure to prions.
CIDRAP News: Has CWD been detected on tribal lands in Minnesota?
Tiffany Wolf: No, but the most recent positive county, Hubbard, had two detections right between the White Earth, Red Lake, and Leech Lake reservations. Both Dakota and Scott counties have also had detections, so CWD is in proximity of the Shakopee Mdewakanton Sioux reservation, too.