COVID-19–related shortages of personal protective equipment and drugs continue to plague the US healthcare system, but now in the third US pandemic wave, nursing and other staffing shortages are sweeping the country.
An Associated Press report found that at Hurley Medical Center in Flint, Michigan, the nurse-to-patient ratio went from its recommended 1:1 to 1:4, and Andrew Pavia, MD, chief of the pediatric infectious disease division at the University of Utah School of Medicine said it's the same in his state.
To address nursing shortages in early November, North Dakota governor Doug Burgum began allowing asymptomatic nurses infected with COVID-19 to continue working with COVID patients, and Kalispell Regional Medical Center in northwestern Montana stopped quarantining COVID-exposed staff as long as they were asymptomatic. According to The Atlantic, the intensive care unit (ICU) at the University of Utah Hospital has had to use up to 36-hour shifts at times, and in Iowa, infectious disease physician Eli Perencevich, MD, of the University of Iowa, said earlier this month that the entire state was out of staffed beds.
Nurses have continued to answer the call, but people shouldn't underestimate the effects on the profession, says April Hansen, RN, MSN, an executive vice president of workforce solutions and clinical services at staffing agency Aya Healthcare, which is based in San Diego, California.
"I am concerned about burnout and the mental health of the nurses and care providers working today who are living more loss and trauma in a week or month than they may have seen in their entire career. I don't think we can underestimate the reality of turnover," she says.
Other healthcare workers are also facing widespread shortages, but nurses are at the forefront of direct patient care.
Planning for bed, staffing shortages
When Meghan Goldammer, JD, RN, chief nursing officer of Sanford Health, which employs almost 10,000 nurses, talks about the COVID-19 pandemic, she highlights how her health system has been able to respond and cites emerging vaccines and therapies as the light at the end of the tunnel.
Goldammer says that, by predicting the current surge, adding an upskill training program, and shifting to team models for the ICU, Sanford Health has "the appropriate level of staff to take care of our communities right now."
Those communities, which are throughout Minnesota and the Dakotas, are embroiled in COVID-19. The rise in cases has left Sanford Health locations such as its Bismarck, North Dakota, hospital with 1 staffed ICU bed available, and the healthcare system is asking retired nurses to return to work, triaging nonemergency surgeries, and opening a new building to deal with the surge, according to MPR and the Bismarck Tribune.
"The way we like to think about it is just our different lines of defense with staffing," she continues. "We've gone beyond our current Sanford lines of defense and have moved into requiring travelers to help staff the additional beds and help provide support for our staff."
Goldammer says the healthcare system has been able to hire about 300 travel nurses as opposed to the usual 50. This is in addition to reinforcements from the US Air Force that are being deployed to North Dakota.
Booming market for staffing agencies
Staffing agencies have been thriving after the first-wave furloughs gave way to a mix of COVID needs and backlogged procedures. To help, regulations have become more flexible during the pandemic to allow nurses to move from state to state more easily, says John Maaske, the CEO of Triage Staffing, based in Omaha, Nebraska.
By Maaske's estimates, about 15% of positions Triage has right now are COVID crisis jobs, although many of the "normal" jobs have crisis rates tied to them. While the average wait time between a job posting and fulfillment is 2 to 3 weeks, Triage has continued to improve operational efficiency and has plans to roll out technology that automatically connects a qualified candidate with an opening by the end of March 2021.
Maaske says, "If every metropolitan area experienced the type of COVID strain like New York City did earlier this year, there's no way there would be enough healthcare providers to take care of that demand, but that's not going on in the country right now."
Triage is experiencing record high placement and workforce volume, and the high numbers aren't an industry anomaly.
By mid-November, Aya Healthcare had 11,000 clinicians in circulation, with an additional thousand forecasted by early December, and every week 1,600 to 2,000 clinicians are beginning new assignments. Hansen says there are about 28,000 requests for travel clinicians currently, about double that of the first wave of the pandemic.
Deployment records may be rising, but every new travel nurse could mean one fewer in-house nurse in the grand scheme of things. "It's a 'rob Peter to pay Paul' situation," says Katie Boston-Leary, PhD, RN, MBA, MHA, director of nursing programs and co-lead for Project Firstline, a partnership between the American Nurses Association and the Centers for Disease Control and Prevention. "They're not hiring people out of school. They're hiring nurses who are in practice."
To try to supplement its in-house workforce, Indiana University (IU) Health held its semiannual career fair online this November. The 3-day event advertised more than 600 openings and led to 82 candidates, says IU Health Vice President of Talent Acquisition Tanya Hahn, JD, which was more than normal.
"Though we haven't done a job fair like this before—so it's not comparing apples to apples—I would say that this is at least double to triple the number we typically hire in a 1-day hiring event," she says.
IU Health is contracting with about 210 travel nurses, about 140 more than normal. Hahn hopes that with the help of relocation packages, some will stay on permanently.
Coping with sick, quarantined nurses
With travel nurses often going to the highest bidder—a recent Kaiser Health News article found that some postings offered nurses $10,000 per week—some health systems have been unable to compete.
The Carris Health system, which serves central Minnesota, has been trying to hire travel nurses for months through its parent company, CentraCare. None have arrived, but through careful management of additional resources from CentraCare, Carris Health has been able to make it work.
"That's a difficult thing [for nurses], coming in to work but knowing tomorrow it might be worse," says Kathy Dillon, MA, RN, vice president of acute care and chief nursing officer at Carris Health. "But they keep showing up."
Like Sanford Health, Carris Health viewed the first wave of the pandemic as a trial run or "the P wave in the heart rhythm before the big QRS," says Jessica Vagle, MA, director of adult health and care management services at Carris Health Rice Memorial Hospital in Willmar, Minnesota.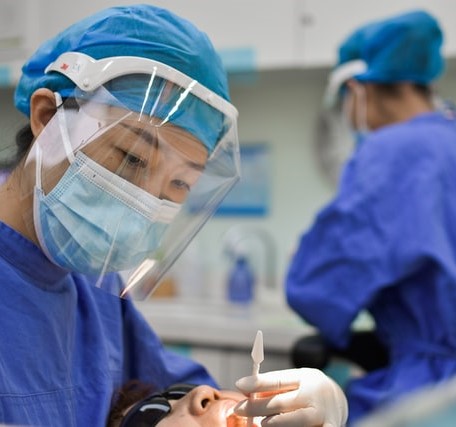 She and the other staff used the time to stock up on necessary resources, train the staff for high demand, and reprioritize roles as needed. From the clinic side, Caryn McGeary, MHA, RN, director of ambulatory clinical services, says the key during the entire pandemic has been managing and communicating ever-changing demands.
However, the best plans aren't enough when the people who execute those plans drop out with no replacement. At Carris Health, 1,400 people—more than 10% of the staff—are out with COVID-19, quarantining, or taking care of those with COVID.
Perhaps another drastic change has been the amount of community support, says Dillon. At the beginning of the pandemic, healthcare providers were met with encouraging signs and donated food. But now, reports not only at Carris Health but across the country say healthcare providers end overtime shifts and hear conspiracies and complaints about wearing masks.
A different kind of disaster
The US health system already had a nursing shortage before the pandemic began, say both Boston-Leary and Hansen, who adds there was a permanent 100,000-person vacancy.
ICU nurses especially have a large turnover, not only because of the alarm fatigue but because of the desire to have better schedules, lower risk, or career advancement. Before the pandemic, new nurses were rarely placed in the ICU. But now, to help address the deficit, internships, preceptorships, and residency programs have been put in place to ensure a continued flow of workers.
No pipeline is enough during the pandemic, Boston-Leary says. To help remedy the pinch in ICU and other departments, some nurses have graduated early to join the workforce, patient care techs took on additional work, and nurses have transitioned to new areas. No matter the amount of innovation, though, she says the numbers just don't work.
Cindy Firkins Smith, MD, Carris Health co-CEO, adds, "The difference between this and a natural disaster is the time it entails. … A hurricane hits or a tornado hits, and it's a huge disaster. But it hits and it's done, people react, take care of it, we recover and go about our normal business. This has been going on for months and continues to go on."