Flu activity continued to drop in most areas but still remains high, the Centers for Disease Control and Prevention (CDC) said in its weekly update on Dec 30, which covers the week ending Dec 24.
Forty-four states reported very high (25) or high (19) flu activity, a marker that reflects outpatient visits for flulike illness, down from 48 the week before. Activity in a few states—including Minnesota and Vermont—are back into green "minimal" category on the CDC's flu map (below).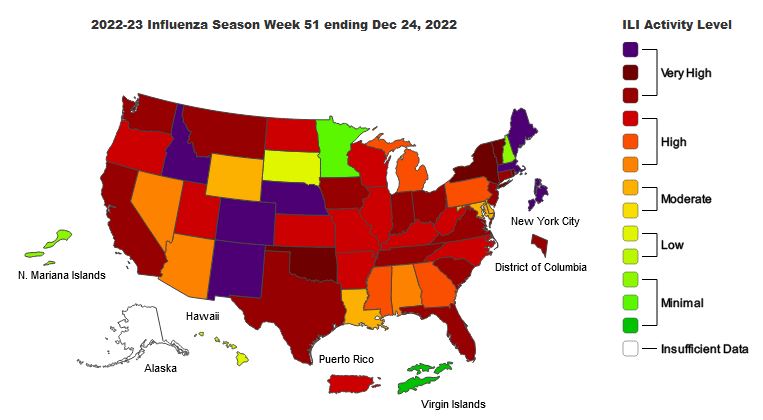 Levels appear to be easing, especially in some southeastern and southwestern states.
Hospital admissions for flu declined for the third week in a row. And though hospitalizations at this point in the season are higher than for the same time in previous years going back to the 2010-11 season, overall levels are still lower than end-of-season hospitalization rates for all but 4 years going back to 2010-11.
Of respiratory samples tested at public health labs, nearly all were influenza A. And, of subtyped influenza A viruses, 83.1% were the H3N2 strain. The CDC said most circulating viruses tested are similar to the viruses included in this season's flu vaccines.
One marker that rose sharply is the number of pediatric flu deaths, with 14 more deaths reported, which puts the season's total at 51. The deaths occurred between the end of November and the end of December. All were due to influenza A, and, of 6 subtyped samples, 1 was a H3N2/H1N1 coinfection and 5 involved H3N2.