Saudi Arabia reports four severe MERS cases in Riyadh
Saudi Arabian officials today reported four Middle East respiratory syndrome coronavirus (MERS-CoV) cases in Riyadh, one of them fatal and the other three severe enough to require intensive care.
The patient who died is a 57-year-old man, according to a machine translation of a Saudi Ministry of Health (MOH) statement. The other three patients, all in intensive care units, are 45, 51, and 90 years old, and all are men who have chronic diseases, the MOH said.
The statement did not give any information about how the patients were exposed to the virus. All were described as Saudi citizens. The edited machine translation was provided by ProMED-mail, the disease reporting service of the International Society for Infectious Diseases.
The cases raised the MOH's online MERS count to 179 cases, including 67 deaths. The World Health Organization's (WHO's) global MERS count, which has not been updated since Mar 27, stands at 206 confirmed cases and 86 deaths.
The new cases in Riyadh follow a recent series of 11 cases in Jeddah, on the Red Sea coast. Some of the cases were in healthcare workers, which prompted the temporary closure of a hospital emergency department in Jeddah yesterday. There was no word today of further cases in the city.
Translated and edited Apr 9 MOH statement from ProMed-mail
Related Apr 8 CIDRAP News story
Top experts suggest bolstering smallpox vaccine stockpiles
Although global experts have spent considerable time debating whether or not to destroy the remaining stocks of smallpox virus in WHO labs, not nearly enough resources are being spent on preparing for a potential terror-related outbreak of the eradicated disease, two leading experts said in a commentary today.
Writing in Biosecurity and Bioterrorism yesterday, two former directors of the WHO's smallpox eradication program, D. A. Henderson, MD, MPH, and Isao Arita, MD, PhD, suggest stockpiling traditional smallpox vaccine sufficient to cover 10% of the world's population, with 300 million additional doses in a WHO stockpile.
Henderson is a distinguished scholar at the UPMC Center for Health Security in Baltimore, and Arita is director emeritus of the Kumamoto Medical Center in Japan. Henderson is also co-editor-in-chief of the journal.
"Regrettably, there are few countries that have been sufficiently concerned so as to possess an emergency vaccine stockpile or to make other preparations to respond to an outbreak should it occur," the experts write.
They provide a summary of developments toward antiviral agents and a better smallpox vaccine but conclude, "It makes little sense to continue to invest in new vaccines or antiviral agents when there is so little interest in purchasing well-tested, available vaccines to provide at least minimal protection."
The two cite the example of Imvamune, a new and reputedly safer vaccine developed by Bavarian Nordic, of which the United States has stockpiled 20 million doses—enough to immunize 10 million people—for $505 million, or about $25 per dose.
Rather than pursuing a "perfect" smallpox vaccine at great cost, Henderson and Arita recommend that resources would be better spent on stockpiling traditional vaccines. "There are now available 2 excellent replicating strains of freeze-dried vaccine virus that are highly protective, whose shelf life is 10 years or more, and whose cost is about $3 per dose," they write, suggesting that nations stockpile these vaccines in large quantities.
And on the topic of destroying the remaining lab stocks of smallpox virus? "Given our knowledge of recombinant biology, retention of live variola virus is scientifically unnecessary," they say, and propose two specific approaches to virus destruction.
Apr 8 Biosecur Bioterror commentary
Salmonella outbreak tied to Foster Farms chicken tops 500 cases
A multistate outbreak linked to Foster Farms chicken contaminated with Salmonella Heidelberg has grown to 524 cases, up from 481 cases on Mar 4, the Centers for Disease Control and Prevention (CDC) said today.
The 43 new cases are in California (34), Oregon (3), Arizona (2), Texas (2), Michigan (1), and Washington (1). Cases are from 25 states and Puerto Rico. No new states have been affected. The vast majority of cases (399) have been in California (see CDC map below).
Of the 437 case-patients with available information, 162 (37%) have been hospitalized. Illness-onset dates ranged from Mar 1, 2013, to Mar 18, 2014.
Thirteen percent of patients have developed blood infections. That number is typically 5% with Salmonella infections, the CDC said. Of 61 isolates of the outbreak strains tested to date, 38 (62%) showed resistance to one or more antibiotics, a factor that may raise hospitalization rates, the agency said.
Foster Farms is located in Livingston, Calif. The US Department of Agriculture (USDA) announced in October that it was allowing three Foster Farms facilities linked to the outbreak to continue operating after they made changes in their slaughter and processing methods. One of the plants, however, was temporarily closed by the USDA on Jan 8 because of "egregious insanitary conditions."
Apr 9 CDC outbreak update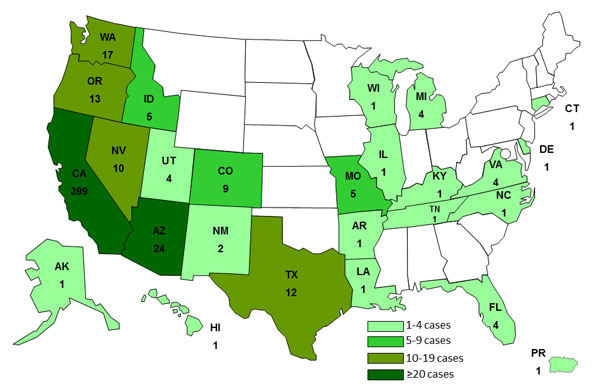 WHO issues its first hepatitis C guidance
The WHO today issued its first-ever guidance on treating hepatitis C with the aim of reducing deaths from liver cancer and cirrhosis.
The guidelines outline nine key recommendations, including increased screening, ways to mitigate liver damage, how to select an optimal treatment for chronic infection, and steps to bolster prevention in healthcare settings. The 124-page document coincides with the availability of more effective, safer oral hepatitis drugs and the potential for new medicines in the next few years, the WHO said in a news release.
"Hepatitis C treatment is currently unaffordable to most patients in need," said WHO Senior Adviser Peter Beyer, PhD. "Experience has shown that a multi-pronged strategy is required to improve access to treatment, including creating demand for treatment. The development of WHO guidelines is a key step in this process."
Hepatitis C is a chronic infection that annually affects an estimated 130 million to 150 million people and results in 350,000 to 500,000 deaths, the agency said in the release.
Apr 9 WHO press release
Apr 9 WHO guidance