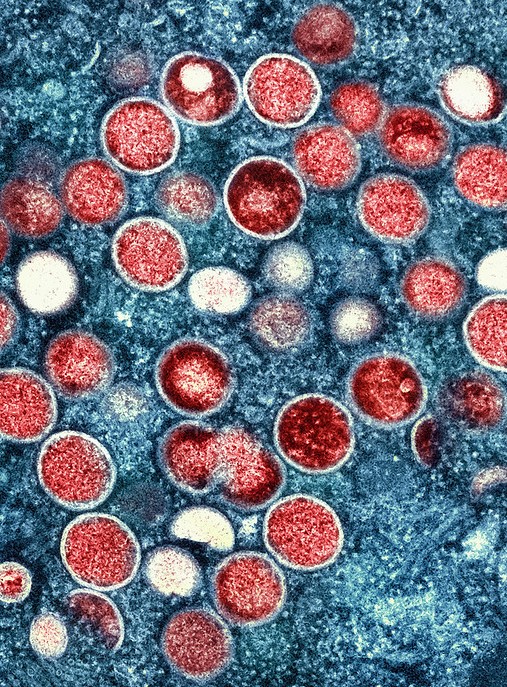 The average time for symptom onset between successive mpox cases (serial interval) is 8.5 days, and the average time between infection and symptom onset (incubation period) is 5.6 days, estimates a study published yesterday in Emerging Infectious Diseases.
From May to August 2022, researchers from the Centers for Disease Control and Prevention (CDC) analyzed data from 12 US health departments to estimate average serial interval based on 57 mpox case pairs and incubation period based on 35 case pairs. Since the global mpox outbreak began in May 2022, 86,231 infections and 105 deaths have been reported in 110 countries.
Mpox symptoms typically begin within 3 weeks of exposure and may include fever, headache, chills, swollen lymph nodes, and exhaustion, followed by a rash 1 to 4 days later, the authors noted. In the current outbreak, transmission has occurred largely through close physical contact among men who have sex with men. Spread is possible from symptom onset until all scabs have dropped off and fully healed.
Shorter serial interval for rash onset
The estimated serial interval was 8.5 (95% credible interval [CI], 7.3 to 9.9) days for symptom onset and 7.0 (95% CI, 5.8 to 8.4) days for rash onset, and the estimated incubation period was 5.6 (95% CI, 4.3 to 7.8) days for symptom onset and 7.5 (95% CI, 6.0 to 9.8) days for rash onset.
The serial interval for symptom onset ranged from 2 to 25 days, which the researchers said could be partially attributable to the nature and intensity of the physical contact.
The authors said that their serial interval estimate is similar to that of one from the United Kingdom (9.8 days) but shorter than the 12.5 days estimated by Italian researchers in May and June 2022.
"Serial interval changes can be very rapid," they wrote. "The serial interval correlates with human behavior and can decrease with increasing awareness among men who have sex with men or interventions, a pattern similar to that observed among the general population during the COVID-19 pandemic."