Salmonella outbreak linked to chicken grows to 389 cases
The number of people infected by Salmonella linked to chicken products produced by Foster Farms at three facilities in California has grown to 389 in 23 states and Puerto Rico, up by 27 cases and 2 states in the past 3 weeks, the Centers for Disease Control and Prevention (CDC) said in an update yesterday.
Among 312 patients with available information, 125 (40%) were hospitalized. That figure is up from 38% in the previous CDC update on Oct 30.
Illness-onset dates range from Mar 1 to Oct 29, with patients' ages ranging from less than a year to 93 years (median, 19).
About 14% of case-patients have developed blood infections, the CDC said, which compares with 5% in a typical Salmonella outbreak. No deaths have been attributed to the outbreak, which involves several strains of Salmonella Heidelberg. The outbreak strains have shown resistance to several common antibiotics, the agency said.
As in earlier reports, about three fourths of cases (74%) have been in California (see CDC map below). New cases have occurred in eight states: California , 20; Arizona , 2; and 1 each in Idaho, Illinois, Louisiana, Nevada, Oregon, and Virginia. In addition, 1 case from Texas has been removed from the CDC count. Illinois and Louisiana reported their first cases.
On Oct 10, the US Department of Agriculture said that Foster Farms had made substantive changes in its slaughter and processing procedures and allowed the three implicated plants to continue operating.
Nov 19 CDC update
Oct 31 CIDRAP News scan on previous update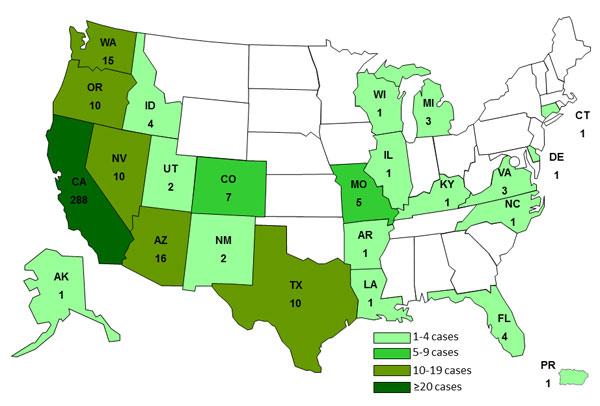 WHO says global warming will increase infectious disease burden
Global warming has already taken a toll on global health and will add to the burden of infectious diseases in coming years, the World Health Organization (WHO) warned in an update of its fact sheet on the topic. The statement comes as the United Nations Warsaw Climate Change Conference continues in Poland.
Global warming may bring some localized benefits in certain places, but "the overall health effects of a changing climate are likely to be overwhelmingly negative," the WHO said.
A WHO assessment that considered only some of the health effects of climate change concluded that the modest warming that has occurred since the 1970s was causing more than 140,000 excess deaths annually by 2004, the agency said.
It said climatic changes are likely to lengthen the transmission seasons and broaden the geographic range of important vector-borne diseases. For example, the area of China affected by the snail-borne disease schistosomiasis is expected to grow.
Malaria and dengue fever, both spread by mosquitoes, are strongly influenced by climate, the WHO said. "Studies suggest that climate change could expose an additional 2 billion people to dengue transmission by the 2080s."
In other comments, the WHO said levels of pollen and other airborne allergens that cause asthma increase in extreme heat. Also, increasingly variable rainfall patterns are likely to affect the supply of fresh water, and a lack of safe water can increase the risk of diarrheal diseases, which kill 2.2 million people per year.
WHO fact sheet on climate change and health
Inovio says its MERS-CoV vaccine looked good in mouse trial
Inovio Pharmaceuticals of Blue Bell, Pa., announced that its synthetic DNA vaccine for the Middle East respiratory syndrome coronavirus (MERS-CoV) induced strong immune responses in a trial in mice.
In a press release, the company said it used multiple strains of MERS-CoV to develop a vaccine construct containing a consensus MERS "spike" protein. The vaccine was administered to mice with the company's electroporation delivery technology.
All 20 of the vaccinated mice generated neutralizing antibodies that stopped MERS-CoV from infecting cells, whereas none of 10 unvaccinated mice developed neutralizing antibodies, the company said. Researchers also found that the vaccine generated robust T-cell responses to multiple components of the MERS-CoV spike protein, according to the release.
Nov 20 Inovio press release
Study finds virus antibodies common in African fruit bat
A third of certain fruit bats that are found widely across Africa show evidence of infection with a rabies-like virus, and more than 40% had antibodies to henipaviruses, according to a study yesterday in Nature Communications.
An international group of scientists studied the straw-colored fruit bat, Eidolon helvum, which is Africa's most widely distributed fruit bat and often lives near—and is hunted by—people. It has been identified as a reservoir of potentially zoonotic viruses, according to the team, headed by researchers from the University of Cambridge and the Zoological Society of London.
The investigators measured DNA from blood and tissue samples from more than 2,000 bats from 12 different countries across Africa. They found that 34% of the bats had been infected with Lagos bat virus, which causes a disease similar to rabies, and 42% had been infected with henipaviruses.
They also discovered that the bats were largely genetically similar, meaning that they travelled and mated across the continent without any evidence of population subgroups or specific migratory patterns—the largest example of this freely mixing population structure ever found in mammals, according to a University of Cambridge press release.
James L. N. Wood, PhD, BVetMed, the study's senior author, from Cambridge's Department of Veterinary Medicine, said, "This new information indicates that the unique population of freely mixing bats across the entire continent facilitates the spread of the viruses. This has important implications for the monitoring of these viruses in order to prevent its spread to other animals, including humans."
Nov 19 Nat Commun abstract
Nov 19 University of Cambridge press release
Afghanistan's Southern Region free of polio for 1 year
For the first time ever, Afghanistan's Southern Region reached 1 year without a reported case of polio, the United Nations Children's Fund (UNICEF) noted today. Nationwide cases of wild poliovirus infection dropped from 37 in all of 2012 to just nine so far this year, the agency said in a news release.
The region has long been a reservoir of poliovirus, and its largest provinces—Kandahar and neighboring Helmand—have been called epicenters of the disease, UNICEF said.
"This unprecedented progress is a sign of the effectiveness of the polio eradication strategies and their implementation in the Southern Region," the agency said. "It is also a testament to the commitment of the Government of Afghanistan, community representatives, partners and donor countries, and to the effective implementation of the National Emergency Action Plan's innovative approaches to gain access to areas where children previously were not being reached with the oral polio vaccine."
Suraya Dalil, MPH, Afghanistan's minister of public health, said in the release, "This offers a very real opportunity to stop transmission of the virus entirely across the country."
Nov 19 UNICEF news release