"I've grown increasingly frustrated by the lack of situational awareness, even from public health experts."
For decades, infectious disease expert Michael Osterholm, PhD, MPH, has been in the business of telling people what they don't necessarily want to hear: Pandemics are inevitable; outbreaks can be devastating; bioterrorism is a threat. Several real infectious disease threats exist that could stop the world in its tracks, and by and large government officials, industry professionals, and researchers are not acting together to stop them, he warns.
"I call Michael the Paul Revere of pandemics," said Michael Leavitt, former secretary of the Department of Health and Human Services under George W. Bush. Leavitt first worked with Osterholm during the avian influenza threat in the early 2000s and appointed him to the National Science Advisory Board on Biosecurity in 2005. "It's not if a pandemic will happen next, it's when, and Michael speaks to that biological reality."
Osterholm details the biological reality of pandemic threats, including MERS (Middle East respiratory syndrome), influenza, Zika, and Ebola in his new book, Deadliest Enemy: Our War Against Killer Germs. For Osterholm, director of the Center for Infectious Disease Research and Policy at the University of Minnesota, publisher of CIDRAP News, this is his first book since 2001's Living Terrors: What America Needs to Know to Survive the Coming Bioterrorist Catastrophe.
In his new book, which he coauthors with Mark Olshaker, Osterholm said he's trying to clearly sound the alarm on the real public health threats facing the world and explain the policy and research needed to tackle these threats head-on.
"I have the reputation as 'Bad News Mike,'" said Osterholm. "But it's not just bad news [in the book]. I'm also saying, 'Wake up, there's something you can do about it.' I guess I'm at the age where I'm looking at what kind of world I'm leaving for my kids and grandkids, and I want to make sure we do what we can to stop disease."
Learning to think about epidemiology
Part detective story, part military strategy, and part public health primer, "Deadliest Enemy," finds Osterholm looking both forward and backward in his 40-year career as a public health epidemiologist. He dedicates the book to Laverne Keetel Hull, the wife of his father's boss and a friend from his hometown of Waukon, Iowa. Hull gave a young Osterholm his first copies of The New Yorker, where he first read the "Annals of Medicine" column by Berton Roueche.
"Those articles were brilliant, and helped me think about disease in a new way," said Osterholm.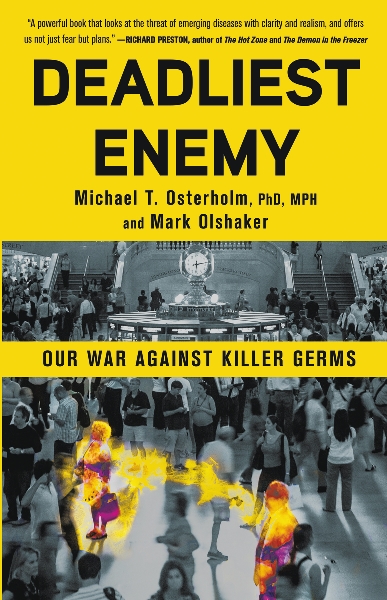 For Osterholm, choosing a career in epidemiology was choosing to be a medical detective, to look for the clues behind a story that would open a case wide open. By his late 20s, Osterholm had become a fixture at the Minnesota Department of Health and made a national name for himself at the Center for Disease Control (CDC, which would later become the Centers for Disease Control and Prevention) by investigating toxic shock syndrome and AIDS.
In telling those stories in the book, Osterholm both educates the reader on the basics of public health investigation and demonstrate his credibility. Again and again, Osterholm has exhibited the ability to predict public health crises before they appear. But he claims he's not clairvoyant, or even lucky.
"I predicted a MERS super-spreader would shut down a hospital outside of Saudi Arabia months before it happened in Seoul, I said Zika could be big, and in 1984 I said I wouldn't see an HIV vaccine in my lifetime," Osterholm. "All of these things can be seen by looking at the evidence."
And the evidence now, Osterholm said, is that the world is not prepared for an inevitable pandemic. Whether it be caused by influenza, MERS, SARS (severe acute respiratory syndrome), or a mosquito-borne disease, a pandemic is coming.
Leavitt agrees. "There have been three pandemics in the last 100 years, and 10 in the last 300," he said. "There will be another one, because pandemics are like natural disasters. Just like natural disasters, we can be prepared.
"We do have the resources to prepare for pandemics, we absolutely can do that and Michael sees this reality."
Preventing 'hurricanes' with policy
Osterholm said he started CIDRAP because science without policy is worthless. A new strategy explained in almost military terms makes up Deadliest Enemy's last chapter, called "Battle Plan for Survival." In the chapter, Osterholm describes how global alliances, the US government, and research institutions can combat some of the greatest public health threats.
"We can take influenza off the table with a game-changing vaccine," said Osterholm. Preventing a global flu pandemic is the first priority in the "Battle Plan for Survival." Osterholm calls for a Manhattan-like project to create a vaccine that would take care of both seasonal and pandemic influenza threats within a decade.
Osterholm also said that threats that strike terror at the heart of most people, like Ebola, are relatively easy to control. But governments and pharmaceutical companies have to want to invest in the solutions.
"Right now if Ebola blew up in Kinshasa [in the Democratic Republic of the Congo] we'd be unprepared and would face a global pandemic," said Osterholm. "But if we make a good vaccine, which we can do, and vaccinate medical response teams, burial teams, and others in West Africa, we can totally eliminate the risk of Ebola spreading globally. Why wouldn't we do that?"
Several Ebola vaccines have been developed, and one tested very well in people, but none has been approved by regulators or produced in large numbers.
Osterholm said that Ebola and pandemic flu are like hurricanes or storms. But unlike meteorologists, who can only predict bad weather, public health professionals have the ability to eliminate the risk.
"Why wouldn't we want to stop hurricanes before they happen?" Osterholm asked. "Why don't we take flu off the table? Take Ebola off the table? We can and we should."
"One of the things about Mike is that he's always about doing something," said John Barry, who wrote the definitive book on the 1918-19 pandemic, The Great Influenza. "I think everything he's done has been geared towards results or trying to get them. Both in the book and professionally." 
Osterholm said that many object to the idea of "doing something" because "something" will be done with government's involvement, namely the US government.
"It benefits America greatly to invest in fighting these diseases, because a pandemic will cost billions of dollars in lost revenue," Osterholm said. He added that history shows that when world powers work together to fight disease, everyone wins.
"When the United States and Soviet Union agreed to eradicate smallpox, we were successful," said Osterholm. "In many ways we were better off fighting disease 50 years ago than today, when we have more failed states."
For Osterholm, Deadliest Enemy is a blueprint and a battle cry, a book that he hopes will alert people to how and why a focus on public health should be one of the nation's top priorities.
"The threat of pandemic disease is not going away if we ignore it," he said.
See also:
Mar 13 University of Minnesota School Public Health Q&A with Osterholm
Book availability: Amazon, Barnes & Noble, IndieBound, Google Play