Officials with Montana Fish, Wildlife & Parks (FWP) have detected chronic wasting disease (CWD) in a mule deer buck found dead within the city limits of Great Falls, the first known CWD case in the city. And North Carolina reported expansion of the disease.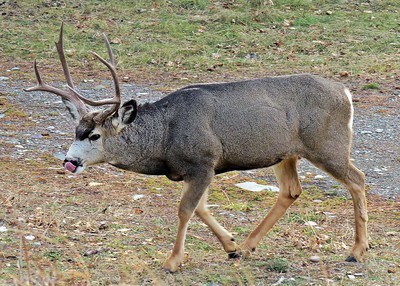 Buck acted odd before death
A Great Falls resident noticed that the buck was behaving strangely in January and later found the animal dead inside a building on the property. Tests at two separate labs confirmed CWD, an always-fatal prion disease that affects cervids such as deer, moose, and elk. The state's first CWD case was detected in 2017.
The closest previous CWD detection involved a mule deer buck killed by a hunter in Hunting District (HD) 405, about 15 miles east of Great Falls, near Belt, late last year.
FWP has conducted rotating surveillance for CWD throughout the state for several years, and HD 405 and Great Falls are priority surveillance areas for testing. The agency is asking property owners in the area to avoid feeding deer, since the practice can cause deer to congregate and contribute to the spread of CWD and other diseases.
First case in Cumberland County, N.C.
Officials with the North Carolina Wildlife Resources Commission announced this week that a sample collected from a hunter-harvested, white-tailed deer in Cumberland County has tested positive for CWD, the first case detected outside of the state's surveillance area.
The deer was harvested last October, 9 miles east of Fayetteville. The testing sample was collected by a taxidermist enrolled in the state's surveillance system. CWD was first detected in North Carolina earlier in 2022.
CWD has not yet been detected in humans, but the Centers for Disease Control and Prevention recommends that people not eat meat from infected animals and have their wild game tested before eating the meat if the animal was taken from an area where CWD is known to exist.