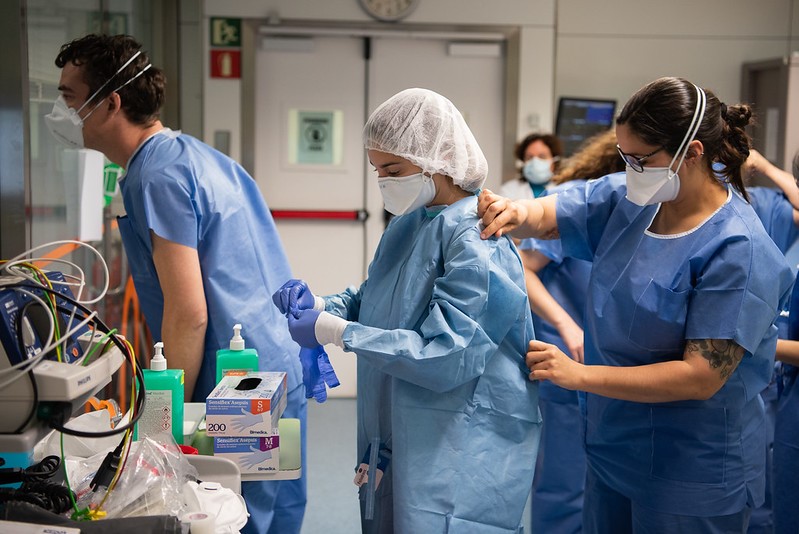 Scientists estimate a high economic and societal burden of COVID-19 infections in healthcare workers (HCWs) in four low- to middle-income countries—Kenya, Eswatini (formerly Swaziland), Colombia, and South Africa—during the first year of the pandemic, according to a study today in Nature Communications.
HCWs were infected at high rates, and these infections came at high societal costs, the authors found.
In all the countries analyzed, HCWs had significantly higher rates of COVID-19 infections than the general population, almost 10 times higher in Kenya and 7 to 8 times higher in South Africa. Only in Colombia were HCWs infected at a comparable rate to the general population.
At all the study sites, HCW infections led to care disruptions that had a direct effect on maternal and child mortality. Kenya had an estimated 243 excess maternal deaths and 1,499 excess deaths in children under 5 years, the highest toll across all study sites.
Unsurprisingly, SARS-CoV-2 infection in HCWs resulted in enormous societal costs.
The economic burden of HCW infections ranged from $2 million in Eswatini to $163.47 million in South Africa. Secondary infections among HCWs' close contacts also were costly, with an estimated burden of the total cost of $9.94 million in Eswatini, $14.95 million in Kenya, and more than $200 million for the other study sites.
In total, economic losses as a share of total health expenditure varied from 1.51% (95% confidence interval, 1.39% to 1.68%) in Colombia to more than 8% of annual total health expenditure in the two provinces of South Africa.
"Unsurprisingly, SARS-CoV-2 infection in HCWs resulted in enormous societal costs," the authors said. "The scale of economic losses mostly reflects onward infectious transmission from infected HCWs and disruptions in essential maternal and child health services as a result of HCW illness, isolation, or death."