Two more Ebola deaths reported in Guinea
Guinea's health ministry has reported two more deaths in the country's Ebola virus disease (EVD) outbreak, raising the fatality number to 157, according to an update today from the World Health Organization (WHO). No other probable or suspected cases have been reported, and the overall EVD illness count is 235.
The number of confirmed cases stands at 127, the same as in the last update on May 6. The latest illness onset appears to be in Conakry, the country's capital, on Apr 22. The WHO said the case numbers are subject to change based on several factors, including a recently introduced serology test used for clinical cases that test negative by polymerase chain reaction.
No new cases have been reported in Liberia or Sierra Leone, but in the latter, 10 Lassa fever infections have been found during testing. That disease is endemic in Sierra Leone.
May 8 WHO update
In other Ebola developments, the current outbreak in West Africa shows that the world has a limited ability to respond to rare, highly virulent communicable diseases, according to a commentary by Heinz Feldmann, MD, an Ebola researcher and virologist at the National Institute of Allergy and Infectious Diseases (NIAID) Rocky Mountain Laboratories in Hamilton, Mont.
He wrote in the New England Journal of Medicine yesterday that the lack of interventions such as vaccines or drugs makes quick diagnosis a key element of the response. He added that tests may fail when new variants are involved, such as in the current outbreak. Real-time sharing of data, especially sequence information, is critical, he said.
Rapid, reliable diagnostics need to be available closer to areas where the diseases are endemic so that health officials don't have to rely on far-away reference labs, Feldmann wrote.
So far researchers have found little pathogenicity differences in various Zaire Ebola viruses, and it's not a given that the West Africa variant is more virulent, he said. If the 70% case fatality rate is confirmed, it could even reflect a less virulent strain, he added.
May 7 N Engl J Med perspective
CDC notes effort to curb top neglected parasitic infections
More than 60 million US residents are chronically infected with the parasite that causes toxoplasmosis, 40 million with the parasite that causes toxocariasis, and 300,000 with the parasite that causes Chagas disease, the Centers for Disease Control and Prevention (CDC) said today as it announced an effort to target the top five neglected parasitic infections (NPIs) in the country.
CDC scientists detail those NPIs—Chagas disease, cysticercosis, toxocariasis, toxoplasmosis, and trichomoniasis—and epidemiologic profiles in a special supplement to the American Journal of Tropical Medicine and Hygiene. These NPIs often go unnoticed, with few symptoms, but many times they cause serious illness, including seizures, heart failure, and death.
"They're more common in the US than people realize, and yet there is so much we don't know about them," said CDC Director Tom Frieden, MD, MPH, in a CDC press release.  "We need research to learn more about these infections and action to better prevent and treat them."
The CDC noted these facts about the five NPIs in the United States:
More than 300,000 people are infected with Trypanosoma cruzi, the parasite that causes Chagas disease, and more than 300 infected babies are born every year.
There are at least 1,000 hospitalizations for symptomatic cysticercosis per year.
At least 14% of the population has been exposed to Toxocara, the parasite that causes toxocariasis, and each year at least 70 people—most of them children—are blinded by resulting eye disease.
More than 60 million people are chronically infected with Toxoplasma gondii, the parasite that causes toxoplasmosis; new infections in pregnant women can lead to birth defects, and infections in those with compromised immune systems can be fatal.
The Trichomonas parasite is extremely common, affecting 3.7 million people, and is easily treatable. Trichomoniasis can cause pregnancy problems and increase the risk of other sexually transmitted diseases, including HIV.
The good news is that most parasitic infections can be prevented, and many are treatable, the CDC said.
May 8 CDC press release
May Am J Trop Med Hygiene special supplement
CDC reports another Salmonella outbreak linked to live chicks
The CDC today announced yet another live-poultry Salmonella outbreak linked to a mail-order hatchery in Ohio, this one sickening 60 people in 23 states.
The patients range in age from less than 1 year to 95, with a median age of 29 years, the CDC said in an update. Of 32 case-patients with available information, 10 (31%) were hospitalized. Of 38 patients interviewed, 31 (82%) reported contact with live poultry before falling ill.
Nineteen (90%) of 21 ill people with available information reported buying live baby poultry from five different feed or farm store companies in multiple states. "Epidemiologic and traceback findings have linked this outbreak of human Salmonella Infantis and Salmonella Newport infections to contact with chicks, ducklings, and other live baby poultry from Mt. Healthy Hatcheries in Ohio," the CDC said.
"This is the same mail-order hatchery that has been associated with multiple outbreaks of human Salmonella infections linked to live poultry in the past, including in 2012 and 2013," the agency added.
States with the most cases are Pennsylvania, with 8, and Kentucky, New York, and Ohio, all of which have 6. No other state reported more than 4 cases (see CDC map below).
May 8 CDC update
CDC Map: Persons infected with the outbreak strains of Salmonella Infantis or Newport, by state*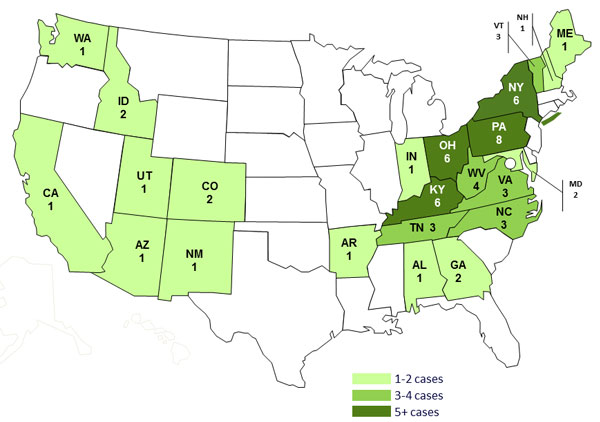 *n=60 for whom information was reported as of May 7, 2014