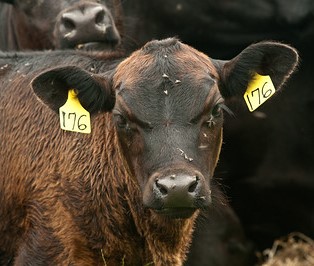 The US Department of Agriculture (USDA) Animal and Plant Health Inspection Service (APHIS) announced an atypical bovine spongiform encephalopathy (BSE) case in a beef cow that was at least 5 years old at a slaughter plant in South Carolina, marking the seventh BSE case since 2003.
The cow was testing during surveillance for animals that are deemed unsuitable for slaughter, APHIS said in a statement. Tests at the National Veterinary Services Laboratories in Ames, Iowa, were positive for atypical L-type BSE. The cow was sourced from a herd in Tennessee, and APHIS and its state animal health partners continue their investigation.
The animal didn't go through the slaughtering process, posing no threat to the food supply or human health.
Atypical BSE can occur in older cows and can arise spontaneously, APHIS said. Unlike the classical form of BSE ("mad cow" disease), atypical BSE hasn't been linked to contaminated feed or ingesting contaminated materials.
Scientists don't fully understand what causes prions to change from normal to abnormal and are exploring if genetic or environmental factors may play a role, according to APHIS, which said the finding doesn't change the nation's negligible risk status and shouldn't affect the beef trade.