WHO confirms 4 MERS cases, raising global total to 149
The World Health Organization (WHO) today confirmed the first Middle East respiratory syndrome coronavirus (MERS-CoV) case in Oman as well as three recent cases in Saudi Arabia. In addition, the Saudi health ministry noted a new fatal case today.
The Omani patient is a 68-year-old man from Al Dahkliya region who became sick on Oct 26 and was hospitalized on Oct 28. Investigations so far show that he did not recently travel outside the country. "Investigations are currently ongoing to determine what exposures might be responsible for his infection," the WHO said in a statement.
The man's case was reported by the media yesterday.
As has been the pattern with this outbreak, the WHO report contained scant information on the Saudi patients, based on information it received from the Saudi Ministry of Health (MOH). The MERS cases bring the WHO-confirmed number to 149, including 63 deaths.
The WHO said two of the case-patients are men and lists only their age ranges. An earlier MOH report specified that they are an 83-year-old woman, a 54-year-old man, and a 49-year-old man. All are from the Eastern province and had underlying conditions. One is a healthcare worker.
The WHO statement said that one of the cases was fatal but did not specify which. The MOH stated earlier this week, however, that the 83-year-old woman had died of MERS. At that time the MOH said the other patients are in intensive care.
Meanwhile, another person in the Eastern province has succumbed to the disease, according to an MOH update today translated from Arabic. The 56-year-old had multiple chronic conditions and may have had contact with other confirmed MERS cases, the MOH said.
Oct 31 WHO statement
Oct 31 machine-translated MOH statement
CDC: Salmonella outbreak from chicken grows to 362 cases
The number of people infected by Salmonella linked to Foster Farms chicken has grown to 362 in 21 states and Puerto Rico, up by 24 cases and 1 state in the past 2 weeks, the Centers for Disease Control and Prevention (CDC) said in an update yesterday.
Among 259 patients with available information, 98 (38%) were hospitalized. Illness-onset dates range from Mar 1 to Oct 8, with patients' ages ranging from less than a year to 93 years (median, 19).
About 14% of case-patients have developed blood infections, the CDC said, which compares with 5% in a typical Salmonella outbreak. No deaths have been attributed to the outbreak, which involves several strains of Salmonella Heidelberg. The outbreak strains have shown resistance to several common antibiotics.
As in earlier reports, about three fourths of cases (74%) have been from California (see CDC map below). New cases have come from six states: California, 16; Colorado, 3; Texas, 2; and Delaware, Idaho, and Michigan, all with 1. Delaware's case was its first.
The outbreak has been linked to chicken products from three Foster Farms facilities in California. On Oct 10, the US Department of Agriculture said that Foster Farms had implemented substantive changes to its slaughter and processing procedures and allowed the plants to continue operating.
Oct 30 CDC update
Oct 18 CIDRAP News scan on previous update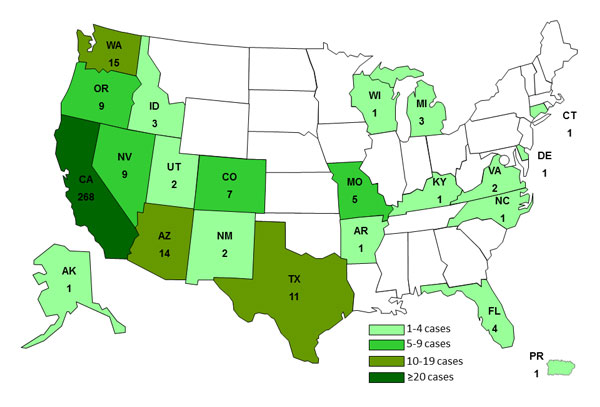 Candidate RSV vaccine shows promise in animal trial
An experimental vaccine against respiratory syncytial virus (RSV) developed by researchers from the National Institutes of Health (NIH) provoked high antibodies against the virus in an animal trial reported today in Science.
The disease is the most common cause of small airway inflammation and pneumonia in children younger than 1 and is the most common cause of hospitalization in children younger than 5, but there is currently no vaccine.
The candidate RSV vaccine uses a new structural information technique to guide vaccine design, the NIH said today in a press release. It allowed scientists to design and engineer F glycoprotein variants that are stable and prompt a strong antibody response. Researchers designed more than 100 variants, and x-ray crystallography showed that three retained the needed structure. The team used the variants as vaccines in mice and macaques.
In both animal models, researchers found that the stability of the protein was linked to neutralizing antibodies at levels well above those needed to protect against RSV infection.
Anthony Fauci, MD, director of the NIH's National Institute of Allergy and Infectious Diseases said in the news release that the structural information technique is being applied to other viral diseases, including HIV/AIDS.
The NIH said planning is under way for early-state human clinical trials of the RSV vaccine.
Nov 1 Science abstract
Oct 31 NIH press release