Ebola infection reported in former Sierra Leone hot spot
A 9-month boy tested positive for Ebola after he died in Sierra Leone's Kailahun district, a former hot spot for the disease that had not seen a case over the past 4 months, Reuters reported today.
Alex Bonapha, Kailahun's district council chairman, said it's not clear how the boy was infected, because his parents were healthy, according to the report. He said the boy might have been infected through a blood transfusion he received before he died, or that there may have been a problem with the sample that was tested. He said because of health system weaknesses, there is a chance that the blood the baby received wasn't the blood that his uncle had donated.
Local and foreign experts have been asked to investigate the case and the positive test result, according to Reuters.
Apr 6 Reuters story
In Ebola research developments, a German team that compared glycoprotein (GP)-mediated cell entry of Ebola Zaire viruses from 1976 and the current outbreak in West Africa found that both viruses use the same mechanism and should be susceptible to established antiviral strategies that target GP and cell entry factors. The researchers published the results of their cell-culture study late last week in the Journal of Infectious Diseases.
They said the GP of the current outbreak strain harbors eight unique substitutions, and it wasn't known if the changes would alter cell entry or contribute to resistance to inhibitors or neutralizing antibodies. The modern sample they used was from Sierra Leone.
Their comparison found no major differences in cell host entry, and GPs from both viruses were susceptible to blockade by inhibitors and antiviral host cell proteins.
Apr 2 J Infect Dis abstract
Saudi Arabia confirms 2 more MERS cases, 1 fatal
Saudi Arabia announced two more MERS-CoV cases over the weekend but none today, with the latest reports hinting at a slowdown from the rate of cases seen the past 2 months.
The new cases were reported yesterday and involved two men, a 65-year-old Saudi in Riyadh who died and a 66-year-old foreigner in Mecca who is in stable condition, the Ministry of Health (MOH) reported.
The men were not healthcare workers, and neither had had contact with other MERS-CoV (Middle East respiratory syndrome coronavirus) cases in healthcare settings or the community before they got sick. There was no information on contact with animals.
On Apr 4 the MOH announced a death in a previously reported case, that of a 60-year-old Saudi man in Jeddah.
Also noted were the recoveries of three patients in Riyadh: two men, ages 30 and 54 (Apr 4), and a 65-year-old female expatriate (Apr 5).
The two new cases bring the total for the first 6 days of April to three. For comparison, the MOH reported a total of 75 cases in February and 53 in March.
The MOH's cumulative count of MERS cases is now 976, including 424 deaths, 541 recoveries, and 11 patients still in treatment.
In other developments, the MOH today posted a weekly MERS update, but it provided little new information about recent cases. In somewhat confusing language, it indicated that 2 of the last 7 cases involved contact with camels, 2 resulted from contact with cases in the community, 2 involved healthcare workers, and 1 is still under investigation.
Apr 4 MOH statement
Apr 5 MOH statement
Apr 6 MOH weekly update
PAHO reports 13,000-case chikungunya increase
The number of chikungunya cases in the Americas increased by 13,239 last week, to 1,356,611, the Pan American Health Organization (PAHO) said in its most recent weekly update on Apr 3.
In comparison, the region saw a 32,504-case increase the week before and a 28,768-case increase the week before that. PAHO's latest count includes 1,322,693 suspected, 30,309 confirmed, and 3,609 imported cases. The wide majority of the imported cases are from the United States.
Consistent with many recent weeks, by far the largest increase was in Colombia, which reported 11,671 new cases. The largest percentage increase, though, occurred in Ecuador, which more than quintupled its case count, from 239 to 1,245—an increase of 1,006 cases.
Bolivia and Paraguay also had sizeable increases, percentagewise. Bolivia had 274 new cases—763 total—and Paraguay logged 211 new cases, for 522 total.
Apr 3 PAHO update
In related news, Brazilian researchers reported today that a 1,000-plus-case chikungunya outbreak in Feira de Santana in east-central Brazil last fall was caused by the East/Central/South African genotype rather than the Asian type that has caused almost all other cases throughout the Americas.
Writing in Emerging Infectious Diseases, the investigators noted that cases occurred in neighborhoods throughout the city of 612,000 residents, but 52% were in the same neighborhood as the index patient, who had traveled to the city from Angola.
"This epidemic had some unusual aspects," the authors wrote. "First, it was not caused by the Asian genotype circulating in affected countries of the Americas, which maintain intense tourism and trade with Brazil. Second, it occurred during the dry season, when little dengue transmission was occurring."
They noted that cases were noted elsewhere in Brazil at the same time, but they were caused by the Asian genotype.
Apr 6 Emerg Infect Dis report
Blue Bell closes Oklahoma plant tied to Listeria outbreak
Blue Bell Creameries on Apr 3 announced it had shut down its manufacturing plant in Broken Arrow, Okla., after it was implicated in a five-case listeriosis outbreak in Kansas that killed three people.
Blue Bell said in a news release that, after suspending operations, "We will then thoroughly inspect the facility for any possible problems that may have led to the contamination of some of our ice cream products in the past few weeks."
The company added, "We have notified the U.S. Food and Drug Administration of our action and we remain committed to being transparent with that federal agency. Once our investigation is complete and we have made all necessary improvements, it will return to operation."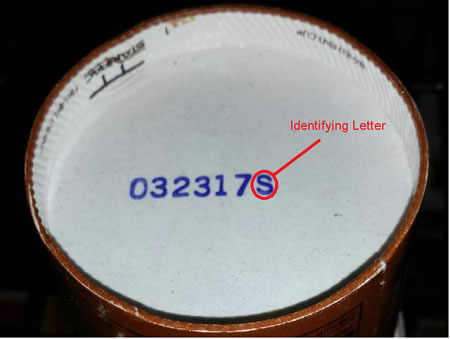 The US Centers for Disease Control and Prevention (CDC), in an update on the same day, recommended that consumers not eat any Blue Bell products made at the plant. It said they can be identified by any of the letters "O" through "T" appearing following the "code date" on the bottom of the product packaging (see CDC image at right).
Whole-genome sequencing of Listeria monocytogenes from the implicated Blue Bell products showed they were highly related to patients' Listeria isolates, the CDC said.
All four outbreak patients with available information ate milkshakes made with Blue Bell ice cream while they were hospitalized for unrelated conditions.
Apr 3 Blue Bell news release
Apr 3 CDC update
Mar 13 CIDRAP News scan on outbreak
Study: Rare norovirus variant caused many Guangdong outbreaks
Not only did a rare variant strain of norovirus surge in China this past winter, it caused 83% of the outbreaks in one province, according to a new study in Emerging Infectious Diseases.
Chinese and Australian researchers looked at 52 norovirus outbreaks in Guangdong province from January 2013 through January 2015 that had at least 20 cases. From November 2014 through January 2015, 29 outbreaks involving 2,340 cases were reported, compared with 9 outbreaks involving 949 cases in the same period in 2013-14.
The GII strain of the virus was detected in 44 of 46 outbreaks (96%) for which samples were successfully genotyped over the entire study period. From January 2013 through October 2014, the GII.4/Sydney/2012 strain was detected in 48% of outbreaks. From November 2014 through January 2015, however, the rare variant GII.17 strain was reported in 10 cities in the province and in 24 of 29 outbreaks (83%).
Apr 2 Emerg Infect Dis study