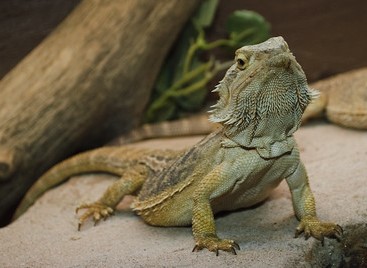 A pair of Salmonella outbreaks linked to pet bearded dragons, first announced in October, has sickened at least nine more people in five more states, the Centers for Disease Control and Prevention (CDC) said in a Jan 20 update.
The added cases bring the total to 32 infections from 20 states. Ten people have been hospitalized, and no deaths have been reported. The outbreaks involve two Salmonella serotypes: Vitkin (12 cases) and IIIb 61:z52:z53 (20 cases).
Of the sick people, 47% were children. Of the 25 people interviewed, 16 had contact with a pet bearded dragon before they got sick. The latest illness onset was Nov 20.
Among the Salmonella Vitkin infections, investigators are still working to determine if there is a common supplier. Four patients bought their pets from different stores. In the Salmonella IIIb 61:z52:z53 outbreak, public health officials from Utah and Colorado have identified the outbreak strain from a sick person's bearded dragon and its habitat. Patients bought their pets from different stores, and efforts are still under way to identify a common supplier. Sequencing from 30 patient samples predicted resistance to ciprofloxacin, though most people recover without antibiotic treatment.
Pet bearded dragons have been linked to several past Salmonella outbreaks, including one announced in January 2022 involving Salmonella Uganda that sickened 56 people from 26 states. The CDC urges people to wash their hands after handling bearded dragons and to avoid kissing or snuggling with them.