EV-D68 cases in the United States top 900
The Centers for Disease Control and Prevention (CDC) today confirmed 126 new cases of enterovirus D68 (EV-D68) in 46 states and the District of Columbia. The outbreak has now reached 922 cases, almost all of them in children, many of whom have asthma.
Twelve states reported elevated or increasing EV-D68 activity in the week that ended Oct 10, the CDC said (see map below), while 32 states and the District of Columbia reported low or declining activity. The states without cases are Iowa, Montana, Nevada, and Oklahoma.
"CDC has received substantially more specimens for enterovirus lab testing than usual this year, due to the large outbreak of EV-D68 and related hospitalizations," the agency said in the update. "CDC has prioritized testing of specimens from children with severe respiratory illness. There are likely many children affected with milder forms of illness."
Of the more than 1,400 specimens tested by the CDC, about half have tested positive for EV-D68 and a third for a different enterovirus or a rhinovirus, the agency said.
The agency also said it expects cases to decline by late fall.
In announcing the implementation of a new, faster test to detect EV-D68 on Oct 14, the CDC said that as it tests specimens it has received since mid-September, "the number of confirmed EV-D68 cases will likely increase substantially in the coming days. These increases will not reflect changes in real time or mean that the situation is getting worse."
CDC EV-D68 outbreak page
CDC EV-D68 activity by state
Oct 14 CDC news release
CDC: Activity of enterovirus D68-like illness for week of Oct 5-10, 2014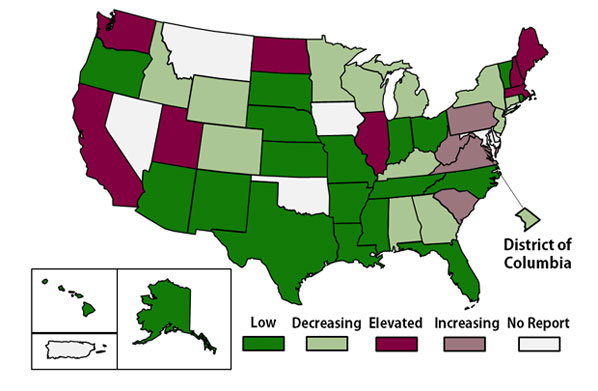 China reports two H7N9 cases, one fatal
China recently reported two new H7N9 avian flu cases, in a 44-year-old woman from Xinjiang province who died in September from her infection and in a 7-year-old girl from Beijing, Hong Kong's Centre for Health Protection (CHP) said in an Oct 18 statement.
Two other cases from China were also reported in late August in Xinjiang province, located in China's far northwestern region.
The cases raise the mainland's H7N9 case total to 440. According to a case series kept by FluTrackers, an infectious disease news message board, the overall total for the virus is 456 cases.
A CHP spokesman said that, based on the recent case reports from the mainland, more sporadic H7N9 infections are expected in affected and possibly neighboring areas and that heightened vigilance is needed.
Oct 18 CHP statement
FluTrackers H7N9 case count
Caribbean sees more than 12,000 new cases of chikungunya
New numbers from the Pan American Health Organization (PAHO) released Oct 17 show 12,121 additional suspected and confirmed cases in the Caribbean and the Americas as well as 67 new imported cases, most of those in the United States.
The total outbreak numbers in the area stand at 772,069, with 759,742 of those suspected and 12,327 confirmed. In addition, there have been 1,708 imported cases, with the United States accounting for 1,385 of those.
The areas with the most new cases are Colombia, with a 7,366-case jump, and Grenada, reporting for the first time with 1,627. The single country with the most cases in the outbreak remains the Dominican Republic, with more than 485,000, but it reported no new cases since PAHO's last update on Oct 10.
In related news, Costa Rica has reported its first locally transmitted case, in Puntarenas province, according to the Costa Rican Times. The country's other cases, which according to the Times number 15 (PAHO's numbers say 16), were imported from the Dominican Republic and Haiti. The newly infected woman, says the Times, hosted an ill Dominican in her home.
Outside the Caribbean/Americas outbreak area, the government of the South Pacific islands of French Polynesia has declared an epidemic, with 83 confirmed cases of locally acquired chikungunya and many more suspected cases, according to Radio New Zealand. The origin and extent of transmission there are under investigation. Last week Tahiti reported its first 15 cases; the Radio New Zealand story does not identify whether the 83 cases are in Tahiti or elsewhere in French Polynesia.
Oct 17 PAHO update
Oct 20 Costa Rican Times story
Oct 18 Radio New Zealand story
Oct 14 CIDRAP news scan on Tahiti cases
CDC declares end to 5-state Salmonella outbreak tied to nut butter
The CDC has announced an end to its investigation of a Salmonella outbreak that involved several brands of peanut and almond butter, according to an Oct 16 update.
Since the CDC's last update on Aug 21, two people were sickened with the Salmonella Braenderup outbreak strain in New Mexico and Texas, bringing case totals to six in five states.
A month-long Food and Drug Administration (FDA) inspection revealed the likely source of the outbreak to be nut butter made by nSpired Natural Foods, Inc. Affected lots were sold at popular retailers, including Whole Foods, Trader Joe's, and Safeway. The manufacturer voluntarily recalled potentially affected nut butters on Aug 19.
The CDC recommends that consumers discard any affected products they may have bought before the recall, according to the recent update.
Oct 16 CDC update
Aug 19 FDA recalled product list
Aug 22 CIDRAP News scan on Salmonella outbreak