Study warns of COVID-19 variant B117 transmissibility, resurgence
A modeling study published yesterday in Science projects increased transmissibility of the B117 strain of COVID-19, also known as the UK strain, and warns that the strain could likely cause a resurgence of high virus activity in the United Kingdom and make 2021 a deadlier year than 2020.
B117 was first recognized in the United Kingdom in November 2020. By Feb 15, the authors said, the variant accounted for approximately 95% of new SARS-CoV-2 infections in England, and has now been identified in at least 82 countries, including the United States.
The authors of the study used the relative population growth rate of B117 in the first 31 days following its initial observation. With that data, they calculated that the novel variant has a 43% to 90% higher reproduction number than earlier variants of SARS-CoV-2 in England, based on a hypothesis of increased transmissibility. The authors said they were unable to predict if B117 caused more severe disease than the original COVID-19 strain.
"Without stringent control measures, including limited closure of educational institutions and a greatly accelerated vaccine roll-out, COVID-19 hospitalisations and deaths across England in 2021 will exceed those in 2020," the authors wrote.
Mar 3 Science study
California farmworkers show higher COVID-19 incidence than community
From June to November 2020, farmworkers in Salinas Valley, California, had 22.1% COVID-19 positivity compared with 17.2% of adults living in the same communities with a 7.2% rate in higher-risk farmworkers who had no symptoms, according to a study yesterday in Emerging Infectious Diseases.
From Jun 15 to Nov 30, 2020, researchers gathered COVID-19 diagnoses from 6,864 farmworkers and 7,305 non-farmworkers who were tested through the Clinica de Salud del Valle de Salinas (CSVS). Farmworkers, 75% of whom were Latino, had a 28.5% higher probability of positive tests (95% confidence interval [CI], 20.1% to 37.4%).
While researchers estimated that community seroprevalence was 5%, by the end of the study, a subset of farmworkers had an estimated 21.2% seroprevalence.
A subset of 1,108 infected farmworkers showed that 27.7% who had COVID had at least one symptom while 7.2% didn't have any presenting symptoms. Symptoms most strongly associated with COVID-19 infection were shortness of breath (adjusted odds ratio [aOR], 26.86), loss of smell (aOR, 14.06), loss of taste (11.62), and self-reported fever (9.06), but the most common symptoms were headache (found in 33%) and muscle soreness (31.6%).
This subset consisted mostly of farmworkers who were born in Mexico, spoke Spanish at home, earned less than $25,000 per year, worked in the fields and didn't exceed primary school-level education. More than a third (36.3%) lived in crowded housing, and 81.8% were overweight or obese.
The researchers write, "Prioritization of differing essential workgroups among phase 2 [COVID-19 vaccine] recipients will be determined by states. Our study demonstrates high risk for SARS-CoV-2 infection, and both acute and persisting COVID-19 symptoms, among farmworkers in the Salinas Valley."
Mar 3 Emerg Infect Dis study
Large, local, delayed skin reactions noted after Moderna COVID vaccine
A small number of Moderna COVID-19 vaccine recipients experienced delayed, large, localized skin irritations at the point of injection, according to a letter published yesterday in the New England Journal of Medicine. While the symptoms cleared up in a median of 8 days, the researchers want to make sure clinicians are aware of this side effect and can navigate appropriate treatment and vaccine guidance.
The letter details these delayed skin reactions in 12 people, 4 of whom didn't have any allergy history.
Injection-site characteristics included hypersensitivity, redness, and itchiness, and the affected area could be u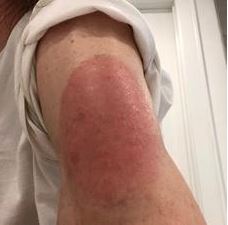 p to 10 centimeters (4 inches) in diameter (see photo at right, used with permission of Massachusetts General Hospital). Some concurrent systemic conditions also occurred, such as high blood pressure, fatigue, additional rashes, and fever. Median onset was day 8 post-vaccination (range, 4 to 11) and the reactions cleared in a median of 6 days.
Most patients were treated with ice and antihistamines, although some required corticosteroids. Upon the second vaccine dose, 6 of the patients didn't have any delayed injection-site reactions, 3 had the same level, and 3 had lower levels.
"Whether you've experienced a rash at the injection site right away or this delayed skin reaction, neither condition should prevent you from getting the second dose of the vaccine," says lead author Kimberly Blumenthal, MD, MSc, in a Massachusetts General Hospital press release. "Our immediate goal is to make physicians and other care providers aware of this possible delayed reaction, so they are not alarmed, but instead well-informed and equipped to advise their patients accordingly."
In Moderna's phase 3 clinical trial involving more than 30,000 patients published Dec 30, 2020, immediate injection-site reactions were observed in 84.2% of vaccine recipients and delayed-onsite reaction (on or after day 8 post-vaccination) was observed in 0.2%. In these delayed reactions, symptoms usually resolved in 4 to 5 days.
Mar 3 N Engl J Med letter to the editor
Mar 3 Massachusetts General Hospital press release
Study in Mississippi finds COVID-19 vastly underestimated in kids
A retrospective seroprevalence study in Mississippi indicates that only a fraction of COVID-19 cases in children and adolescents were detected last spring and summer.
In the study, published today in the Centers for Disease Control and Prevention's (CDC's) Morbidity and Mortality Weekly Report (MMWR), researchers from the University of Mississippi Medical Center, the Mississippi State Department of Health (MSDH), and the CDC tested a convenience sample of 1,603 residual serum specimens from people under the age of 18, collected from May 17 through Sep 19, 2020, for SARS-CoV-2 antibodies. They then estimated the cumulative number of coronavirus infections during that period by extrapolating the seroprevalence to all Mississippi children and compared it with the number of reported pediatric COVID-19 cases through Aug 31.
Among the 1,603 serum samples, 175 (10.9%) were positive for SARS-CoV-2 antibodies. Seropositivity rates among non-Hispanic Black and Hispanic children and adolescents were 2.4 and 4.3 times, respectively, the rate among non-Hispanic Whites. After adjusting by race/ethnicity, the estimated seroprevalence among children rose from 2.5% in May to 16.3% in September. Extrapolating to the state population, an estimated 113,842 children and adolescents may have been infected by mid-September, compared with 8,993 pediatric COVID-19 cases reported to the MSDH by Aug 31.
"Projected cumulative infections based on seroprevalence suggests that case-based surveillance underestimated SARS-CoV-2 infections among children and adolescents, consistent with national data suggesting underascertainment of COVID-19 disease incidence in all age groups," the study authors wrote.
The authors say the data suggest that cumulative infection rates in children by mid-September were similar to those among adults 18 to 49, the age-group with the highest seroprevalence during the period.
Mar 4 MMWR study
Review notes 4 effective decontamination methods for N-95 respirators
Ultraviolet germicidal irradiation (UVGI), vaporized hydrogen peroxide (VHP), moist heat, and microwave-generated steam (MGS) methods can sterilize and preserve filter performance for N-95 respirators for multiple uses, according to a meta-analysis published yesterday in JAMA.
While UVGI may be the best option because of its available equipment and safe process, the researchers note that higher doses (more Joules) may be needed for SARS-CoV-2 droplets.
The researchers looked at 42 studies published through Jan 21 that covered these four methods as well as ethylene peroxide, which was deemed unfit because of carcinogen byproducts found in one study. Sixty-five filtering-facepiece respirators (FFRs) were included in the studies, including more than 40 N-95s. Because the studies used different methods, the researchers analyzed results using a narrative synthesis.
UVGI studies showed that doses of 1 to 2 Joules per square centimeter (J/cm2) sterilized most pathogens on N-95 respirators by 103 including influenza (4 studies) and Middle East respiratory syndrome (MERS) and severe acute respiratory syndrome (SARS) (1 study). In two studies regarding SARS-CoV-2, the COVID-19 virus, data indicated doses of 1.5 to 2 J/cm2 were necessary. FFRs appeared to be preserved for up to 20 decontamination cycles with high doses in most studies, but the researchers note that the FFR design may lower efficiency as all surfaces must be hit with uniform light.
VHP did not significantly degrade FFRs for up to 20 to 30 cycles in open-room processing (less so pressurized chamber systems), and it was shown effective in reducing SARS-CoV-2 by 104 in three studies and Bacillus and Geobacillus stearothermophilus spores by 106 in four studies. The method is less scalable, however, because of the time and expense.
Moist heat and MGS methods also effectively reduced pathogens by at least 103, but overall, FFR damage was seen more quickly.
"The CDC recommends that the manufacturer be consulted about the effect of the chosen decontamination process method," the researchers write. If the manufacturer cannot provide this information, they add, information in the review will prove helpful. The researchers write that reuse of FFRs should stop once supplies are again adequate.
Mar 3 JAMA study