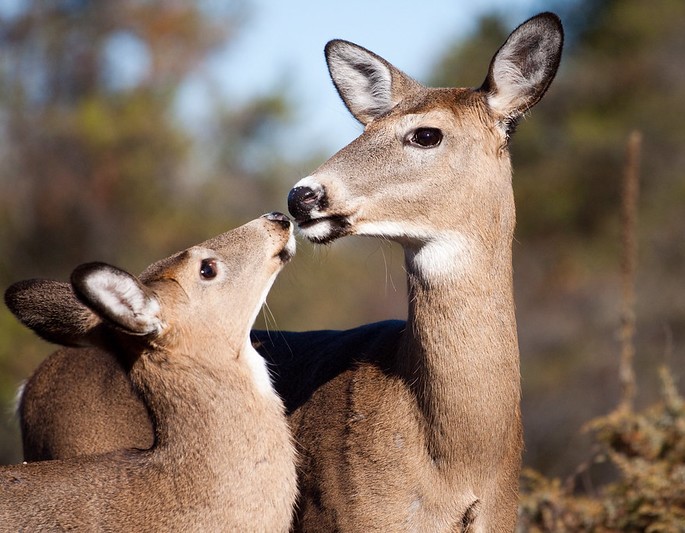 A report yesterday in Nature Communications details the spread and evolution of SARS-CoV-2 in white-tailed deer across the United States, including at least 109 spillover events from people and 39 instances of deer-to-deer transmission. Researchers also noted three cases of potential spillover from white-tailed deer back to humans.
The findings are based on 8,830 respiratory samples from free-ranging white-tailed deer across Washington, DC, and 26 US states from November 2021 to April 2022. A total of 944 samples were positive for SARS-CoV-2, and researchers sequenced the genomes from 391 samples.
Sequencing showed Alpha, Gamma, Delta, and Omicron lineages, and multiple lineages were circulating among deer at the same time.
"Out of the 282 white-tailed deer viruses analyzed, 238 were found to be grouped into 109 clusters that also contained human SARS-CoV-2 viruses," the authors said. "For each cluster, a SARS-CoV-2 genomic sequence from a human was identified as the precursor virus with at least 99.85% nucleotide identity, indicating at least one independent spillover event from humans to white-tailed deer."
3 human-to-deer-to-human events
Of the 109 spillover events, 106 were within the same state, including 64 that were human-to-deer, 39 that were human-to-deer-to-deer, and 3 human-to-deer-to-human.
White-tailed deer are some of the most common mammals in the United States, with approximately 30 million animals in both rural and urban settings and a high number of human interactions, the authors said. Previous studies showed approximately 40% of tested white-tailed deer were exposed to SARS-CoV-2, as early as January 2020, in four sample US states.
Continued large-scale surveillance of white-tailed deer is necessary.
"Continued large-scale surveillance of white-tailed deer is necessary to understand the evolution and distribution of genetic variants in white-tailed deer, evaluate whether the white-tailed deer are a potential reservoir for SARS-CoV-2 viruses, and the role of white-tailed deer in ecology and natural history of SARS-CoV-2," the authors concluded.